Recently on Cyclingnews.com
87th Giro d'Italia - Grand Tour
Italy, May 8-30, 2004
The best of the rest
The sprinters, climbers and opportunists: i velocisti, i scalatori e le cacciatore di tappe
OK - so we know who's in the battle for the maglia rosa, but what about the other 160-odd riders in this year's Giro? Cyclingnews' European Editor Tim Maloney takes a look at the best of the rest: the sprinters, climbers and opportunists - all of whom are in the hunt for their chance at glory.
1-0, Petacchi-Cipollini
Photo ©: Sirotti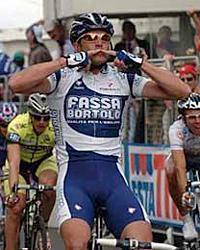 Sprinters: i Velocisti
This year at the Giro d'Italia, there are a great array of speedy sprinters, and with at least 8 of the 20 stages good for the fast finishers, there should be plenty of finale fireworks this year.
Once again, the main event is the Ale-Jet Petacchi vs. Super Mario Cipollini battle. So far, after the first stage in Alba, Petacchi is 1-0 against Cipollini. At 37, Cipo has slowed a bit, while the 30 year-old Petacchi just seems to get faster and stronger every year. However, there are still plenty of opportunities for Cipollini - the winningest rider in Giro history - to add to his record total. Rockin' Robbie McEwen (Lotto-Domo) won two stages in last year's Giro, and while his team manager Christophe Sercu reports that McEwen isn't quite in top form yet, don't ever count out the quick Queenslander in a close finish.
The enigmatic Ivan Quaranta (Formaggio Pinzolo Fiave') is back at the Giro d'Italia after an enforced absence last year due to injury. Perhaps the fastest man going in the bunch gallops, Quaranta's nickname il ghepardo (cheetah) is well-earned, but his form is often so erratic that he has trouble staying with the peloton on even the slightest rise. However, Quaranta is determined to prove himself and if he can avoid being eliminated, Ivan may be able to make his mark in this year's Giro.
Jan Svorada (Lampre) is still speedy at 35. Winner of two stages in recent races, the experienced Czech is in form and ready for the Giro once again. His Lampre teamamte, the speedy but unpredictable Brazilian Luca Paglarini, is another fast-man to watch. Italy has a tradition of great sprinters and this year's Giro has a real deep bench should Ale-Jet, Cipo or Quaranta falter. Crecenzo D'Amore (Aqua Sapone), Angelo Furlan (Alessio-Bianchi), Marco Zanotti (Vini Caldirola), Crecenzo D'Amore (Aqua Sapone) Simone Cadamuro (De Nardi-Copack) & Alberto Loddo (Saunier Duval) will all be driving hard for the traguardo [finish line].
As for the best of the rest, Alex Usov (Phonak) can be a handy sprinter in the right moment, while American Fast Freddy Rodriguez (Aqua Sapone) will be hoping for his chance at Giro success. As for the giant Swede, Magnus Bäckstedt (Alessio-Bianchi), Maggie won the Intergiro competition last year, but more on the strength of his time trialling. However, watch out for Bäckstedt in the bunch gallops, as once he get his 90kg carcass up to speed, it's like a runaway freight from Jonkoping on the track to Stockholm!
Cunego takes Stage 2
Photo: © Olympia

Climbers: i Scalatori
Gianni Savio's Selle Italia-Colombia team is, as always, stocked with top climbers from Colombia, with Fredy Gonzalez, who's taken the green jersey of best climber at the Giro in two out of the last three years. He'll be supported on his team by another solid Colombian, Ruber Marin. Like last year, popular Mexican climber Julio Perez Cuapio (Panaria-Marges) has come into the Giro d'Italia out of shape and is not likely to repeat his feat of best climber as he did in 2002. A pity, because when Perez Cuapio is in form, he is among the very best and most exciting mountain goats on two wheels. Another South American climber who usually rides well at the Giro is Formaggio Pinzolo Fiave's Luis Laverde.
With many of the Giro's other excellent climbers - Cunego and Bertagnoli, Saeco; Zampieri and Mason, Vini Caldirola - working for team leaders at Saeco and Vini Caldirola, one Italian who will certainly score plenty of mountain points is Franco Pellizotti (Alessio-Bianchi). This skinny, curly-topped climber from the flatlands near Venice has never met a hill he didn't like and will be hunting for stage wins when the mountains start. Diminutive Emmanuele Sella (Panaria-Marges) is in his first year as a pro and first Giro, but his climbing skills are solid and he could pop up unexpectedly if the big boys don't roll over him. Neo-pro Massimo Iannetti (Domina Vacanze) was a feared climber as an U23 and will try to show his value as well. Aqua Sapone's Austrian climber Gerhard Trampusch and Fabian Wegmann (Gerolsteiner) are two other good climbers who hope that the steep ramps of the Dolomiti and Italian Alps shine on them at the 2004 Giro.
Will TinTin get serious?
Photo: © Sirotti

Opportunists: le Cacciatore di Tappe
You gotta believe that with two World Cup wins and the lead in the one-day ratings, Davide Rebellin (Gerolsteiner) is going to go for a stage win at some point in this year's Giro; TinTin isn't interested in the classement, so stage wins are the name of the game for him. Ruggero Marzoli (Aqua Sapone) is a attacker and will be looking for stage honors, especially on home turf in the le Marche region during the Giro's second week.
Alessio-Bianchi has two opportunistic riders to watch: likeable Italian Cristian Moreni and Croatian Vladimir Miholevic. Panaria-Margres' Giuliano Figueras is a classy, fast rider who's never lived up to his promise, but could score a stage win. Gianni Savio's Selle Italia-Colombia has signed speedy talent Marlon Perez, while other Giro cacciatore to watch are Landbouwkrediet-Colnago's oldster Jacky Durand and youngster Nico Sijmens, Lotto's Polish powerhouse Piotr Wadecki, Saunier Duval sandwich boys Ruben Lobato and Rubens Bertogliati, and Tenax pro sophomore Daniele Pietropolli.
Giro d'Italia home More Giro d'Italia features