First Edition Cycling News for July 8, 2006
Edited by Jeff Jones & Hedwig Kröner
Stage 6 wrap-up
Third win for McEwen
Robbie McEwen (Davitamon-Lotto)
Photo ©: AFP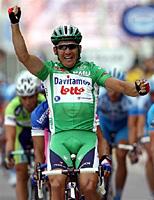 Robbie McEwen (Davitamon-Lotto) is not failing his winning ways this year at the Tour. With the help of powerhouse Gert Steegmans, the Australian sprinter took his third stage today in Vitré, in front of Daniele Bennati (Lampre) and Tom Boonen (Quickstep), whose smile on the podium, even wearing the Yellow jersey, is looking more and more strained.
"Last year, I won three stages too, but after 13 stages of the Tour," said McEwen after the stage. "This year, it's three stages right in the first week! It's fantastic! I never would have dreamed about winning three stages after six days!"
Coming up on
Cyclingnews will cover the 60th edition of the Dauphiné Libéré live as of stage 4 on Wednesday, June 10, at approximately 15:00 local Europe time (CEST)/ 23:00 Australian time (CDT)/ 9:00 (USA East).

WAP-enabled mobile devices: http://live.cyclingnews.com/wap/

The 189 km-stage began in an unusual fashion as a 17-man breakaway containing Tom Boonen and Thor Hushovd formed after 50 kilometres of racing - but Davitamon-Lotto, Lampre and Team CSC then worked together to catch it 25 kilometres later. However, from this group emerged Magnus Bäckstedt (Liquigas), Florent Brard (Caisse d'Epargne) and Anthony Geslin (Bouygues), who subsequently increased their lead to a maximum of just under five minutes.

But as usual in these first flat stages of the Tour, the break got reeled in and swallowed with four kilometres to go. And McEwen outsmarted his rivals, once again.

Click here for the Full results, report & photos, Live report and Video.
An interview with Robbie McEwen
Chewin' the fat with McEwen
Arriving at the press conference in Vitré chirpy and chatty as ever, Robbie McEwen spoke about his personal TGV, his self-confessed obsessive compulsive disorder, and his Dumb and Dumber victory salute, amongst other things. Cyclingnews' Brecht Decaluwé was there to take it all down.
Q: Can you explain to us what Steegmans adds to your sprint?
Robbie McEwen (Davitamon-Lotto)
Photo ©: Sirotti

RM: It depends on the other sprinters and the other teams exactly how we do it. This year, we lost Fred Rodriguez fairly early. With Gert Steegmans, we had to figure out the right system and timing, as we didn't ride that much together this year.
The first time we tried it, I gave him a really specific tactic in stage 4; he listened well and did it and we won. Yesterday, he made a mistake and he was really motivated to make up for it today. Again, he did it perfectly.
We decided on the tactics. I told him not to start not one metre before the 400 metre mark. That's exactly what he did, he was really relaxed and stayed in the wheels. We made sure which side of him would stay open. When he started, I really had to jump to get into his wheel and when I have to jump to get into a wheel, that means that probably nobody else can follow.
I already had a good feeling when he took off. I just had to keep it winded up until the line. It looks like he's my personal TGV. I'm the only one with a ticket and I just have to get off at my station! (laughs)
Q: Do you think you're in the form of your life at the moment, and if so, what do you think is the secret to it?
RM: I don't think I'm in the form of my life, I'm just sprinting very well. I've had times where I actually felt stronger out on the road. But here, the timing and the speed in the sprint forms a funny sort of thing. Sometimes you feel very strong, but you can't win. Sometimes you feel average, but you sprint very fast and can't lose. I don't know about the form of my life, but it's pretty good.
Steegmans: The perfect lead-out man
By Brecht Decaluwé in Vitré
Steegmans and McEwen
Photo ©: Roberto Bettini

Gert Steegmans is turning out to be the perfect lead-out man for Robbie McEwen these days. After their stage win in Saint-Quentin, the Davitamon-Lotto crew won another bunch sprint in Vitré today. Steegmans is one of the hottest prospects of Belgian cycling together with the likes of Tom Boonen, Jurgen Vandenbroeck, Stijn Devolder and Philippe Gilbert.
It wasn't planned that he would do the lead out for McEwen, but due to the crash of Rodriguez, they needed to change plans. Steegmans needed to move up a place in the team ranks, leading out Robbie McEwen in the sprint: "He trusts that I can do it, and it's working out," Steegmans told Cyclingnews.
"Everybody knows that they need to be in front in the sprint and they probably hope that he [McEwen] has sore legs or something. We really try to show up as late as possible and it's proved successful twice now. Yesterday, I misinterpreted the signals, but now it's alright!"
The 25 year-old Belgian is really coming into the spotlight now, receiving lots of positive critique from the experts. And as Steegmans is still waiting for a prolongation of his contract, he market value is mounting with each stage.
"I don't think so," he refuted, "but the people in the cycling world know what my value is. It would be sad if they didn't know it by now."
Steegmans was suffering during the first stages, but has transformed himself into a key member of the Davitamon-Lotto team. "The second and third day I was suffering from heat, but now it's going much better," he said.
Yesterday, something went wrong in the lead out: "Normally I wait until Robbie shouts 'Go!'; I thought I missed his 'Go' signal, and as there isn't much time to take decisions, I started at 500 metres. But in the end, it's really nice to acknowledge that there some magic between the two of us.
"We came here aiming for a good GC for Evans, the green [jersey] and a stage for Robbie - and all the rest is being considered as a nice bonus!" concluded Steegmans.
Geslin goes for it on the home front
The sixth stage of the Tour de France proved to be the first big appointment for Anthony Geslin. Born in Alençon, the rider of the Bouygues Telecom team grew up on the roads which, in the past delivered him wins in the 'Route Adélie' of 2004 and this year's Paris-Camembert. To make sure he would be in the right break, he got in all of them.
"I had marked this stage before the start of the Tour de France because the course was pretty close to my place, so I wanted to show myself," Geslin told Cyclingnews after the finish. "At first, I was in the break of seventeen, but they didn't let us go. The presence of Boonen, Hushovd and Sinkewitz proved to be too much for the escape to enjoy a long adventure. When we were grabbed by the bunch, Bäckstedt attacked and I reacted immediately and that proved to be the good escape." Florent Brard joined the two riders and together they went flat out. "We never had more than four minutes so we knew it would be hard to make it to the finish."
The sprinters' teams worked hard to bring everything back in time to make it another bunch sprint. It must be frustrating to know that breaks are rarely successful. "It's very hard because McEwen wins every day, so the teams of the sprinters always work hard to get a bunch sprint. We can only try to make it difficult for them, but this is the Tour de France so we don't count on any presents."
Landis looking forward to TT
Floyd Landis, team leader at Phonak and one of this year's Tour de France overall contenders, is hopeful for a good result in Saturday's first overall test against the clock. Asked if he had already seen the course, Landis, said, "For me, it's better to check out the course on the day of the race. So we'll get out there early in the morning and ride the 52 km."
But Landis knows that the profile of the stage will suit his abilities. "It's a rather flat course with few curves," he continued. "As far as the profile goes, it's the kind of parcours that I like because normally I can take full advantage of my strengths on such flat courses. I'm happy with the course and feel comfortable with it."
The winner of the 2006 Paris-Nice has already a plan laid out. "I think it's important not to start off too fast," Landis commented. "It's better to approach it a bit conservatively and then go for it during the final 10 km. For me, experience shows that I'm usually successful with that tactic."
After the weekend, the Tour de France will finally move towards the mountains, where the race for the yellow jersey will be on. "The first mountain stage already has two demanding tests, the Col de Soudet and the Col de Marie Blanque," he continued. "But I think, because the second mountain is 40 km from the finish, that there could be a large group struggling for the win. [The next stage, which goes into Spain] could be the most difficult stage ahead of the Alps. The Col de Tourmalet has a category HC and then there are four category ones. The final part is not so steep but very long, 13 km. I think only a small group will be fighting for the win there."
But Landis knows that the hardest part will come only in the third week of the Tour. "Although the Pyrenees will be difficult, I personally expect the race to be decided in the Alps," he concluded.
Voeckler stays at Bouygues
2004 French champion Thomas Voeckler has extended his contract with Bouygues Telecom for another two years, the team management announced on Friday's Tour de France stage to Vitré. He is thus committed to the squad until 2008.
UCI announces World's locations and 2007 Women's World Cup
The UCIs Management Committee met on Thursday and Friday in Lausanne for its traditional summer session, during which it went through all the development plans of all its cycling disciplines for the next four years. Amongst the adopted decisions were also determined the locations of the following World Championships:
Masters Mtb 2007- 2009: Pra Loup (France)
Mtb/Trials 2008: Val Di Sole (Italy)
Cyclo-Cross 2009: Hoogerheide (Netherlands)
Track 2009: Pruszkow (Poland)

Seven events of the UCI's 2007 Women's Road World Cup were also retained:
Women's World Cup (Geelong, Australia)
Ronde Van Vlaanderen (Belgium)
Ronde Van Drenthe (Netherlands)
La Flèche Wallonne (Belgium)
Berner-Rundfahrt (Switzerland)
La Coupe Du Monde Cycliste Féminine De Montréal (Canada)
GP De Plouay (France)
Rund Um Die Nürnberger Altstadt(Germany)
The Management Committee also approved the proposal from the Road Commission aiming at creating a Nations Cup for the Under-23 category. It is planned to cover 7-8 events, with selection criteria based on organisation and participation capacity.
(All rights reserved/Copyright Knapp Communications Pty Limited 2006)