First Edition Cycling News for July 7, 2006
Edited by Hedwig Kröner
Freire holds off the maillot jaune
Oscar Freire (Rabobank)
Photo ©: Roberto Bettini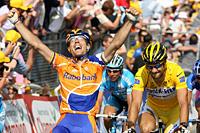 It was almost Tom Boonen's day in Caen, but not quite, as triple world champion Oscar Freire (Rabobank) flew over the final 100 metres to beat reigning world champ and maillot jaune Tom Boonen (Quick.Step) by a bike length. Like McEwen yesterday, Freire came from a long way back, but timed his run just right into the headwind to win the stage. Third place was taken by Inaki Isasi (Euskaltel-Euskadi), who managed to hold Boonen's wheel in the hectic sprint. Green jersey candidates McEwen (5th) and Hushovd (7th) were just off the pace today, but will get another chance tomorrow.
The 225 km long stage between Beauvais and Caen was marked by cooler conditions and even a thunderstorm en route. After 20 km, Samuel Dumoulin (AG2R-Prevoyance) and Björn Schröder (Milram) made a breakaway of eight, which looked to be the move of the day until the peloton chased it. Just before they were caught, Dumoulin and Schröder went again, and got clear. Their lead hit 12'50 after 94 km before Quick.Step, then Credit Agricole and Davitamon-Lotto, combined to chase it down with 2 km to go.
An interview with Oscar Freire
Taking the Tour by its horns
In previous days, a lot of hard work brought little reward for Oscar Freire. But today, a change of tactics proved the perfect recipe for success. Brecht Decaluwé reports from the press room in Caen.
Q: Is this an important victory for you after the results of the past few days?
Oscar Freire (Rabobank)
Photo ©: Sirotti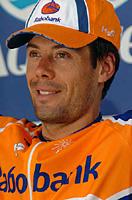 OF: Yeah, sure, but I think every victory is important. Every day, I tried to win but didn't succeed, so I needed to change tactics. Normally, I'm sitting in the wheels and I wait until an opportunity arises; I lacked the initiative to grab the win.
Today, I planned to take some more risks and take the initiative, something I usually wouldn't do; it delivered immediately. I started the sprint too early, but in the end it didn't matter.
Q: Cycling, and mainly Spanish cycling world has been under attack during the last few months. Yesterday, we heard that not only cycling has it cheaters - how do you feel about that?
OF: Just like I always said; everywhere, cycling is treated different than other sports and that's not right, of course. We all know that there are riders who cheat, but it isn't like that for all cyclists.
There's a lot of money at stake and that's probably why people start to cheat. That's not only for cycling, but I'm pretty sure it's like that for all sports.
It's really sad for cycling, because in the Giro d'Italia, for example, people spoke only about the sport and not about doping, and that's how it should be. Media plays an important role in those allegations and we, the riders, really hope that we are treated better than we are right now.
Click here for the full interview
Post-stage quotes
Oscar Freire, (Rabobank) - stage winner
Coming up on
Cyclingnews will cover the 60th edition of the Dauphiné Libéré live as of stage 4 on Wednesday, June 10, at approximately 15:00 local Europe time (CEST)/ 23:00 Australian time (CDT)/ 9:00 (USA East).

WAP-enabled mobile devices: http://live.cyclingnews.com/wap/

"Today was a lottery just as the other days. I started at 300m of the line, and just pushed through. I was well-placed to do it. This victory is very important for me and for the team."

Asked what the team's objectives were this year, Freire replied, "I think we have riders for the general classification and the most important thing is to do well in that competition. Of course, if we win stages on top of that, it's even better. But we have two riders, Rasmussen and Menchov, who will hopefully make a good overall placing."

Tom Boonen (Quick.Step) - second

"I'm happy - it wasn't a perfect sprint but that was my fault. In the last 400 metres, Marco Velo was pulling in front, and I started my sprint, but Steven (De Jongh - ed.] starts too... I yelled at him but he didn't hear. At that moment, you have to stay calm and wait for Steven's sprint (to end), and then do my own. That's when I lost."

Did you start too early with your team? "No, it's a strong team... I'm really happy with my guys, they're so strong to do these long stages every day, control like they have... I'm happy."

On his explosiveness, he said, "It's there, but I'll wait a little longer [for a victory]... I have the yellow jersey, which uses a lot of energy, too, but it's such a beautiful jersey!"
Boonen: "Ça c'est le Tour!"
Maillot jaune Tom Boonen (Quick.Step-Innergetic)
Photo ©: Anthony Tan

With no stage win so far, is there anything wrong with Tommeke? Brecht Decaluwé finds out in Caen.
Q: What's going wrong in this Tour de France, as you still didn't win a stage?
TB: All is going well, as I have the yellow jersey for three days now, so I'm happy for myself and for the team. We're still not far into this Tour de France so there will be more chances for me to win a stage. Today, I made a mistake at 200 metres of the finish; I think I'm a little bit too nervous.
Q: What's the real difference between wearing a yellow jersey and a rainbow jersey in the Tour de France?
TB: The yellow jersey is really something special for me, because I'm not used to wearing it. Each day, I need to work for it very hard so I'm very proud that I can wear that yellow jersey. It's also good that I'm still close to the green jersey.
It's really special to wear this yellow jersey as a world champion, as I heard that only Greg Lemond in 1990 and then before Hinault combined these two jerseys in the past.
Q: During the recent editions of the Tour de France the average speeds were very high. This year the average speed has been quite a bit lower, making this Tour de France somewhat easier. What's your observation on that?
TB: I think it's not that easy. Every year is different but the main reason might be that it was really hot during the first four days. I can tell you that we aren't riding that slow. Maybe the starts aren't that fast anymore - but due to those easier starts, the finals are even more nervous and even faster than previous years.
If you look at the finals of Valkenburg and also the one of today... these are not easy days. If you look at the final today, there were a lot of guys who weren't able to move up. I think the speed is high enough.
Q: During the start of the season you were winning races in for example Paris-Nice with an impressive ease. Is it possible that you no longer have the force to make things happen in this Tour de France.
TB: First of all, this is not Paris-Nice; over there I could stay in the wheel of Steven De Jongh until 200 metres of the finish. Then I just needed to overtake him, and that resulted in a win.
In the Tour de France, it's not like that. The riders are the same but they are all very nervous and they do dangerous things in an effort to win the race, also today. But for me that's the same, as I'm also more stressed and nervous and that doesn't work. We all know that if you're relaxed, you can win; on the other hand, if you are nervous you can't win. But... ça c'est le Tour! (laughs)
Q: Hincapie used to be a sprinter and is now morphed into a GC rider. You have been working on your climbing, and after three days in yellow, do you wonder if you might be in yellow in Paris?
TB: Yeah, I'm trying to keep it, as I'm trying to win bonus seconds in the sprints. That way I don't need to work that hard in the mountains (laughs).
I have thought about doing a good time trial and everything, but I think it might be better to maintain focus on the first objective - wearing green in Paris. Maybe in the future I'll focus more on the GC in smaller stage races.
But it's true, I'm improving a lot on my climbing and it's not that hard anymore to stay on low weight and everything. But to focus on the GC in the Tour de France, I'll still have to wait and see. The same counts for George Hincapie, it's not that easy at all.
Schleck unlucky
Frank Schleck (CSC)
Photo ©: Sirotti

Fränk Schleck suffered a very unlucky time loss during the fifth stage of Tour de France from Beauvais to Caen, when he crashed just 3.5 kilometres before the finish. A couple of kilometres before that, Stuart O'Grady had a puncture, and the two teammates crossed the line 2'07 minutes after the peloton.
"Not counting Fränk's crash, it was a fairly uneventful stage for us," said sports director Kim Andersen after the stage. "It was extremely bad luck that he should loose time in one of the flat stages, but it's impossible to control these things. Fortunately he doesn't seem to have been hurt."
Millar looking forward to TT
Saunier Duval's David Millar, 14th on the overall standings after Tour stage 5, is happy to be back racing the roads of France. "I feel good and happy to have come back," he said. "I now remember what it is like to manage tiredness and psychological strength in the course of a grand tour like this, but I'm trying to adapt one day at a time."
After his 16th placing in the prologue, time trial specialist Millar is looking forward to improving his result in Saturday's race against the clock from Saint-Grégoire to Rennes. "I´ll try to be relaxed tomorrow and do my best on Saturday. I'm in good form and have worked hard. I'm confident in the outcome," he said.
Saiz questioned
The former team manager of Liberty Seguros, Manolo Saiz, was questioned on Thursday, July 6 by the head judge of the investigation known as Operación Puerto in Madrid. Saiz, who is believed to have organised doping practices within his former team on a regular basis for several years, was at the judge's disposal for over 1.5 hours. He left the building located at Plaza de Castilla without commenting to the press.
Cyclingnews' recent coverage of 'Operación Puerto'
May 18, 2009 - Valverde to start Catalunya
May 15, 2009 - Valverde not welcome in Denmark
May 14, 2009 - Spanish federation wants proof in Valverde case
May 13, 2009 - Spanish Olympic Committee defends Valverde
May 12, 2009 - Valverde responds to sanction
May 11, 2009 - Italian tribunal delivers Valverde two-year suspension
May 8, 2009 - Valverde case: Italian Olympic Committee defends Torri
May 7, 2009 - Valverde to take legal action against CONI prosecutor
May 5, 2009 - WADA and Spanish federation join CONI and UCI on Valverde
May 1, 2009 - International Cycling Union joins in on Valverde's hearing in Italy

Cyclingnews' complete coverage of Operación Puerto
No room for T-Mobile's Italians?
Another hard blow for the T-Mobile Team, as three team members were refused rooms in a hotel Wednesday night. At the reception desk at the Hotel Mercure in Beauvais, France, stood a trolley with three large, antique, leather suitcases, and a note: "T-Mobile Team: Because of the difficult situation caused by the football world championship, the T-Mobile team members Giuseppe Guerini, Eddy Mazzoleni and Valerio Piva will have to sleep in the garden tonight. Thank you for your cooperation." The three took the joke in good stride.
Courtesy of Susan Westemeyer
Petacchi aims for Paris-Tours
While the Tour de France went into its fifth stage, Alessandro Petacchi has come done his first training ride on the road after two months. After crashing at the Giro d'Italia, the Milram sprinter has to build up his form slowly - but he did cover about sixty kilometres between Marina di Massa and Viareggio.
"I have finally done the first training on the road and for me it's very important to program my comeback to competition," Petacchi said after his ride. "I haven't recovered the mobility of my knee completely, but it's enough to turn the pedals. The muscular tone of the left leg is really nonexistent, but considering that I had to stop for sixty days I think it's normal."
Petacchi thinks he might be able to use the Vuelta a España to get racing kilometres in his legs again. "My come back will be difficult to program," he said. "I hope to do the Vuelta a España to aim at Paris-Tours. It would be a great end of season as it would consecrate the thirteen victories I have until now."
Five extend contract with Barloworld
Team Barloworld has announced that five riders have extended their contract with the squad directed by Claudio Corti for one more year. Enrico Degano, Alexander Efimkin, Ryan Cox, Tian Kannemeyer and Hugo Sabido all signed on with the Professional Continental team
"I'm very satisfied about the agreements we have reached," said manager Claudio Corti. "Our choice to renew the contract with these five riders represents our first important step towards 2007 season. Barloworld's group hits to become a top-level team and these riders perfectly share our ambitions. My goal is to build up a very competitive team."
Enrico Degano is the 2006 Team Barloworld top winner up to now with four victories this season. Efimkin and Sabido are still looking for their first win despite several positive performances with Efimkin getting second in the Russian National Championships. Tian Kannemeyer achieved his first 2006 victories in two national races held in South Africa just few days ago, and Ryan Cox (2005 Tour of Langkawi winner) is wants to get results in the final part of the season.
Hours left to join Fantasy Le Tour
Fantasy Prizes
Giant TCR Advanced

BBB's BSG-23 Winner Quick-Step World Champion glasses

Santini clothing
Photo ©: Santini

Speedplay Zero pedals

Deda Alanera handlebars

fi'zi:k saddles

DedaTre RS Corsa clincher tyres

Reynolds SV KOM carbon wheels

There's still time to join the Fantasy Le Tour Game - only hours left until registration closes so you'll need to be quick. Register your teams now and win some amazing prizes! You can join until stage 6 begins and there's ample time to learn how the game works.
Registration Deadline
This year we've increased the amount of time you have to enter your teams to the official pre-start time on the day of Stage 6 at 12:50 CEST. You need to make sure your teams have the "Race Fees Paid" status next to them by the following times around the world:
Fri 7th July - 12:50 Central European Summer Time
Fri 7th July - 06:50 US Eastern Daylight Time
Fri 7th July - 05:50 US Central Daylight Time
Fri 7th July - 03:50 US Pacific Daylight Time
Fri 7th July - 20:50 Australian Eastern Standard Time
There is no disadvantage in joining the game once the Tour has started so try the game out for FREE until stage 6 begins. Experiment with different team selections and see how they fare every day live here at Cyclingnews. There are plenty more winners to come with over 50 prizes confirmed for the prize rosta this year, with more prizes to come. We'll keep you updated.
New Prizes from SockGuy
We have a $200 coupon on offer from SockGuy waiting for the lucky runner-up, adding to an already impressive array of prizes. SockGuy, the manufacturer of the most comfortable socks you'll ever wear makes specialty socks that feature superior comfort, cool designs, and extreme durability. The rest of the prize line up is below:
Fantasy Game Prize List
Grand Prize from Giant TCR Advanced T-Mobile Team bike.
Daily Prize from BBB Parts - 21 pairs of BSG-23 Winner Quick-Step glasses.
Runner-up Prizes - Set of wheels from Reynolds. - Cirro SV KOM carbon wheels
Runner-up Prizes - Ten pairs of tyres from DedaTre.
Runner-up Prizes - Handlebars from Deda Elementi.
Runner-up Prizes - Three Giro Atmos helmets.
Runner-up Prizes - Three sets of Speedplay's Zero pedals.
Runner-up Prizes - Three fi'zi:k saddles.
Runner-up Prizes - Six complete sets of Santini ProTour replica team kit.
The Fantasy game is a great way to get to know the Tour in more detail, as you take on the role of being a team manager during each day of the Tour, making the best of your team selections as the Tour unfolds stage by stage. Depending on how the riders finish each stage in real life you will score points for your Fantasy team to win some great prizes. You'll get a much more intimate knowledge of the lesser seeded riders as you watch their progress in your own teams and in other Fantasy manager's teams each day. You'll also get a much more in depth insight into how the riders perform over the coming weeks through the sprints and the mountains.
Remember you can change your 15 riders right up until stage 6 begins so there is no need to worry about the recent changes to the start list. There is plenty time to get your team right before the game closes to registrations.
How to Play the Game
It's easy to play the Tour games - all you need to do is pick your dream team of 15 from the riders racing in this year's Le Tour start list. Then each day pick 9 riders to race for your fantasy team from these 15. You'll need a good combination of climbers, sprinters and general classification riders.
For more details go to the rules section of the site. There're also some great tips and tricks in the downloads and winners sections of the site. It's a great way to follow Le Tour 2006.
Good luck!
The Fantasy Cyclingnews Team
(All rights reserved/Copyright Knapp Communications Pty Limited 2006)