Latest Cycling News for July 5, 2006
Edited by Jeff Jones
An interview with Robbie McEwen
Robbie McEwen: life of a sprinter
Coming up on
Cyclingnews will cover the 60th edition of the Dauphiné Libéré live as of stage 4 on Wednesday, June 10, at approximately 15:00 local Europe time (CEST)/ 23:00 Australian time (CDT)/ 9:00 (USA East).

WAP-enabled mobile devices: http://live.cyclingnews.com/wap/

Australian sprinter Robbie McEwen is firmly in the hunt for the green jersey in this year's Tour after his spectacular win on stage two. Cyclingnews' Shane Stokes sat down with Robbie McEwen the day he withdrew from the recent Tour de Suisse with a sore knee. He was expecting to find the sprinter in a disappointed mood but instead the rider was in top form, talking happily for longer that was scheduled and showing clear confidence that everything was on track for a strong Tour de France.

Already a Tour stage winner.
Photo ©: AFP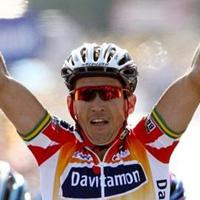 When it comes to the final 200 metres of a major race, Australian rider Robbie McEwen is one of the quickest and most tactically astute on two wheels. Along with Thor Hushovd and Tom Boonen he's one of the top favourites for stage wins and the green jersey as best sprinter in this year's Tour.
Mondays's road stage showed just why the Davitamon-Lotto rider has already won two maillots vert; McEwen produced a hugely impressive burst of speed to blast past Stuart O'Grady and Erik Zabel and win the stage. Last year McEwen took a hat-trick of stages at the Giro and then did the same at the Tour, taking the honours in Montargis, Karlsruhe and Montpellier. However, a controversial tangle with compatriot Stuart O'Grady on day three into Tours saw him disqualified, a decision he disagreed with and which he feels ultimately cost him his chance of winning the race for green.
This time round he's hoping for more success. He once again took three stages in the Giro and says that if history repeats itself and brings an equivalent number of victories in this year's Tour, he'd be very happy indeed. Over the course of a 25-minute interview a friendly McEwen gave an in-depth look into his career and the world of sprinting, talking about his abilities, his preparation, his career progression, his tactics when dealing with top rivals such at Tom Boonen and Thor Hushovd and his surprisingly relaxed approach vis-à-vis checking out the route of the race.
Click here for the full interview
Julich ready to stand up
By Brecht Decaluwé in Valkenburg
American Bobby Julich is going with the flow in this year's Tour de France. He's still in the upper portion of the general classification, so after Saturday's individual time trial, he could find himself in the top 5. We asked whether this was an objective when he prepared for the Tour de France.
"Now it is, but it wasn't an objective. I wasn't really thinking about the individual accomplishments here in the race, but now I think it will sort out the GC. I do like long time trials, but we'll have to wait and see. It's all about saving the energy and using it all on that one day, but I think everybody has the same plan. I didn't do any prologue training, because I was busy doing long climbs, preparing to work for Basso in the mountains; and without a team time trial, there was no real reason to do that.
"The last two days I felt good and obviously I hope to get better, and save as much energy for the time trial; without losing any time before that."
The Texas born Coloradoan finished third in 1998 and was also the proud wearer of the first white ProTour leader's jersey last year, after his win in Paris-Nice. The pressure must be mounting now, since team leader Basso is out of the race: "I'm 34 years old...honestly, I'm too old to feel that kind of pressure. If this kind of opportunity would've come my way a few years ago, it would've been super, but I'm too old to put that kind of pressure on myself."
In absence of Basso, maybe Julich will need to stand up and say to his teammates that he's the one to support. Is he ready to do this? "If I do a good time trial, and I'm in the front of the GC, absolutely. I did that last year in Paris-Nice and the Tour of Benelux. I know how to do it, but it's just a question of being able to do it; and after all, this is the Tour de France, not Paris-Nice or the Tour of Benelux," Julich said.
Operacion Puerto has had a big influence on this edition of the Tour de France, and we asked Julich how things have changed for him."I feel fine, nothing special, but obviously it's a different mentality, a different mindset, now that I have to adapt rather than coming here and have to be a worker. Team CSC still has a plan as we have some other bullets in the gun; I may be one them, but after the time trial it will be clear who the leader is."
Tuesday was the first stage with hilly roads, which gave an indication of who is fit and who isn't. "You can't really tell so much on climbs like this. There are guys that are punchers, and there are guys that are good in the long climbs. And obviously, the Cauberg is a climb for punchers," Julich concluded.
Casar downed by drunk spectator
Sandy Casar (Française des Jeux) finished 137th in yesterday's third stage after being taken out by a drunken spectator at the foot of the Cauberg. The spectator then got into an argument with Casar's DS Marc Madiot, while others tried to steal the Frenchman's wheels.
Although Casar lost several minutes, he was credited with the time of the first group (five seconds behind winner Kessler), and therefore is just 39 seconds behind on GC.
O'Grady OK to start
Stuart O'Grady (CSC) was able to start stage 4 in Huy, despite breaking one of his vertebrae in a crash during yesterday's third stage. "Stuart is in pain, but we all hope that he will continue to race," Team CSC's Brian Nygaard told Cyclingnews. "The pain is bearable for him, and he decided to continue. We'll see how it goes inside the bunch today. We don't expect him to sprint in Saint Quentin though, that would not be fair." Both he and his team will see how he holds up in the coming days, as to whether he can finish the Tour.
Dekker leaves hospital
Erik Dekker (Rabobank) was able to leave the hospital in Verviers after an overnight stay following a bad crash in stage 3. Dekker had serious facial wounds, broken teeth, a torn lip, and concussion, and was kept unconscious by doctors while they treated him.
Tour visits Flanders in 2007
The Belgian prime minister Guy Verhofstadt has confirmed that the Tour de France will pay a visit to cycling-mad Flanders next year. The second stage, which starts in Dunkirk, will finish in Gent. The following stage will start in Waregem, some 30 km west.
Five points in the Basso-Fuentes link
The withdrawal of Ivan Basso from the Tour de France on the eve of the race was one of several shocks resulting from the Operacion Puerto affair. As Basso was named in the investigation, under ProTour rules he had to pull out of the Tour. Jan Ullrich, Oscar Sevilla, Francisco Mancebo, and the whole Astana-Würth team (even though all weren't named) couldn't start the Tour for similar reasons.
Since the operation hit the public eye on May 23, Basso and his Team CSC mentor Bjarne Riis have always denied that they were involved in the investigation. However, a 38-page summary of the full 500-page Operacion Puerto dossier provided enough circumstantial evidence to link the CSC captain to the affair. Italian newspaper La Gazzetta dello Sport published the information concerning Basso, which focused on tapped conversations between Dr Eufemiano Fuentes, and the former director of Comunidad Valenciana, Ignacio Labarta.
In a phone conversation on May 14, at 21:46, the two discuss the Giro stage to Maielletta, won by Basso. Fuentes allegedly said in a 'wink wink' tone, "A stranger won, Basso, Ivan Basso." Labarta responded, "A certain Ivan Basso."
After that stage, Basso and José Enrique Gutierrez Cataluna (a Dr Fuentes client) were lying first and second on the general classification. Labarta: "Well done boy, first and second with a certain Basso and a certain Guti." Fuentes: "Good heavens." Labarta: "Hey...first and second."
On the previous day (May 13), Labarta called Fuentes at 20:02 and spoke about the great performance of the "Buffalo" - Gutierrez' oft-used nickname - who finished fourth in stage 7 on that day. A surprised Fuentes said, "Buffalo?", to which Labarta responded in the affirmative, also listing the stage placings behind Rik Verbrugghe: "Savoldelli [2nd - ed.], yes, and behind at 16 seconds, Birillo arrived with Simoni, at 20 seconds Zapatero [who was identified as Scarponi], at 24 seconds, Uno [La Gazzetta claimed it was Unai Osa, but he finished at 34 seconds - ed]. All very well. I want to say that all those who you are looking after, or who you are interested in, are in the race and also doing well."
In addition to Basso and Simoni, only Rebellin and Gonchar finished at 16 seconds on the seventh stage. Both those riders, as well as Simoni and Savoldelli, have been excluded from having any connection with Dr Fuentes. But "Birillo" happens to be the name of Basso's dog. In Fuentes' code key, it is associated with number 2. The 226 bags of blood and plasma that were seized from Dr Fuentes' apartments in Madrid are encoded with similar numbers and nicknames, and presumably a DNA test could verify whether the blood contained in a "number 2" bag is the same as Ivan Basso's.
The fourth link is a document with Dr Fuentes' company letterhead on it that features a list of "contributors and participants in the festival taking place in the month of May." Basso, Marcos Serrano, Michele Scarponi, José Enrique Gutierrez and Jan Ullrich are all on the list. The Civil Guard has interpreted the 'festival' as being the Giro d'Italia, since all those riders took part in it.
The final link is contained in details of payments for products and services. There is no direct naming of Basso, but a handwritten note by Fuentes appeared to give 'Birillo' instructions to take certain products. "Birillo: take 2 x plasma; 3 x HM (gonadotropin); 10 patches (testosterone); code Swiss account."
Fuentes says he treated more athletes
The doctor at the centre of the Operacion Puerto affair, Eufemiano Fuentes, has said on Spanish radio that there are riders still in the Tour de France that he has treated. Speaking on the sports program El Larguero (SER), Fuentes said, "There are names there that I don't even know, and there are riders among those I have treated who are still riding the Tour de France."
Despite the Spanish court's declarations that there were no footballers or tennis players involved in Operacion Puerto, Fuentes said that he did not treat cyclists alone. "I have done the same thing with other sports. I have given advice on treatments for football teams, athletes, and tennis players, among other sports. My professional oath forbids me from revealing their names. There have been only selective leaks. I am indignant about that."
Fuentes doesn't believe he has committed a crime against public health. "As any doctor of this country, my objective is to preserve the health of my patients, not to damage it."
He concluded by saying that he will tell the truth. "I make one condition: what must be said, I will say it. I must tell the truth, although it hurts, I will say it."
Courtesy of Antonio J. Salmerón
Cyclingnews' recent coverage of 'Operación Puerto'
May 18, 2009 - Valverde to start Catalunya
May 15, 2009 - Valverde not welcome in Denmark
May 14, 2009 - Spanish federation wants proof in Valverde case
May 13, 2009 - Spanish Olympic Committee defends Valverde
May 12, 2009 - Valverde responds to sanction
May 11, 2009 - Italian tribunal delivers Valverde two-year suspension
May 8, 2009 - Valverde case: Italian Olympic Committee defends Torri
May 7, 2009 - Valverde to take legal action against CONI prosecutor
May 5, 2009 - WADA and Spanish federation join CONI and UCI on Valverde
May 1, 2009 - International Cycling Union joins in on Valverde's hearing in Italy

Cyclingnews' complete coverage of Operación Puerto
UCI to appeal Gonzalez and Landaluze cases to CAS
The UCI will appeal the Spanish federation's non-sanctioning of Aitor Gonzalez and Iñigo Landaluze, who tested positive in the 2005 Vuelta a España and Dauphiné Libéré, respectively. Gonzalez was positive for methandriol/methandienone/methyltestosterone, while Landaluze had too high a testosterone level. The RFEC did not suspend them, but the UCI wants some sort of penalty imposed.
Shefer to direct new Astana team
Kazakhstani Alexandre Shefer will become a director sportif of Alexandre Vinokourov's 'new' Astana team, which will be sponsored purely by Kazakhstan interests after the withdrawal of co-sponsor Würth. Shefer was a pro between 1993 and 2003, and won the Giro dell'Appennino and the Giro della Toscana, among other races.
Cioni to Davitamon-Lotto
Davitamon-Lotto will sign Italian Dario Cioni (Liquigas) for next season, reports Sportwereld.be. Cioni is a strong all round rider, and finished sixth in the Tour de Romandie this year. Davitamon will also gain the services of LPR team director Roberto Damiano, and is negotiating with young Wallonian rider Gil Suray
First Fantasy winners - still time to join
Fantasy Prizes
BBB's BSG-23 Winner Quick-Step World Champion glasses

Giant TCR Advanced

Santini clothing
Photo ©: Santini

Speedplay Zero pedals

Deda Alanera handlebars

fi'zi:k saddles

DedaTre RS Corsa clincher tyres

Reynolds SV KOM carbon wheels

There's still time to join the Fantasy Le Tour Game. Register your teams now and win some amazing prizes! You can join until stage 6 begins and there's ample time to learn how the game works. There is no disadvantage in joining the game once the Tour has started so try the game out for FREE until stage 6 begins. Experiment with different team selections and see how they fare every day live here at Cyclingnews.
First Fantasy winners announced!
The first four winners of daily stage prizes have been confirmed. Winning a pair of BBB Parts BSG-23 Winner Quick-Step World Champion glasses, designed for Tom Boonen. Their teams had the highest cumulative stage points for the first stages of the Tour.
Daily Stage Prize winners
Prologue winner - Team McGuire (Manager - McGuire)
Stage 1 winner - www.jjcycling.co.za/3 (Manager - Johann Ribbens)
Stage 2 winner - Once More (Manager - Hercules III)
Stage 3 winner - Bleu Touchpaper (Manager - Nigel)
There are plenty more winners to come with over 49 prizes confirmed for the prize rosta this year, with more to come.
The Fantasy game is a great way to get to know the Tour in more detail, as you take on the role of being a team manager during each day of the Tour, making the best of your team selections as the Tour unfolds stage by stage. Depending on how the riders finish each stage in real life you will score points for your Fantasy team to win some great prizes. You'll get a much more intimate knowledge of the lesser seeded riders as you watch their progress in your own teams and in other Fantasy manager's teams each day. You'll also get a much more in depth insight into how the riders perform over the coming weeks through the sprints and the mountains.
Remember you can change your 15 riders right up until stage 6 begins so there is no need to worry about the recent changes to the start list. There is plenty time to get your team right before the game closes to registrations.
The full Le Tour Fantasy Game Prize List
Grand Prize from Giant TCR Advanced T-Mobile Team bike.
Daily Prize from BBB Parts - 21 pairs of BSG-23 Winner Quick-Step World Champion glasses designed for Tom Boonen.
Runner-up Prizes - Set of wheels from Reynolds. - Cirro SV KOM carbon wheels
Runner-up Prizes - Ten pairs of tyres from DedaTre.
Runner-up Prizes - Handlebars from Deda Elementi.
Runner-up Prizes - Three Giro Atmos helmets.
Runner-up Prizes - Three sets of Speedplay's Zero pedals.
Runner-up Prizes - Three fi'zi:k saddles.
Runner-up Prizes - 6 complete sets of Santini ProTour replica team kit.
Play for FREE in the Fantasy Le Tour 2006 game
Remember you can play for free for the first 5 stages! Try the game out and see how best to play. It's easy to play the Tour games - all you need to do is pick your dream team of 15 from the riders racing in this year's Le Tour start list. Then each day pick 9 riders to race for your fantasy team from these 15. You'll need a good combination of climbers, sprinters and general classification riders.
For more details go to the rules section of the site. There're also some great tips and tricks in the downloads and winners sections of the site. It's a great way to follow Le Tour 2006.
Good luck!
The Fantasy Cyclingnews Team
(All rights reserved/Copyright Knapp Communications Pty Limited 2006)