Keeping up with the Joneses are we?

Photo ©: Jon Devich
Raised in Arizona
By Anthony Tan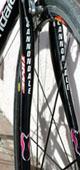 Time-ly arrival
Photo: © Jon Devich
What better way to unveil your latest road offering than at an early season pro training camp? Cannondale let loose a stable full of their CAAD7 road machines among Team T-Mobile's squad of eager recruits at their recent pre-season training camp in Arizona.
Team T-Mobile, a US-based professional women's cycling team and part of USA Cycling's elite women's cycling program, were some of the first to try out Cannondale's new breed of road frames for 2003.
Possibly the very first training camp to mark the new season, Team T-Mobile based their bods in Tuscon, Arizona for a week or so last November, to mix and mingle with their sponsors and the media, bond with new team members, and of course, ride their bikes.

Where is it? Campy's Hiddenset
Photo: © Jon Devich
Other the very sexy, very "who da bad girl?" paintjob, the 2003 CAAD7 frame looks no different to the 2002 model - which tends to be what most frame manufacturers do when they're onto a good thing. I mean, why change something that's being given the nod of approval by Italian poster-boy Danilo di Luca and (almost) ridden to victory in this year's Giro d'Italia by Gilberto Simoni?
Upon closer inspection, apart from the use of a new aluminium alloy, the reality is that my first impression does in fact hold true.
However, in marketing speak, the claim to be "The world's lightest production bike" always fares well in sales circles, and with a frame weighing a tad over two pounds, who's going to argue?

Pedal power by SRM
Photo: © Jon Devich
Other manufacturers may boast a lighter frame - which may well be correct - but Cannondale do their sums by accounting for the weight of the bike as a whole. They achieve one-upmanship by incorporating a number of Cannondale-only compatible and extremely lightweight components, termed "Si" or System Integration componentry.
By far the biggest weight saver is the Hollowgram one-piece crankset and bottom bracket, tipping the scales at 525 grams. That's 15 percent lighter than Dura-Ace and 23 percent lighter than Ultegra - or about four hamburger patties. However, in Kristen Armstrong's case and the rest of the T-Mobile posse, SRM Power Cranks are fitted during the winter months to accurately profile each rider's form.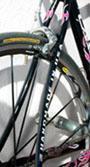 Snnnaaakey
Photo: © Jon Devich
Other Cannondale stalwarts that remain unchanged include the hourglass-shaped seatstays, bucking the carbon-fibre trend, butted top tube and double-butted downtube, and the Time-manufactured, 'dale branded Slice Si carbon fork and steerer, which slots neatly into Campy's Hiddenset integrated headset.
For bikes belonging to a team focused on rider development, these little pretties have certainly received the pro treatment. As Scott Montgomery, Cannondale VP, Marketing says, "The women at Team T-Mobile have been given top shelf attention, and you could just see the girls' smiles grow from ear to ear when we unveiled their new bikes for 2003." I'm not surprised.

Another Armstrong? Uh oh.
Photo: © Casey Gibson
Spinning on Speedplay's titanium-axled pedals, rolling on Mavic Ksyrium SSC SL wheels, bouncing on Fi'zi:k Pavé saddles, crouching under ITM Millenium bars and stems, and using the latest and best in power-measurement technology - it doesn't get much better than this.
When you add the matching black and magenta lycra garb from Biemme, Limar's black and magenta lid, and Pearl Izumi's Vaper shoes in… you guessed it, black and magenta - you'll certainly be hard-pressed to see a more professional and distinctive looking outfit on the USPRO circuit next year.
To read the Cyclingnews feature on the T-Mobile training camp, click here