Titanium in disguise
Up the front
By John Stevenson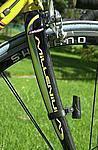 Time fork
Photo: © CN/Tom Balks
Saturn chief mechanic Ian Sherburne is a big fan of the LeMond titanium frames that the team is using in 2002. That's if the enthusiastic email we recieved in response to our request for information on the team's bikes is anything to go by.
"LeMond trained its top welders to build these bikes, and they are the highest quality," says Sherburne. "Reynolds has a tremendous history of making competitive tubesets, and has created a cutting-edge titanium tubeset. If I could get you to take a test ride, you'd realize why riders like Jay Sweet say these Saturn Cycling Team LeMond bikes are the best they've ever ridden."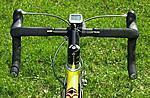 Behind bars
Photo: © CN/Tom Balks
And that's despite the frames being stock geometry. "Our Saturn team issue LeMond bicycles are made with the same stock geometry that every LeMond is built with. The Saturn mechanical staff works with each rider to create a bicycle that fits perfectly. Every part is stock, but custom-fit to the rider."
Given the variety of fit and adjustment available with today's bars and stems you have to wonder how many people actually need a cutsom frame. Certainly the Saturns seem to do just fine with carefully-tweaked production rigs. They're not the only ones: LeMond is owned by Trek, who provide stock frames to another rider you might have heard of, name of Lance...
Sherburnes adds, "there are two things that LeMond Bicycles does for our team that is custom: the beautiful paint job and the number hanger on the top tube. The number hanger helps the bikes look nice with race numbers, and avoids using messy packing or electrical tape."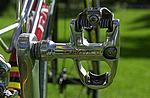 Shimano pedal
Photo: © CN/Tom Balks
One of the things we've been asking teams is whether any of their riders have unusual equipment of set-up preferences. Sherburne replies: "We don't look upon any of our racers as having unusual preferences! For the time they spend on these bikes, any request that makes the bike more comfortable or feel better is listened to. Every racer has specific concerns or wishes for their bike, and we do everything we can to accommodate them." That's us told, then.
Sherburne continues: "The mechanics keep detailed records for each rider so we can build a bike that's ready to race with few changes. As you work with each rider, you get to know their personal preferences. For instance, Eric Wohlberg likes to have two layers of bar wrap. Anke Erlank has her brakes right/front, left/rear. I could go on, but I would hate for anyone to feel self-conscious."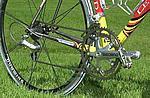 Drivetrain by Shimano
Photo: © CN/Tom Balks
The team's equipment is a very common pro-level mix, with a a few 'quirks'. Stopping, going and rolling along is by Shimano: transmission, brakes, pedals, wheels, and - unusually - computers all come from the Big S.Shimano also supplies the team's shoes, and Foot Fitness orthotics make sure they fit each pair of Saturn feet perfectly.
The only deviation from a Shimano transmission is the use of the CycleOps Power-Tap system for power measurement in training.Team co-sponsor Timex supplies another vital training aid: heart rate monitors.
Wrapped round Shimano's distinctive paired-spoke wheels are Michelin clinchers, making Saturn yet another pro team to have switched away from tubulars. Michelin also supplies Air Comp latex tubes
Steering it all is a name more familiar as a mountain bike parts company: Kore makes the team's bars and stems, and Profile, originally known for triathlon bars, is the source for tape - both layers in Wohlberg's case.
Finally, the team sits on San Marco saddles, and one last Dura-Ace component supports the seats.