Cross-country classic

Photo ©: Tom Balks
Reborn
By John Stevenson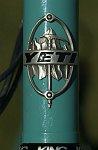 Get ahead
Photo: © Tom Balks
Yeti is a brand with an interesting history, to say the very least. Back in the 80s it was one of those cult brands that many lusted after and few could afford. The Yeti legend was propelled by the force of its founding personality, John Parker, and not harmed at all by the company's move from LA to Durango, Colorado in 1991 and Parker's ability to spot and nurture talented riders like Missy Giove and Juli Furtado.
In the 90s Parker sold the company to Schwinn, and left not long after, returning to his former job as a set welder in Hollywood. Schwinn foundered not long after that, Yeti was bought by ski maker Volant and then bought out by its management when Volant got into trouble last year. As a result Yeti has now somewhat returned to its roots, run by a crew top Australian mountain biker Paul Rowney describes as "just a bunch of Colorado dudes that love to ride at lunchtime. Very cruisey. Just a Yeti thing I guess."
If Yeti has been reborn time and again, one thing that has been constant for almost a decade is the quality of the company's ARC racing hardtail, and this is the bike Rowney races. Welded from Easton aluminium, the ARC still features Yeti's distinctive looped stays with thick aluminium plates welded to the curves for dropouts. We could argue for hours about whether the design makes a real performance difference, but it certainly makes it very easy to spot a yeti the other side of the car park, and given the tribe that the cult of Yeti still attracts, that's not a trivial feature.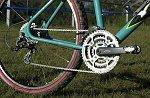 XTR
Photo: © Tom Balks
Otherwise, Paul's bike is a classically conservative cross-country rig. Gears and brakes are Shimano XTR, the component set that has dominated the top of the mountain bike parts tree since its introduction in late 1991, and Paul goes for the latest version of Shimano's SPD pedals, the redesigned 959s.
Less conventional are Paul's Mavic wheels with straight-pull spokes and custom hubs, but even here there's a hint of old school: no discs or tubeless tyres, this is reliable, I-know-it-works racing gear, and light too.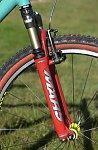 The new red
Photo: © Tom Balks
Keeping with the lightweight theme, something many cross-country racers are obsessed with, is the Answer/Manitou MARS Super fork, with a combined air/coil spring fork, the acclaimed TPC damper and a claimed weight of just 3lb.
That fork turns on yet another classic component, a Chris King headset, and Chris King's track record means we expect that headset will still be turning when the sun goes red giant on us...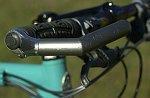 Retro
Photo: © Tom Balks
Steering is a combination of an Azonic stem and Easton EA70 flat bar, and dangling off the ends of the bar a component I hadn't seen in years: onZa titanium bar ends! OnZa, for those who aren't mountain biking old farts like me, were the company that popularised bar ends and made some of the most ludicrously expensive ones, welded from 3/2.5 titanium including the clamp. A later version used the same forged clamp as onZa's all-aluminium bar ends, and this is what Paul has. He simply likes them, and has a couple more pairs salted away in case a crash claims this set.
Paul's bike rolls on IRC Notos rubber, or at least it did when we took these pics at the Australian national championships. Like most pros, Paul has a quiver of tyres that get swapped for the occasion.
Rounding out the spec is a Fi'zi:k Nisene saddle perched on an Easton carbon seatpost, and a pair of Yeti's own-brand grips, held firmly in place with lockwire.