Décathlon dedication
By John Stevenson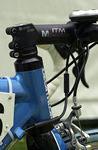 Front end loader
Photo: © CN/Tom Balks
A large French-based chain of sports stores, Décathlon isn't the sort of brand you immediately associate in the same company as Colnago and Look. But since the start of its association with the AG2r Prévoyance team, Décathlon has genuinely made an effort to supply the team with the best possible bikes.
The frame is built from heat-treated 7000 series aluminium, and each frame is custom-built both to fit the rider and to suit his style of riding. For example, according to a source at Décathlon "Kirsipuu who is a sprinter and very agile on the bike, prefers a more vivid steering so that he can manoeuvre around the peloton more easily which is very important when you approach the finish line."
Up front, a Time composite fork – moulded in one piece from high modulus carbon fibre and Vectran – connects frame to front wheel, with Kevlar reinforcement at the top of the steerer to strengthen the clamped area.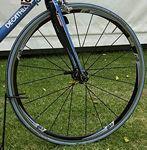 New wheels
Photo: © CN/Tom Balks
Décathlon has also worked with co-sponsors such as ITM to create specific Décathlon versions of components like the bars and stem for the Penta Pro. In the inevitable TLAs-with-everything style, this is termed DES – Décathlon Ergonomic System.
Also new for 2002 are the Penta 20 wheels. These 20-spoke, deep-rimmed hoops are a collaborative effort between Décathlon, DT Swiss, who supply the hubs, and rim maker Alex. An unusual feature is that the front wheel is spoked heads-out, presumably a choice of aerodynamics over ultimate strength. Claimed weight is 1650g per pair and the freewheel body can be swapped between Shimano and Campagnolo standards without the use of tools, according to Décathlon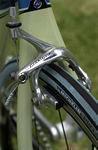 Campag brakes and Michelin tyres
Photo:© CN/Tom Balks
Wrapped round the wheels are Michelin's Pro Light clincher tyres, making AG2r the first team we've looked at to roll on wired-on rather than glued-on rubber. The merits of tyre types are a source of endless tech debate, but clinchers sure don't seem to slow down AG2r riders like Kirsipuu or Capelle.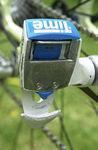 Well-pedalled
Photo: © CN/Tom Balks

Campagnolo is the source for AG2r's parts in the transmission and braking departments, and what can we say about Record 10 speed that's not been said before?
Rounding out the parts pick, AG2r clips in to Time pedals, and sits on Fizik Poggio AG2R team issue saddles, supported by Campagnolo Record carbon posts.