None more black
Invisible on radar?
By John Stevenson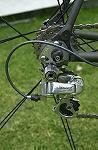 Adjustable dropouts
Photo: © CN/Tom Balks
For 2002 the CSC-Tiscali team is once again aboard Look bikes, in the form of the all-black KG381i team issue carbon fibre model, each one of which is custom-built for the individual rider. This particular rig belongs to New Zealander Julian Dean, who joins the team this year from US Postal along with Tyler Hamilton.
One novel feature of the KG381 is the removable and adjustable rear dropout. The removable aspect means a gear hanger can be easily replaced if it's bent in a crash, while the fore-aft adjustability allows a mechanic to slide the rear wheel forward to tuck the tyre as close as possible to the seat tube for improved aerodynamics.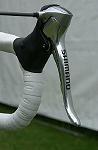 Still space-age
Photo: © CN/Tom Balks
As you'd expect, the bikes are hung with other Look components: a matching Look HSC 4 fork, Look Ergopost carbon seat post and Look pedals. The Ergopost continues the theme of adjustability with a whopping 60mm of fore-aft displacement – and that's before you start moving the saddle in the clamp. Pedals are either the super-light CX7, claimed to be 180g/pr, or the pro workhorse PP396s.
CSC hits up Shimano for most of the rest of the components. Brakes, transmission and wheels are all Dura-Ace, which still looks startlingly modern to these eyes despite having been around for almost a decade now. More important than its looks though, is that it flat-out works.
Deda Newton stem
Photo: © CN/Tom Balks
Bar and stem are Deda Newton, with stem length and bar shape tailored to the individual rider. As you can see from the lack of spacers under the stem, Dean likes a deeply-tucked position, and uses a deep-drop bar too. At the foot of the page you'll find more details of Jalabert's, Hamilton's and Dean's individual set-ups.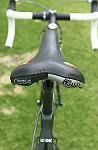 Selle Italia saddle
Photo: © CN/Tom Balks

CSC may technically be a Danish team, but with Jalabert at the helm is has a French heart, and just as Telekom rolls on German tyres, so CSC gets its rubber from a French supplier, Hutchinson. None of this newfangled clincher stuff for Bjarne Riis' boys, either – CSC uses tubulars.
Finally, team members get their choice from Selle Italia's extensive range of seats. Dean uses a Turbomatic as does leader Jalabert, while Dean's fellow CSC newbie Hamilton goes for the lightweight Flite TT.