Swiss precision

Photo ©: Tim Maloney/Cyclingnews
Innovative
By John Stevenson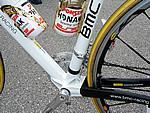 Carbon meets aluminium
Photo: © Tim Maloney
Cyclingnews European editor Tim Maloney snapped these pics of Phonak's BMC SLT 01 team bike at the Giro d'Italia. Shooting bikes while teams are trying to get prepped for a grand tour stage isn't conducive to getting lots of detail shots, but Tim was able to grab shots of the most unusual aspects of the BMC frame.
Like many top-of-the-range modern bikes, the BMC SLT 01 combines an aluminium front end with carbon fiber chainstays and seatstays. It's a combination that riders seem to appreciate, but it makes life tricky for manufacturers. Mating aluminium and carbon fiber successfully isn't trivial, and the greater the contact area between the two parts, the better. When you're trying to mate traditionally small-diameter seatstays and chainstays to a main triangle you run into problems.
A closer look at the BB shell
Photo: © Tim Maloney
BMC's solution is to end the chainstays and seatstays in large plugs that fit into specially-made sockets in the frame. Of course, that's a great excuse for the designers to get creative with shapes, lightening and reinforcement. BMC's bottom braket shell and seat cluster end up looking more like pieces of sculpture than bike parts - art and engineering in one chunk of aluminium.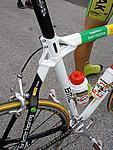 The rear end
Photo: © Tim Maloney
Phonak's component mix is almost archetypical 2002 pro gear. Campagnolo provides the bulk of the running gear with the dependable Record group chosen for gears and brakes.
Wheels are Mavic Ksyrium SSC SLs, probably the most common wheels in the peloton this year. Phonak is in the tubulars camp where tyres are concerned, rolling on Vittoria CXes.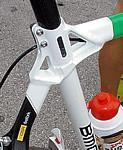 Industrial art
Photo: © Tim Maloney
Similarly widespread this year is Deda's Newton bar and stem combination, and this is what we find on the Phonak bikes.
The other contact points are taken care of by Time pedals and a Selle italia Trimatic 3 saddle atop a Selcof carbon fiber seatpost.
Finally, it's unusual for a pro team bike to be available to you and me in the exact same spec that the team rides. When a team rides a particular maker's frame, the sponsorship arrangements for parts like bars, wheels and tyres are often different from the arrangements the maker has with component suppliers. The BMC SLT 01 is available in the same spec that Phonak uses for a cool 7,799 Swiss francs (about US$5,000/Euro5,300).