Big

Photo ©: Brad Glazier
A splash of colour
By John Stevenson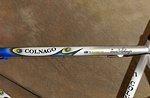 Colour
Photo: © Brad Glazier
"Our trailer has a lot more color in it this year," says Navigators mechanic Mike Spilker of the team's 2002 bikes. Last year the American team ran unpainted Litespeed titanium frames. This year they're on the same metal from another ultra-quality marque, Colnago, but this time the bikes are painted.
In terms of prepping the bikes for the team it's meant one small change in routine for Mike and the team's other mechanic. "It has been a change for us, the mechanics, to have to face the bikes and tap the bottom brackets. Kevin and I both worked with titanium bikes last year without paint, so facing was not necessary. But the small amount of prep work has gone well."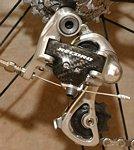 Campagnolo goodness
Photo: © Brad Glazierr
Another change for Mike (insert your own lame 'and the mechanics' gag here) has been switching component manufacturers. "Campagnolo has been a dream for us to build up the bikes with. There was a bit of a learning curve at the start. But now we have the right tools and everything is going really smoothly. I guess this is kind of boring to hear, but that's a good thing from a mechanic's view point. The less work we do the more fishing I can do!"
Surprisingly, given that a welded frame can easily be customised, the Navigators ride standard production frames that "any consumer can own". However, as well as the luscious standard paint finish, Colnago lays down custom paint jobs for a couple of the team. "We have a couple of custom paint jobs for guys that are really cool. Mark Walters, the Canadian champion, has a red and white bike. Kirk [O'Bee], American crit champion, has a stars and stripes bike on the way." We assume Mike means the paint jobs are really cool, and isn't singling out two of the team for 'really cool' status...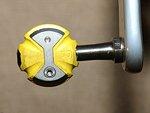 Speedplay pedals
Photo: © Brad Glazier
For most of the bikes' other components, Navigators has stayed with the same sponsors as last year. Speedplay still supplies pedals, while other contact points come from Stella Azzurra (bars, stems and tape) and Fi:zi'k (saddles), as was the case in 2001. Also as last year, those saddles sit on Thomson seatposts.
One significant change is that the team now uses Campagnolo wheels, matching the rest of the bikes' running gear.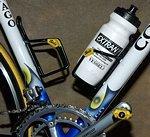 Cagey
Photo: © Brad Glazier
The team drinks from bottles and cages that are supplied by someone other than the company everyone else seems to use. Randall Marketing makes a wide range of custom bottles for a variety of companies.
Mike says there's nothing unusual about any of the team riders' tastes and preferences in equipment and set-up. However, from the top pic you can see that Tom Leaper is not exactly small. The tall Aussie, who joined the team this year, runs a 62cm frame and 180mm cranks. "No one else comes close to his crank size," says Mike.