Show-stopper

Photo ©: Tim Maloney/Cyclingnews
Black & Gold
By John Stevenson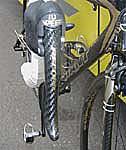 Campagnolo special
Photo: © Tim Maloney
I have to confess to a totally illogical weakness for black and gold bikes, so tech editorly objectivity about this Tour de France special edition by Giant is not going to happen. Back in the dim and distant mid-eighties a much younger Stevenson found himself at a bike show in London, confronted with a bike hung with Campagnolo's Fiftieth Anniversary group. That bike, a Bianchi finished in black chrome with celeste blue restricted to the tyre sidewalls, had me wondering how far I'd get if I threw it over my shoulder and started running.
My riding buddy Pete, who was along for a drool-fest at bikes our student incomes gave us as much chance of buying as we had of riding to the moon, just said, "You start running, I'll hold them off as long as I can."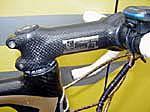 New stem & bar
Photo: © Tim Maloney
Sense prevailed, as it did when I attempted to persuade European editor Tim Maloney – who says the bike reminds him of John Player Special Formula One cars from the seventies – that he should swipe one of these bikes and FedEx it to me. Dunno what the problem is, you'd think a company the size of Giant wouldn't miss just one...
Anyway, sad bike lust from me aside, what we have here is the Giant TCR Composite compact frame that's been in development since mid-2001 and has been raced successfully this year in the Tour of Germany and the Euskal Bizikleta. Giant's association with ONCE goes back to August 1997 and has seen dramatic improvements in Giant's bikes as a result of the team's feedback. The TCR Composite is the latest fruit of this cooperation and Giant claims the bare frame weighs a feathery 950g.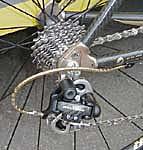 Not just Record
Photo: © Tim Maloney
Campagnolo is ONCE's components sponsor, and to go with the black and gold finish of the frame, Vicenza has allowed Giant to darken the Record group's usual polished looks with a black anodised finish on the aluminium parts, with gold decals. Add Hyperon carbon fiber wheels and – for Joseba Beloki's bike at least – Record carbon cranks and Spinal Tap 'none more black' quotes start to become irresistible. Clearly this is a bike ONCE is hoping will go up to eleven.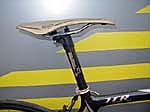 Even Selle Italia is in on the gold act
Photo: © Tim Maloney
The TCR Composite Tour Special also features new composite components from Giant: bar, stem, fork and seatpost, all in carbon fiber. Previous Giants have featured carbon posts and part-carbon stems, but these new components take things a step further.
It's remarkable that almost everything on the bike comes from two sponsors, but ONCE's riders would have a pretty uncomfortable time without the contributions of the final two partners: Selle Italia and Hutchinson. The Italian seat specialist has created a limited edition gold version of the SLR saddle for the Tour Special, while the bike rolls on Hutchinson tubulars – in the midst of all this carbon modernity, ONCE are tyre traditionalists!