Purple monster
Custom rigs for all occasions
By John Stevenson
According to Luuc Eisenga of Team Telekom, the German powerhouse squad chose Pinarello for its team bikes because of their "high quality and flexibility".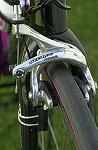 Record brakes
Photo: © CN/Tom Balks
Telekom sits at one end of the custom/production bike range – all the team's bikes are custom made for the individual rider, and Fausto Pinarello builds special bikes for special circumstances.
Probably the most famous special occasion for Telekom is Milano-San Remo. Erik Zabel gets a new bike immediately before the race, as revealed by Telekom mechanic Ken Ilegems in our interview last month. "The bike is brandnew and features everything that we have to make the bike perfect. This is a tradition of Pinarello (up until now it has paid-off...)," says Luuc.
Carbon brifters
Photo: © CN/Tom Balks
But that's not all. For the World Time Trial championships, Pinarello built a special bike for Jan Ullrich: "Because of the course, we had a bike with the geometry of a TT bike, and the tubing of the superlite Prince."
The bikes are fully Campagnolo-equipped with a smattering of the carbon fiber weight-saving measures introduced by Campagnolo over the last few years to its Record group, including the carbon Record seatpost, and carbon brake/shift levers.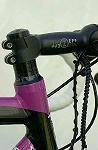 3T stem and Hiddenset
Photo: © CN/Tom Balks
3T provides the bars and stems for the team, keeping with the Italian theme. In fact, about the only parts of Team Telekom's bikes not sources from the Mediterranean boot are the German-made Continental tubular tyres.
Rounding out the spec, the riders perch on Selle Italia saddles.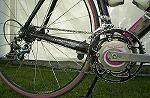 SRM power-measuring cranks
Photo: © CN/Tom Balks
When we took these shots of a Telekom bike at the Tour Down Under, one piece of evidence of the time of year was distinctly on show: SRM power-measuring cranks. You're unlikely to see these on Telekom's bikes in the middle of the season, but at this time of year they're a valuable training tool.