Say hello

Photo ©: Chris Henry/Cyclingnews
Gallic carbon flair
By John Stevenson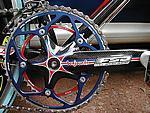 That FSA crank again
Photo: © Chris Henry
As one of the top French teams, Bonjour were a shoo-in for this year's Tour de France, despite not ranking highly enough in the UCI standings to earn an automatic place. That selection also put another French presence in the Tour peloton – carbon fiber specialist frame maker Time, a company originally known for its pedals, but that also makes highly-regarded frames and forks.
Bonjour's bikes are built around Time's VX Special Pro frame, and each rider gets five of these sought-after frames; four road bikes and a time trial machine, each built to their own requirements.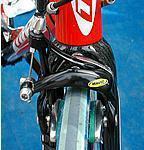 New stoppers
Photo: © Chris Henry
The component spec is an interesting mixture, with a definite but not total French slant. As you'd expect, the pedals are Time's magnesium-bodied Equipe Pros, and Time also supplies the fork and the seatpost that holds up a Selle San Marco saddle – all in carbon fiber, of course.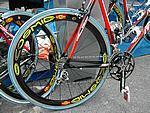 50km/h standing still
Photo: © Chris Henry
Moving from one French supplier to another, Bonjour rolls on Mavic wheels – Cosmic Carbones in this case, though like the other eight Mavic-sponsored pro teams Bonjour has access to the full range. Mavic also performs stopping duties for Bonjour, with its new dual-pivot brake. Mavic's launch of this component has been pretty 'soft', but it'll be interesting to see if it heralds another Mavic attempt at the wider component market beyond wheels. After the company's electronic embarrassments of a few years ago, we're betting Mavic gear systems will be refined but conventional.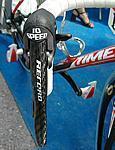 For the Record
Photo: © Chris Henry
Michelin makes up the last link in Bonjour's French connection, supplying clincher tyres in 'you can't miss 'em' blue.
Moving outside of France – but still within the Euro zone – Bonjour's shifting chores are taken care of by Campagnolo Record carbon brifters and front and rear derailleurs. As you can see from the pic on the left, a solid half-season's use hasn't phased Franck Renier's levers, though the decals are looking in need of a little TLC.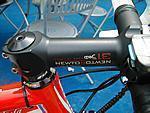 Dedaism
Photo: © Chris Henry
Still in Italy, Bonjour visits Deda for bars and stems and San Marco for saddles.
Finally, the team leaps round the world to Taiwan for the Far Eastern-made, US-designed Full Speed Ahead headsets and carbon fiber cranks.