Maestro Ernesto's finest
Just like Eddy (30 years on...)
By John Stevenson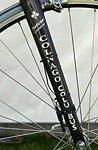 Straight ahead
Photo: © CN/Tom Balks
Mapei is one of the teams favoured by the patronage of Ernesto Colnago, the bike builder whose history goes back to mechanicking and building bikes for Eddy Merckx.
The carbon fibre C40 is one of the legends of the peloton, and was the star of one of the most unlikely incidents in the history of racing when Tour Down Under leader Michael Rogers had to borrow a bike after a mechanical. Amazingly spectator Adam Pyke was just to hand with a C40 that was the same size as Rogers' and even had the same pedals (click here for the full story).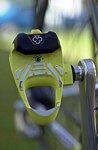 Choose your weapon
Photo: © CN/Tom Balks
Given that Mapei run all-Shimano equipment, the least surprising part of the story is that the pedals were right... except that some Mapei riders use other pedals. Had it been Andrea Tafi that the gallant Pyke had been trying to help, well, see for yourself: he'd have been snookered.
Colnago was among the first builders to go to straight forks, and the amazing hoo-ha at the time looks rather silly now half the peloton has gone straight. Up front, Mapei's bikes are supported by carbon fibre Star fork.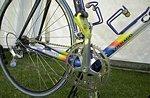 Gearing up
Photo: © CN/Tom Balks
ITM provides Mapei's steering, and a conventional threadless headset peeks out of the frame, rather than being hidden inside. The team uses wheels from various suppliers depending on the conditions.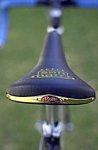 Rolls. 'Nuff said.
Photo: © CN/Tom Balks

In keeping with the technologically progressive theme that runs through Mapei's bikes, the bikes are shod with Michelin clinchers.
Saddles is such a product-of-the-month-club category that it's amazing how long the San Marco Rolls has been around. Sometime in the last few years it's sprouted the obligatory embroidery, but aside from that it hasn't changed for a couple of decades, and with good reason: it's comfy, as Tafi and many others will attest.
Each C40 is custom-built for the rider, and riders are allowed their own personal shoe sponsors.