Danish tasty
Keeping it local
By John Stevenson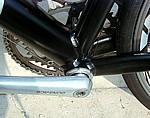 Tidy welding
It's fitting that Denmark's top-ranked division II squad EDS-fakta should ride Danish bikes, and so Scott Sunderland and team-mates roll on Principia frames, made in Nørresundby in the north of Denmark.
Refreshingly, there's no marketing mystique woven around Principia's frame material. It's right there in the company's info: 7020 aluminium, (4.5 percent zinc, 1 percent magnesium). Principia seem to believe that it's not what material you use but what you do with it that matters and what Principia have mostly been doing with 7020 aluminium is called the 'Ellipse Project.'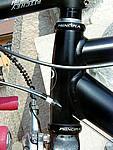 Ellipse
Ellipse Project is Principia's way of strengthening and stiffening the head tube and bottom bracket by using the elliptical shapes that provide the name, but also by tapering the head tube and steerer so that the top of the steerer is 28.6mm (1 1/8in) and the bottom is 31.8mm (1 1/4in). This makes for a stiffer steerer in the all-carbon Isaac fork and allows use of a larger bottom bearing in the Principia custom headset.
EDS-fakta uses two of Principia's frames, the REXe Pro and the RS6e. Given his propensity for going up hills fast, it's no surprise that Scott Sunderland uses the lighter of the two, the RS6e shown here. Principia claim there's only 60g between them, but when you're heading for Graz over the Gaberl and the Wenisbuchplatte, every gram helps. And sheer guts doesn't hurt either.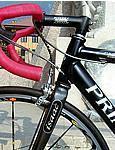 Ritchey & Isaac
One factor in the team's choice of Principia as a bike sponsor was the exclusiveness of the deal. As the team's Mikael Kyneb puts it, "These bikes are incredible, a fantastic bike. They are very stiff and comfortable. BUT also we are the only Pro Team sponsored by Principia this year - and that had also an influence for us. We know whenever there could be any problems they will be there 100 percent for us."
A few team members are riding standard production bikes, but most are on custom-made frames.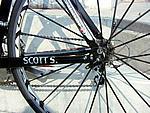 Ksyrium
EDS-fakta's bikes are hung with a combination of Shimano and Ritchey components. From Osaka, comes the gears and brakes while Ritchey – who I'm going to have to stop thinking of as a mountain bike company if I see much more of its stuff on pro bikes – comes in with bar, stem, spokes, tyres, skewers, rims and tape.
Those Ritchey wheel components are used in EDS-fakta's 'conventional' wheels and the team also has sponsorship from French hoop giants Mavic, who provides the almost-ubiquitous Ksyrium wheels.
Rounding out the spec, EDS-fakta riders use a variety of saddles from the Selle Italia quiver, and push round Time Equipe pedals.
A couple more close-ups