French style
By John Stevenson
Beefy front-end
Photo: © CN/Tom Balks
Française des Jeux's Lapierre bikes are examples of a relatively rare partnership: team, bike and at least one component supplier all from the same country. In this case, of course, the country is France, where La Franšaise des Jeux is a lottery company and Lapierre is a bike maker with over 50 years of manufacturing in its home town of Dijon.
If Lapierre makes you think 'Who?' that's probably because the marque is hard to find outside France. The company is part of the Dutch-based Acell group, which includes Batavus, Be-One, Koga-Miyata, Dawes, and Mercier, but it remains deeply French. Lapierre sponsors a French mountain bike team as well as providing bikes to FdJ, a team known for its nurturing of French riders and firm stance against doping.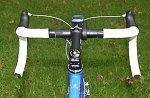 FdJ rider eye-view
Photo: © CN/Tom Balks
Lapierre started in 1946 and by 1952 was building 6,000 bikes a year. Half a century later it has 48 employees and builds 48,000 bikes per year, split 60/30/10 between mountain bikes, road bikes and commuter/utility bikes.
Française des Jeux riders are equipped with custom bikes, based around Lapierre's high-end aluminium models. Each rider gets frames fitted to their individual requirements.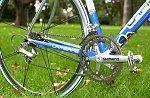 More Dura-Ace
Photo: © CN/Tom Balks
When it comes to running gear, if Shimano makes it, FdJ has it on their bikes: transmission, brakes, wheels and pedals all come from the big S, as do components often sourced elsewhere, the seatpost and computer. The only non-Shimano part of the traditional component group is the headset, a zero stack Cane Creek. No surprise there, as Shimano only makes headsets for threaded steerers, and you can't help wondering when the last time was any high-end bike manufacturer bought one of those.
The other French company I alluded to earlier is of course tyre giant Michelin. FdJ gets tarmac traction from Michelin rubber – another convert to clinchers. Sorry, tubular fans.
For almost everything else on the bikes, FdJ has nipped across the border into Italy. ITM provides the oversized, lightweight Millennium bar and stem, and the bar is wrapped with Stella Azzurra tape.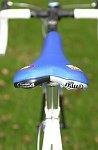 Selle Italia
Photo: © CN/Tom Balks

Seating is by Selle Italia with the bike pictured sporting a Turbo Matic 4. However, we've cheated slightly - this bike belongs not to an official FdJ rider, but to one of the members of the FdJ associate squad at Australia's New South Wales Institute of Sport. The link of course is Australian FdJ rider Brad McGee, who brokered the team's support for his home state's development squad as part of his conditions for remaining with FdJ when everyone and his uncle was making offers last year.