Tales from the Peloton
T-Mobile Training Camp
Tucson, Arizona, November 21-24, 2002
T-Mobile 2003 line-up
Photo: © Casey Gibson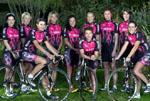 So what goes on at a training camp in the middle of winter? Paula de Haen gets the scoop.
A training camp in November? Training camps in the US are usually scheduled for January and February, so the announcement of the T-Mobile Women's Team camp in November came as somewhat of a surprise.
The year-end camp gave the athletes an opportunity to enjoy the warm, clear days and cool, crisp nights of southern Arizona, as well as get in some good riding, including the Tour de Tucson. It also gave the media an early look at the team's line-up for 2003. A second camp is scheduled for early February in San Diego, CA, that will focus more specifically on training.
Are you sure this is a training camp?
As we settled into the Westward Look Resort in Tucson for our stay, I couldn't help feeling like we were on a press junket for a new feature film rather than at a US Women's Cycling Team camp. The beautiful resort setting and the unfettered access to staff and riders, was not altogether typical.
Herwig Reus, Sports Marketing Manager for T-Mobile, likes it that way, and spoke enthusiastically about the year ahead and his desire to form strong relationships with the media to help promote the sport of cycling in the US. Reus, who moved to Seattle, WA, just five weeks ago, spent the past six years with Team Telekom in a similar position. He credits much of the rise in interest for cycling in the Germany to Telekom's marketing and promotional strategy, and support of riders like Jan Ullrich.
"Don't misunderstand me, but coming from Europe, the US is like a third world country in terms of cycling. I want to make cycling big here; I want to help make it known to all Americans, not just cyclists. Americans should know there is more to life than baseball and football and hockey - I mean, you have Lance Armstrong!"
From the DS's mouth
Umm... how do you turn it on?
Photo: © Casey Gibson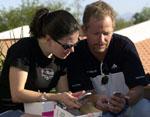 Jim Miller, T-Mobile Directeur-sportif, hopes the enthusiasm and support of T-Mobile will assist USA Cycling in developing top-level US women's cyclists, riders capable of taking world championships and Olympic medals.
"I don't think it's anyone else's job to develop athletes," stated Miller. "It's USA Cycling's job. The unique situation with T-Mobile is that they have given us the backing and support to really do it the way we need to do it. For us, and with USOC as a partner as well, we have unlimited access to scientists, physiologists, psychologists, nutritionists, anything you want, we have the best resources in this country. So that is really how this team came about. We take a group of girls, the best girls we can get, and then develop them to be international contenders."
Speculation and comments from other team managers have suggested that a conflict of interest exists with this relationship. Is this a trade team or is this the national team? Miller understands, and says there will continue to be controversy, but insists that this program is the right way to produce top US riders.
"Having a combined national/trade team is not a totally new concept," said Miller. "In the early 90s, when Chris Carmichael was at the helm of the Athletic Program at USA Cycling, they had Team USA. Along with Lance Armstrong, George Hincapie and Chan McRae, that program spawned many great riders. We also looked at what other countries were doing. The British Federation is doing it, the Norwegians have a trade team too, and so do the Australians. So we looked at what they doing, what they were producing internationally. I mean look at Australia over the past five years - they have come up three-fold from where they were."
Three-pronged program
Well, we are in Arizona!
Photo: © Casey Gibson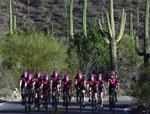 Rider development continues to be the primary goal for USA Cycling, and Miller hopes that they will be successful through the new programs they have created. "We basically have three programs going," explained Miller.
"There is a global team which will develop international medal contenders, a national team where we are trying to develop national level riders, and then we have a third team. It's a project team where I have a top 25 list which I update every Monday. From that list, I call these girls to race with the national team. Right now the national team only has four riders, and usually we will want to race with seven girls. We have already done that this year - we started the year with seven girls, and by the end of the year, we had something like 22 girls who had raced with us. And it's not just small races, they competed in events like the Montreal World Cup."
It is this approach that lured Kim Bruckner away from the highly successful Saturn team. "When I spoke to Jim [Miller] about the goals for the team and what they were really aiming for, it was really exciting," explained Bruckner. "After listening to him about how the team was obviously going to be all American and that they were really going to be shooting for World Championship medals, it was a very different concept after being on an international squad for two years."
Bruckner added that the decision to leave Saturn was made easier by the departure of so many of the team's other riders. "I'm really glad I made the move, had the team been the same next year as it was this year, it would have been really hard to leave."
Comeback kid
Dede Barry: Comeback kid
Photo: © Casey Gibson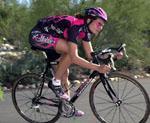 Besides Bruckner, changes for the 2003 lineup include the late season addition of Dede Barry. Barry burst back onto the scene last year, riding for several other teams before joining T-Mobile. She came out of retirement and promptly won the Montreal World Cup followed by a third place win at the USPRO Tour Liberty Classic in Philadelphia. Also joining are Kristin Armstrong, Stacey Peters, and 12-time Junior National Track Champion, Sarah Hammer. Departing riders are Lara Ruthven and Missy Thompson. Miller indicated that they are still in negotiations with two other riders to complete the team.
"With the support of T-mobile, we've been able to add more depth to the team," said Miller. "We have a number of really strong GC contenders now, and even though we are lacking a sprinter, I think the other teams are going to be pretty occupied covering so many strong riders."
Frame change
Along with the change to the roster, the team appeared to be better prepared for the coming season, at least in terms of clothing and equipment. The team barely came together before Redlands this year and arrived wearing particularly bland pink jerseys, riding equally bland looking CAAD 5 Cannondale frames. In contrast, the team debuted at the 20th annual Tour de Tucson wearing jerseys with a magenta flame design over a black background, riding the newest CAAD7 Cannondale frames with matching graphics.
"The lightweight frames with new Optimo tubing in jet black with magenta flames looked fast standing still," said Cannondale's Scott Montgomery. "You could see the girls' smiles grow from ear to ear in eager anticipation to get out and ride their new machines the next day," observed Montgomery, delighted with the team's initial response to their new toys.
Holden still hungry
I'll get back to you shortly...
Photo: © Casey Gibson

Despite the rush to start the 2002 season, the team still got some good results in their first year, including a stage win at HP, and Amber Neben's overall win at the Gracia Cez-Ede, held in the Czech Republic. However, Mari Holden, who has ridden on the National Team since 1995 and is one of the most experienced and successful riders on the team, had a fairly disappointing year. After an amazing season in 2000 when she won the sliver medal in Sydney and the World Championship Time Trial, Holden wasn't happy with herself this year, but is optimistic about the coming season.
"The past season was pretty bad for me," said Holden bluntly. "I had a lot of illnesses in the springtime and I was on antibiotics about four times. It seemed like I would get sick, then I would start worrying so I would train harder, and I was just digging myself into a hole."
"Finally, after HP, I took a month completely off. I feel like I had good form again by the time I got to the Worlds, but by then I had done nothing to qualify my spot for the TT. So I didn't race the TT, and the road race was not something I was interested in; so I basically finished my season at that point," she said.
Holden is contracted with T-Mobile through the next two seasons, and anticipates that 2004 might be her last year at the international level. Looking back on her experience at the 2000 Olympics, Holden said taking the silver as by far the biggest high in her ten-year career. It was also something she did not expect.
"Before the Olympics I would go through it in my mind, who's going to finish where, and where could I possibly finish. I figured that if I had a really awesome day I could finish with a bronze medal, I really thought at least I could be top five. When I got a silver, it just blew me away."
For 2003, Holden cites the World Championships as her main goal. "I want to do well in the TT," stated Holden. "Also, in the spring, I am going to try some track events. Because all the World Cups are in the spring, I figure it's a good time to try and see if I can qualify to go to one of the World Cups and experience that too."
Experience counts
Dotsie on fire
Photo: © Jon Devich

Including Holden, who has six national championships and a World Championship in addition to her Olympic silver, the team boasts two World Championship and 14 road National Championship winners, plus Sarah Hammer's 12 junior titles.
Figuring out the details of next year's schedule and what events will be the focus for which riders, is still under discussion explains Amber Neben. "I have not had a chance to meet with Jim as yet. He will meet with each of us individually to pick the races that we would like to do and where we would like to do well, then mesh it all together with what everyone else would like to do, and hopefully develop a strategy for the season. Personally, I would really like to peak later in the season for Worlds, which I haven't been able to do in the past," said Neben.
Neben enjoyed an exciting year in her first full season on the road, and said she is happy to have made the switch from mountain biking. "I still love to ride my mountain bike, and a part of me misses it a little bit, but I'm really enjoying the road. When I switched over, I felt my strengths suited the road much better."
Looking good with plenty of contenders
Who's a happy boy?
Photo: © Casey Gibson

With both Neben and Holden on the team, Team T-Mobile now has a number of strong GC contenders. Neben and Holden see this as an opportunity rather than a potential for conflict. Insists Neben, "What's neat about this team is that we like each other, and we want to see each other ride well. So if I have to work for anyone of my teammates, I have no problem with that - I would put it all on the line for them and I feel that they would do the same for me."
Moving into 2003, the T-Mobile team clearly has plenty of depth with their new line-up. Together with a great sponsor and the support and guidance of USA Cycling and the USOC, it sounds like a winning combination. Only time will tell if this new formula will work as planned and whether the team will meet its ambitious goals over the next few years.
Photography
Images by Jonathan Devich/TheFastTrack
Images by Casey Gibson
Team T-Mobile 2003 line-up
Riders
Kim Anderson
Age: 34
Residence: Colorado Springs, CO
Kristin Armstrong
Age: 29
Residence: Boise, Idaho
Deirdre (Dede) Barry
Age: 30
Residence: Boulder CO
Katrina Berger
Age: 28
Residence: Fort Collins CO
Kimberly Bruckner
Age: 32
Residence: Boulder, CO
Dotsie Cowden
Age: 29
Residence: Louisville, KY
Sarah Hammer
Age: 19
Residence: Colorado Springs, CO
Mari Holden
Age: 32
Residence: Colorado Springs, CO
Amber Neben
Age: 28
Residence: Irvine, CA
Stacey Peters
Age: 33
Residence: Portland, OR
Two additional riders T.B.A.
Coaches and staff
Jim Miller, Directeur-sportif/Coach
Jean Paul Van Poppel, Coach
Michelle Jacques, Soigneur
Dave Pitts, Mechanic
Sponsors
Title Sponsor: T-Mobile USA
United States Olympic Committee - USOC