Tour de France Cycling News for July 2, 2006
Edited by Hedwig Kröner and Jeff Jones
Big Thor takes Tour prologue
Thor Hushovd (CA)
Photo ©: AFP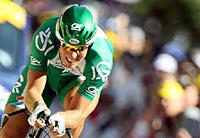 Crédit Agricole's Thor Hushovd has delivered a brilliant performance in the first day of this year's Tour de France, taking the prologue victory in Strasbourg in front of George Hincapie (Discovery Channel) and CSC's Dave Zabriskie. The Norwegian sprinter was the fastest on the technical course of the 'Grand Départ', which was long dominated by German time trial champion Sebastian Lang (Gerolsteiner).
Coming up on
Cyclingnews will cover the 60th edition of the Dauphiné Libéré live as of stage 4 on Wednesday, June 10, at approximately 15:00 local Europe time (CEST)/ 23:00 Australian time (CDT)/ 9:00 (USA East).

WAP-enabled mobile devices: http://live.cyclingnews.com/wap/

"I'm over the moon, of course," said Hushovd in the finish. "I had already done a good prologue in 2004, and now I've progressed. I'm better now, and I have more self-confidence. Still, I hadn't even dreamed about winning this prologue!" The 28 year-old gave the flowers to his mother, who was celebrating by the podium.
"My parents follow the Tour for the sixth time, and they are always beside me," he explained. "It's good for me because it makes me more relaxed."
Rabobank talent Joost Posthuma received the white jersey of best young rider.
Click here for full results, report and photos and the live report from the prologue.
An interview with Thor Hushovd
The bear tears the Tour apart
The prologue at the 93rd Tour de France brought a surprise winner. "But I knew I could win," said 'The Bear from Grimstad', Thor Hushovd. Brecht Decaluwé was on hand at the finish and at the post-race press conference.
Thor Hushovd (CA)
Photo ©: Sirotti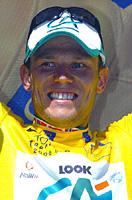 When Thor Hushovd was the first rider to go faster than the provisional best time Sebastian Lang, he said: "You never know if this time is going to be enough, we'll have to wait and see! I was well prepared and had a good rhythm. Maybe, I won't win, but I'm already very happy with my performance."
As it turned out, he had every reason to be happy with his performance, because none of the favourites couldn't beat his time. "My main objective is to wear the green jersey in Paris, win one or more stages and to wear the yellow jersey one day... what can I say, this Tour has started off very well for me!" Hushovd exclaimed.
While Hushovd was waiting for the last riders, he talked about his time trial capabilities, and how he believed he gained time on his rivals. "I was already fifth in the Tour prologue in the past, so I know I can do well. I also did some extra training with the time trial bike. I think I went into those [technical] corners very well, probably I gained some time there."
Q: The prologue was quite demanding, how did you see it?
Thor Hushovd: I always gave everything I had, but in the beginning I wasn't the fastest. I think I gained some time in the corners and in the end it proved to be enough. It was impossible for me to be a single second faster. During the training rides of last week, I felt that the form was alright. Naturally, you can't win a prologue in the Tour de France without a super form.
Click here for the full interview.
Post-race quotes
By Brecht Decaluwe in Strasbourg
Jérôme Pineau (Bouygues Telecom)
A man from the region, Jérôme Pineau enjoyed the interest of the local press. But he didn't waste time talking about his own performance, as he commented on the banned riders: "We've had lots of animation behind us now, and it created a heavy atmosphere for us. But now it's time for the sport and time for real riders," he said.
Pineau commented he has always walked the straight line: "Already for a few years, I want to speak out that there are cheaters, and now it's a relief to see that this has been proved. Still, I hear people talking about the stars and the big riders who are not starting; to me they are villains and no big riders at all.
"After the Festina [scandal] in 1998, France and some other countries understood the new rules in the game. Apparently, others didn't receive the translation of the manual but now they're confronted with the result of it. There will be much talk about those guys, but we'd better ignore them and talk about the real honest riders."
Magnus Bäckstedt (Liquigas)
"You've got to give it all you got!", said Magnus Bäckstedt, still breathing heavily. "It's a nice course, technical but at the same time very fast, it's complete."
Did the heat playing an important role today? "You definitely feel it!", laughed Bäckstedt. "It's hard to breathe; but the coming three weeks won't be different, so we might as well get used to it. Better this kind of weather than rain, of course. It's good to be back after a break for me, with all my injuries this season. I'm enjoying every minute on my bike now.
"We'll have to wait and see how good I am," he continued. "I haven't been racing for a long time but I felt good training; whether that's enough for the Tour remains an unanswered question."
José Azevedo (Discovery Channel)
With all the banned riders, is the situation is better now for the riders in the Discovery team, we asked José Azevedo. "The test stays the same," he said. "There are still some strong riders in the peloton but our team has also some strong riders. I think we can do a good Tour."
David Millar (Saunier Duval)
"It's a dream for me to be here today. For 18 months, I've been thinking about this moment. It's been hard for me, but I really wanted to come back, so now I'm very happy."
Hincapie disappointed
George Hincapie (Discovery)
Photo ©: Jon Devich

American George Hincapie, who missed out on the Tour de France prologue victory by a hair, was disappointed he did not take the Yellow Jersey. "I wanted to win, I have been training a lot for this, so I am disappointed," the Discovery rider told Reuters news agency.
The New Yorker, who has lived in the shadow of seven-times Tour winner Lance Armstrong, also admitted he was still not comfortable with leader status in his team. "I am going to live this Tour day by day because this leader status is new to me," the 33 year-old added.
Hincapie thinks compatriots Floyd Landis (Phonak) and Levi Leipheimer (Gerolsteiner), now Tour favourites in the absence of Jan Ullrich and Ivan Basso, are more used to their roles.
"I have prepared for this but I still don't know how far I can go," he said. Still, Discovery team director Johan Bruyneel has several options for the general classification: there are also Yaroslav Popovych and José Azevedo, possibly waiting for their chances to make the limelight.
Unfortunate start for Landis
Floyd Landis (Phonak)
Photo ©: Jon Devich

Phonak team leader Floyd Landis started out this year's Tour de France with a small misfortune: Just minutes before his scheduled start at the prologue, a cut in his tyre was found, which meant that the team mechanics had to quickly change Landis' wheel. As a result of this, the American Tour de France overall contender arrived six seconds late on the start ramp.
"If I had been aware that it was that close to the start, I'd have taken the risk of not changing the tyre," Landis said after the race. Moreover, because of this confusion, he hadn't put on the right gear to start. "I was completely out of focus because of all of that."
In the end, the winner of 2006 Paris-Nice got into the finish placed ninth, nine seconds down of winner Thor Hushovd, which is not a bad result at all considering the circumstances.
Lang thrilled with fourth
Sebastian Lang (Gerolsteiner)
Photo ©: Jon Devich

Sebastian Lang, German time-trial champion, finished fourth in the Tour's opening prologue, after a long spell in first place. "Fourth place is a super result," said the Gerolsteiner rider. "My goal was actually a place in the top ten, and I got that. Too bad that I was beaten so narrowly." His time was only five seconds behind the eventual winner Thor Hushovd.
Lang's boss, team manager Han-Michael Holczer, was happy to see the sporting aspects in the foreground. "After everything we went through yesterday, it was a great start. Sebastian led for a long time and placed us well in the scene."
Courtesy of Susan Westemeyer
Eisel satisfied but looking to Sunday's sprint
Many riders might be unsatisfied with a 60th place finish in the Tour prologue, but not Francaise des Jeux's Bernhard Eisel. "It didn't' go bad, I'm very satisfied with the result," he said. "Maybe I could have ridden five seconds faster, but that doesn't really mean anything." It could have been worse for the Austrian, as he narrowly avoided a crash. "I was totally concentrated and had my head down. I oriented myself on the barricade. Then suddenly the barricade had a bend in it, and I went around it on the straight street. Fortunately I was able to quickly correct myself."
Eisel is not a time-trial specialist, but a sprinter, and therefore looking forward to Sunday's stage. "I want to be in the sprint in the finale. But I won't know how good my form really is until then," he said.
His fellow countryman Peter Wrolich of Gerolsteiner was happier with an even lower place, as he finished 169th. "I am absolutely not a prologue specialist, so today I didn't try all that hard," he said. "The Tour begins tomorrow for me. And I'm more than happy that it is finally under way. Now we can finally ride again."
Courtesy of Susan Westemeyer
Still time to join Fantasy le Tour game
Giant TCR Advanced

Santini clothing
Photo ©: Santini

BBB's BSG-23 Winner Quick-Step World Champion glasses

Speedplay Zero pedals

Deda Alanera handlebars

fi'zi:k saddles

DedaTre RS Corsa clincher tyres

Reynolds SV KOM carbon wheels

With the Tour now under way, you can register your teams and win some amazing prizes! With all the drama of the last 24 hours surrounding the suspended riders it looks set to be a very interesting game indeed this year. With many of the expensive highly seeded riders like Basso and Ullrich removed from the line up, this year's players of the game will have to use their knowledge and insight to cherry pick the best of the lesser known riders to score highly in the game. There could be some easy points to score in the Prologue today. You could be the first to win the daily stage prize of a pair of BSG-23 Winner Quickstep World Champion glasses from BBB.
The Fantasy game is a great way to get to know the Tour in more detail, as you take on the role of being a team manager during each day of the Tour, making the best of your team selections as the Tour unfolds stage by stage. Depending on how the riders finish each stage in real life you will score points for your Fantasy team to win some great prizes. You'll get a much more intimate knowledge of the lesser seeded riders as you watch their progress in your own teams and in other Fantasy manager's teams each day. You'll also get a much more in depth insight into how the riders perform over the coming weeks through the sprints and the mountains.
You can join until stage 6 begins and there is plenty time to learn how the game works. There is no disadvantage in joining the game once the Tour has started so try the game out for FREE until stage 6 begins. Experiment with different team selections and see how they fare everyday live here at Cyclingnews.
Remember you can change your 15 riders right up until stage 6 begins so there is no need to worry about the recent changes to the start list. There is plenty time to get your team right before the game closes to registrations.
The full Le Tour Fantasy Game Prize List
Grand Prize from Giant TCR Advanced T-Mobile Team bike.
Daily Prize from BBB Parts - 21 pairs of BSG-23 Winner Quick-Step World Champion glasses designed for Tom Boonen.
Runner-up Prizes - Set of wheels from Reynolds. - Cirro SV KOM carbon wheels
Runner-up Prizes - Ten pairs of tyres from DedaTre.
Runner-up Prizes - Handlebars from Deda Elementi.
Runner-up Prizes - Three Giro Atmos helmets.
Runner-up Prizes - Three sets of Speedplay's Zero pedals.
Runner-up Prizes - Three fi'zi:k saddles.
Play for FREE in the Fantasy Le Tour 2006 game
Remember you can play for free for the first 5 stages! Try the game out and see how best to play. It's easy to play the Tour games - all you need to do is pick your dream team of 15 from the riders racing in this year's Le Tour start list. Then each day pick 9 riders to race for your fantasy team from these 15. You'll need a good combination of climbers, sprinters and general classification riders.
For more details go to the rules section of the site. There's also some great tips and tricks in the downloads and winners sections of the site. It's a great way to follow Le Tour 2006.
Good luck!
The Fantasy Cyclingnews Team
(All rights reserved/Copyright Knapp Communications Pty Limited 2006)