First Edition Cycling News for June 25, 2006
Edited by Jeff Jones
Boonen favourite in Belgium
World champion Tom Boonen (Quick.Step) will be the number one favourite for Sunday's Belgian title in Antwerpen. But the 25 year-old sprinter also realises it will be one of the toughest races for him to win. Not because the parcours is particularly mountainous - even the bridges are flat - but because he will be marked by everyone.
"It remains for me one of the most difficult races to win, but I will chance it again," he told Sportwereld.be. "I would love to be Belgian champion in my own province." Boonen's only national road title was five years ago when he won the U23 championship in Tessenderlo in a bunch sprint. "I hope for a similar scenario, but which Belgian wants to go with Boonen to the finish now?"
Boonen reckoned that winning the Ronde van Vlaanderen was actually easier than the Belgian championship. Not only because of being marked, but also because of its position on the calendar. "On the day of the BK, I always come out of a period where I have done a lot of work with an eye on the Tour. I've never felt that good during one of these professional championships. Heavy legs."
Boonen said that he understood why Peter van Petegem still hasn't won a Belgian championship, as no-one wants to ride to the finish with someone of that calibre. And if he waits at the back of the peloton, then it's highly likely that a large group will get away, never to be seen again. "Maybe one day I'll be Belgian champion on a hard parcours, in a place where no-one expects me. Still, I will start hyper motivated, although this race is much more difficult to control than a classic. It's hard to pull for 250 kilometres until everyone is off my wheel."
Although there are several teams with large numbers of riders, the race isn't usually run as a standard pro team race. As one experienced competitor noted to Cyclingnews this week, in a team of 24, you can have 23 who fancy themselves as winners.
The Belgian championship - the ultimate kermis race - will be run over a 246.6 km course, consisting of a loop of 53 km followed by 16 laps of a 12.1 km circuit.
Klöden to skip nationals
T-Mobile's Andreas Klöden will not be riding for the German road race title on Sunday. The team announced Saturday that the 31 year-old is still suffering from a cold that caused him to drop out of the Tour de Suisse. Klöden is scheduled to ride the Tour de France and "doesn't want to take any chances," the team said.
Courtesy of Susan Westemeyer
A tour of the Tour's birthplace
he Tour de France may have started over 100 years ago, but you can still stroll round Paris and see the offices and cafe where the idea of a 'Tour de France' was born. Les Woodland is your tour guide and historian.
A tribute to the Tour's history
Photo ©: Les Woodland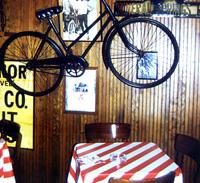 Going to Paris for the Tour? Then make the most of it and walk with the ghosts of cycling history. Here's how…
First of all, you need one of the many métro stations. The network map could be clearer but you should be able to work it out. The lines are numbered and each has a different colour on the map. You get on the right train by looking for the line number and then the platform that shows the station at the end of the line.
You want number 9, direction Pont de Sčvres, and you get out at Montmartre. Now look for the rue du Faubourg Montmartre, which is the turning from the main road right by the station exit.
Walk down the slope until you get to number 10, on the right-hand side. It doesn't look much - just a video shop on the ground floor when I was last there and some doors to the offices above, set back from the pavement. It stands opposite the Théatre de Nord-Ouest and two doors down from the Palace theatre.
But back in 1903 the two floors above the entrance to number 10 belonged to L'Auto. It wasn't a successful paper then and the editor, Henri Desgrange, wasn't good at coming up with ideas. In fact he was so bad that the paper was close to going broke only a few years after it had started. There seemed no way Desgrange could carry out his boast that he would "nail the beak shut" of his rival editor at Le Vélo, a bad-tempered but more imaginative man called Pierre Giffard. And so on the higher of the two floors in 1903 there was a crisis meeting round a big black table.
Click here to read the full story.
Urweider gets two years
Swiss rider Sascha Urweider, formerly of the Phonak team, has been suspended for two years by Swiss Olympic's disciplinary commission. Urweider tested positive on February 14 for testosterone, during an out of competition test. He will have to pay costs totaling 1760 Swiss francs, and will not be allowed to race until April 12, 2008.
Clement stays with Bouygues Telecom
Dutch rider Stef Clement has extended his contract for another two years with the French team Bouygues Telecom. Clement is currently in his first season with the team, and his biggest success has been winning the Dutch time trial championships this week, beating the two Dekkers.
Bike Chicks away!
Australia's Rockhampton Cycling Club's Bike Chicks Development Program was launched on Wednesday, June 21. The program has attracted eleven 'chicks' ranging from 10 to 23 who have committed to a five month cycling development program aimed at engaging the girls in cycling for fitness and fun, and to introduce them to the competitive aspects of the sport.
The program begins on Sunday, June 25, with physiotherapy screenings and bike set up, and cycling training will commence on Monday June 26.
"The chicks are a great group of girls, they range in skill level and age, but our initial assessment of them is that they already possess a good basic skill level that we can easily build upon," said one part of the Bike Chicks coordinators, Anouska Edwards.
Along with Edwards, who is a qualified physiotherapist, the girls will be put through their paces three times a week under the supervision of Alex Bright, a fellow Rockhampton Cycling Club member who recently attended the Level 2 Cycling Coach Course and is currently working through her accreditation.
"There was a buzz of excitement and anticipation at the launch last night and we are looking forward to working with each of these Bike Chicks and sharing our cycling knowledge with them," said Bright.
This program is an initiative of the Rockhampton Cycling Club and each 'chick' will be a member of this club as well as receive a Cycling Queensland VIP Cycling License as part of their commitment to the program.
The 2006 Bike Chicks are: Georgina Olman, Bridget Mallory, Brittney Carr, Taylah Jennings, Paige Jennings, Steph Hopes, Dimity Hopes, Katie Ilott, Emily Hunt, Erin Donaldson and Holly Dellow.
For more information contact Bike Chicks at mailto:bikechicks@hotmail.com
Fort Collins ride for charity
Friends of Rams Cycling, Inc. is organizing the Horsetooth Double Dip Bicycle Challenge, formerly the RAT Ride. The ride is a one day bicycle tour through Larimer County, Colorado, USA, to raise funds for three charities:
TEAM Fort Collins, a non-profit community organization dedicated to preventing the abuse and illegal use of alcohol, tobacco, and drugs, especially among youth and families, by promoting healthy lifestyles.
A scholarship endowment for the Colorado State University Rams Cycling Team, winner of the 2003 Collegiate Team of the Year Award. It is dedicated to providing students and faculty with an accessible club sport and a high calibre cycling team that competes in both road and mountain races.
The Rist Canyon Volunteer Fire Department, which is responsible for the prevention and prompt extinguishment of wildland fires, and to the control of structure fires within the 38 square mile Rist Canyon – Stove Prairie areas
The Horsetooth Double Dip Bicycle Challenge will be held on Sunday, August 27, 2006. The ride provides four routes (30, 50, 75, and 105 miles), accommodating riders of all abilities, from youths to experienced cyclists. All routes will start and stop at C.B. & Potts on West Elizabeth. The 105 mile route is extremely challenging, with nearly 8000 feet of climbing, and will attract cyclists from across Colorado.
(All rights reserved/Copyright Knapp Communications Pty Limited 2006)