Latest Cycling News for June 23, 2006
Edited by Jeff Jones, with assistance from Susan Westemeyer
New allegations against Armstrong
Barely three weeks after the Vrijman report dismissed L'Equipe's allegations that Lance Armstrong used EPO in 1999, the now retired seven-time Tour champion has come under fire from another angle. French newspaper Le Monde is reporting in its Friday edition that Armstrong admitted to using performance enhancing drugs prior to contracting testicular cancer in 1996.
The allegations were made during the SCA Promotions vs. Armstrong trial that concluded in February. SCA Promotions is an insurance company that paid Armstrong millions of dollars for his Tour wins after the team took out a $420,000 insurance policy in 2001. But following the publication of David Walsh and Pierre Ballester's book, LA Confidentiel, les secrets de Lance Armstrong, which alleged that Armstrong had used illegal drugs, SCA disputed the $5 million payment for the 2004 Tour, saying that it wanted evidence (Armstrong's medical records, for example) that the allegations were untrue.
In court statements obtained by Le Monde, Betsy Andreu, the partner of Armstrong's ex-teammate and friend Frankie Andreu, related her version of events that took place in an Indiana hospital on October 28, 1996, while he was being treated for cancer: "And so the doctor asked him a few questions, not many, and then one of the questions he asked was... have you ever used any performance-enhancing drugs? And Lance said yes. And the doctor asked, what were they? And Lance said, growth hormone, cortisone, EPO, steroids and testosterone."
Betsy Andreu's statement was made on January 17, 2006, and according to Le Monde, backed up what her husband had said to the court on October 25, 2005. "I don't know how the doctor formulated his question, but the response was that he had taken EPO, testosterone, growth hormones and cortisone," said Frankie Andreu.
But a third person present at the hospital in 1996, Stephanie McIlvain, an employee of Armstrong's sunglasses sponsor Oakley, denied the Andreus' version of events. In her testimony on November 14, 2005, she said that there was no conversation like that between Armstrong and his doctors. But her story has been questioned by Greg Lemond, who recorded a phone conversation with McIlvain on September 21, 2004, where she said, "If I am cited, I'll do it...For I won't lie. You know I was in the room. I heard."
Three others were also in the hospital room: his then girlfriend, Lisa Shiels, his trainer Chris Carmichael, and Carmichael's wife Paige. Neither those, nor the doctors who operated on Armstrong, were called to give evidence by the lawyers of the Texan, nor SCA Promotions.
Lance Armstrong's own deposition, given on November 30, 2005, denied that any doctor had asked him whether he had used performance enhancing drugs. He claimed that Betsy Andreu had a grudge against him, and Frankie Andreu gave the same story to support his wife.
An interview with British champion Russell Downing
The British are coming!
In 2005, Russell Downing scored the biggest win of his career, winning the British road championship. With his new stripes on his back, the then 28 year-old Downing, who had sacrificed for almost a decade on a variety of teams, was ready for the big-time contracts to roll in. However, the ProTour teams did not beat a path to his door. Now with DFL-Cyclingnews-Litespeed, he is showing off his national champion strip well, winning races and looking for that break. Cyclingnews' Mark Zalewski sat down with Downing at the Tour de Beauce, where he won the fifth stage and was finalising his preparation for his British championship defence.
Riding in Langkawi this year
Photo ©: Shane Goss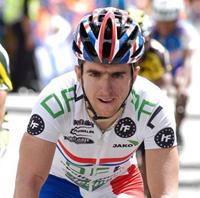 Russell Downing has had many ups and downs during his career. The downs came with multiple missed opportunities on professional teams that went under. "I've been pro before with Linda McCartney - rode in big races so I know what it is like," he told Cyclingnews. "I've had a few mishaps and bad luck with teams like iTeamNova that went under. That has set me back a few, but I moved on and carried on winning most years."
And an up (a really big UP) came last year when he won his national title. "[Wearing the jersey] has been good," said Downing. "A lot of hard work paid off during the last year. I had a really good season last year, but to win national's was even better. When I won that, the good race to do after that was the Tour of Britain. Wearing the jersey there felt pretty good."
Surprisingly, his new jersey, combined with continued strong performances, did not lead to big team offers. And after racing for teams mostly in Great Britain, Downing signed with a Continental-level development team, DFL-Cyclingnews-Litespeed, that would operate in both the UK and Belgium, with the riders Anglo and Australian and the management Belgian. The team would help Downing step up further by racing more continental races with higher UCI ratings. [Cyclingnews.com is of course a sponsor of the team - Ed.]
While living in a house with nine riders after racing professionally for the better part of a decade and winning the elite championship of your country is not what Downing had in mind, he recognizes that this team is a better way for him to display his talents. "That's the thing, it's fine when you are 19 or 20," he said, "but when you are getting on a bit like me... I've been making sacrifices for years. Last year was MG-X Power-Recycling.co.uk, a Continental team. This year is the same level but much more in Europe, so a few more harder races which is good. That is definitely why I left the team, to do some bigger races.
Click here for the full interview.
Beverley hosts British championships
By Gerry McManus
Photo ©: Gerry McManus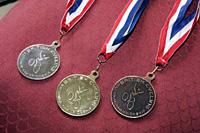 The Hull Thursday Road Club promote a number of races over the busy weekend based around the town of Beverley in East Yorkshire near Kingston on Hull. Saturday's British Women's championship race will decide the Elite Women's and Under 23 titles in the same event. On Sunday the Elite Men will fight it out over a longer distance but both events finish on the same circuit in Beverley.
Women's Elite and U23 road race, June 24, 63 miles
Nicole Cooke (Univega-Raleigh) goes for her seventh consecutive title and few would bet against the Welsh star. The world silver medallist will have tough competition from Rachel Heal (Victory Brewing) but not Emma Davies-Jones (Topsport). Davies-Jones has suffered serious setbacks this year including breaking her collarbone in Holland recently, and has decided she won't be at the level needed to race in the scenic countryside of the East Ridings.
Teenager Joanna Rowsell (VC Londres) is currently leading the British Cycling Women's race series by a considerable amount and could be in contention for a medal in the Elite or U23 category. Rowsell is supported by a strong team including Lara Wann.
Helen Gutteridge and Jeanette Tebutt both ride for Team Luciano-Kuota. Emma Pooley and Claire Goss look the strongest on paper in the massive 10-strong Team Fat Birds UK team and the team size could be decisive for at least a podium place if they can play the tactics game correctly.
Lizzie Armistead (Raleigh ERV) rides with the boost of taking the criterium title last weekend and must be full of confidence for the longer event. Watch out for criterium silver medallist Tanja Slater (Scienceinsport.com) and fourth placed Janet Birkmyer (Planet-X).
Click here for the full preview
Ullrich to wed
Jan Ullrich has announced that he will marry his girlfriend, Sara Steinhauser, this fall. "I am so happy, that she accepted my proposal and that we will marry," he told the German BILD magazine. "She is the best woman in the world. I am head over heels in love. I want to bring the rest of my life with her." The bride-to-be, sister of Ullrich's former teammate, Tobias Steinhauser, said, "I enjoy every minute that I can spend with him."
Wedding details have not been announced.
Haussler out with a viral infection
Heinrich Haussler has been diagnosed with a viral infection and ordered to rest for four to six weeks, Gerolsteiner announced today. The up-and-coming youngster has three wins so far this season, but the last few weeks couldn't even train well, much less do well in races. "I feel permanently weak and wrung out," the 22-year-old said before the Bayern Rundfahrt, in which he had to cancel his appearance.
This week he got the word from team doctor Ernest Jakob, who ordered the youngster to cut back on his activities. "Heinrich must cut his training way back for the next four to six weeks. A reduction of physical activity is a central part of the therapy," Jakob said. "After that we'll see how he's doing. Of course that means he will unfortunately have to cancel his appearance in the German national road race on Sunday."
Van Bon to leave Davitamon
Leon van Bon will leave the Davitamon-Lotto team this year. The Dutchman, who didn't make the team's Tour de France selection, told De Telegraaf, "It seems that the selection was not made on quality, but on political grounds. I don't find that to be nice."
Landbouwkrediet extends for two years
Belgian pro continental team Landbouwkrediet-Colnago will remain in the peloton for at least another two years, reports Sportwereld.be. The team will continue with its €1.8 million budget and will concentrate on young rider development.
Milram at the National's
Team Milram will compete in the German and Italian men's road titles on June 25 with the following riders:
In Italy, Mirko Celestino, Michele Gobbi, Mirco Lorenzetto, Fabio Sabatini, Carlo Scognamilgio, Alessandro Vanotti, Marco Velo, and Giovanni Visconti will race under the direction of Antonio Bevilacqua and Oscar Pellicioli.
In Germany, the team will be riding for Erik Zabel, with Daniel Becke, Ralf Grabsch, Dennis Haueisen, Christian Knees, Martin Muller, Daniel Musiol, Enrico Poitschke, Bjorn Schröder, and Sebastian Siedler. Jan Schaffrath will serve as D.S.
Previous News Next News
(All rights reserved/Copyright Knapp Communications Pty Limited 2006)