First Edition Cycling News for June 20, 2006
Edited by John Stevenson & John Kenny
Basso ready for the challenge with the CSC team built for the Tour
Jens Voigt, Bobby Julich, Bjarne Riis, Guy Hains, Ivan Basso, Stuart O'Grady
Photo ©: Gerry McManus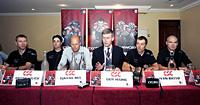 2006 Giro d'Italia winner Ivan Basso arrived in London on Monday with manager Bjarne Riis, Jens Voigt, Bobby Julich and Stuart O'Grady. The press conference was the last for the CSC team before the Tour de France starts on July 1. Gerry McManus was there for Cyclingnews.
The 28-year-old Italian star will lead the selected team for next month's race with Carlos Sastre, Fränk Schleck, Giovanni Lombardi, David Zabriskie and Christian Vandevelde joining Julich, O'Grady and Voigt. The obvious surprise was the omission of Paris Roubaix winner Fabian Cancellara. Without any team time trial in the year's event, manager Bjarne Riis has rejected the time trial genius in favour of supporting Basso.
"We have had a great season so far," said Riis: "We are leading the Pro Tour ranking, we won the Giro d'Italia, Paris-Roubaix and the Amstel Gold race. The Tour is coming and our ambitions are there. Ivan is one of the big favourites and it's important that we have a good team around to support him. Our team is strong and competitive, but we will have to see if it's good enough. I believe in it and the team believe in it, and that's the most important thing.
"Ivan will be the exclusive leader and the full team will work for him," Riis continued explaining his team selections: "The one big goal is to win the Tour but that doesn't mean we won't take chances that come up. Carlos Sastre is very important and we will see him lead Ivan into the mountains and he will be ready, that's for sure. Everybody knows Jens Voigt and his qualities. He is a world class rider who is always there. Bobby Julich had a hard Giro this year but finished strongly and I have followed him a lot in the last couple of weeks and have seen the best Bobby Julich I have ever seen.
Click here for the full story.
Quick Step announces Tour team
The Quick Step-Innergetic team has announced its line-up for the Tour de France, which starts July 1 in Strasbourg.
While the team lacks a serious contender for the general classification, that won't be troubling the Belgian-based blue and white squad too much as world champion super-sprinter Tom Boonen will be leading the charge, almost certainly with an eye on the green jersey contest, which he was leading in 2005 when he dropped out of the Tour after a crashing on stage 11.
Boonen will be joined by Wilfried Cretskens, Steven De Jongh, Juan Manuel Garate, Filippo Pozzato, Jose Rujano, Bram Tankink, Matteo Tosatto, and Cedric Vasseur. The team has named Nick Nuyens, Guido Trenti, Kevin Van Impe, and Geert Verheyen as reserves. Wilfried Peeters and Luca Guercilena will direct operations.
Rabobank for upcoming races
The Rabobank team has announced its line-ups for the last few races before the Tour de France.
For the Noord Nederland Tour (Netherlands, June 21) the team will field Gerben Löwik, Roy Sentjens, Graeme Brown, Mathew Hayman, Thorwald Veneberg, Theo Eltink, Jan Boven, and Bram de Groot.
Rabobank is often refereed to as the de facto Netherlands national professional team, so it's no surprise that it will have a big presenbce at the Netherlands national championships this weekend. Rabobank riders going for the national championship jersey will be Michael Boogerd, Jan Boven, Erik Dekker, Thomas Dekker, Theo Eltink, Bram de Groot, Gerben Löwik, Marc de Maar, Joost Posthuma, Niels Scheuneman, Thorwald Veneberg, and Pieter Weening. Meanwhile, Roy Sentjens and Marc Wauters will contest the Belgian national championship.
For the GP Gerrie Knetemann (Netherlands, June 28) Rabobank will field Graeme Brown, Gerben Löwik, Roy Sentjens, Niels Scheuneman, Jan Boven, Thorwald Veneberg, Bram de Groot, and Marc de Maar.
WADA attacks Vriman report, stands by lab findings
The World Anti-Doping Agency has issued a detailed response to the Vrijman report into allegations by the newspaper l'Equipe that Lance Armstrong used EPO in the 1999 Tour de France. In a statement issued yesterday, WADA stood by the research findings of the Châtenay-Malabry laboratory, accused Vrijman of confusing research and sanctioning protocols and called the report "fallacious in many aspects and misleading".
Vrijman's report criticized WADA for refusing to cooperate with his investigation, but WADA claims this was not the case. Providing a detailed time line of the case, WADA claims it was supplied with a list of questions by Vrijman on March 10 and March 15 and, "WADA responded in full to the list of questions."
WADA also pointed out that despite his vigorous public statements defending himself against the accusation that he used EPO in 1999, Armstrong has not taken legal action against l'Equipe. "In France, where the article was published, Mr. Armstrong did not issue proceedings for defamation against L'Equipe," said the WADA statement. "We are not aware of any proceedings elsewhere either. There are time limits provided for the initiation of such proceedings, and in this case they have now expired. In other situations involving newspaper articles and books, in varying jurisdictions around the world, Mr. Armstrong has sued and some of these proceedings are still awaiting hearings in courts. One involving The Sunday Times in England has a hearing shortly."
Turning to the substantive findings of the report, that the process by which Armstrong's 1999 samples were found to allegedly contain EPO was not valid, WADA says that Vrijman confuses the protocols necessary for a sanction and those of research.
"The process used by the French Laboratory in conducting its research was not the process used for analysing samples for the purpose of sanctions," said WADA. "Mr. Vrijman, at all times, confuses this fundamental difference and seems to indicate that, in conducting research, the laboratory was required to carry it out in the same manner as for analysing samples for adverse analytical findings. This is not the case, and Mr. Vrijman, in directing himself to the rules relating to samples collected for analysis rather than understanding the difference for research, has totally misdirected himself in his inquiry."
WADA stands by the Châtenay-Malabry lab and its findings, despite the Vrijman report's recommendation that WADA should suspend the lab's accreditation. "The laboratory has indicated publicly that it has no doubt whatsoever in the results of its analysis," said WADA, "and that no sample used for the research project was contaminated, manipulated or interfered with."
In the final paragraphs of the statement, WADA denies any contact with the l'Equipe journalist who broke the story, and denies any wrong-doing in its involvement with the research that allegedly revealed the presence of EPO in Armstrong's 199 samples.
"There was no pressure put on the laboratory by WADA. There was no leak from WADA. There has been no discussion of matters with the journalist prior to the publication of the article, and there has been no information given to the journalist which would lead to the identification of the individual, Mr. Armstrong," said WADA.
"Mr. Vrijman insists that WADA exercised inappropriate pressure on the French laboratory. WADA solely advised the laboratory it would be interested in the findings, and disclosed this in the response WADA gave to Mr. Vrijman's questions. There was no other action taken by WADA in relation to the publication of the results of the research."
WADA reiterated that it is examining its legal options regarding the report's accusations. "When the facts are wrong the conclusions that are built on these facts are wrong. Mr. Vrijman's report is fallacious in many aspects and misleading. WADA is presently looking at all its available legal recourses in respect of the report."
The full WADA statement is here and you can read the Vrijman report here.
June 27, 2006 - Carmichael defends Armstrong, Armstrong answers L'Equipe & LeMond
June 26, 2006 - LeMond: "Armstrong threatened my life"
June 19, 2006 - Armstrong calls for Pound's exit
June 18, 2006 - Lance Armstrong's open letter against Dick Pound
June 4, 2006 - UCI hits back at WADA
June 3, 2006 - WADA slams the Vrijman report
June 2, 2006 - L'Equipe stands by its story, UCI supports Vrijman's findings
June 1, 2006 - UCI, WADA and Armstrong react to Vrijman's report
May 31, 2006 - UCI lawyer asks for Armstrong's name to be cleared
May 14, 2006 - Two more weeks for Armstrong investigation
Hilly stage of Tour of Britain to include North West cities
Organisers of the Tour of Britain announced details of stage two's hilly route between Blackpool and Liverpool yesterday.
It was also announced that the race will finish in Liverpool in 2008, the first time that the race has finished outside London.
Blackpool will host the stage start on 30 August, whilst Liverpool will welcome the 96 elite cyclists into the city for the first time for the stage finish.
The 160-kilometre stage includes the first category climbs at Appletree Fell and Waddington Fel, The race will also pass through Clitheroe, Preston and Southport.
"We are thrilled that Blackpool is playing such an integral part in the Tour of Britain," said Steve Weaver, Blackpool Council chief executive. "At a grassroots level cycling is an increasingly popular leisure activity and at Blackpool Council we are hoping [to] use the Tour of Britain as a fantastic incentive to encourage others to get on their bike."
Liverpool City Council leader Warren Bradley was also pleased about the city hosting the final stage in two years time, ''Hosting the finale of the Tour of Britain in 2008 is a huge honour," he said. "It will give the city a great profile and a chance to showcase the renaissance which has been taking place."
Last year the North West stage of the Tour attracted 55,000 spectators.
The Tour of Britain will start on Tuesday 29 August in Scotland. 16 teams of six riders will take part over six days of stage racing, ending on The Mall in London on Sunday 3 September.
Stages
Stage 1 - August 29: Scotland, Glasgow to Castle Douglas
Stage 2 - August 30: Northwest, Blackpool to Liverpool
Stage 3 - August 31: Yorkshire, (final route to be confirmed)
Stage 4 - September 1: West Midlands, (final route to be confirmed)
Stage 5 - September 2: Southeast, Rochester to Canterbury
Stage 6 - September 3: London, Greenwich to The Mall
E.ON announced as Tour of Britain sponsor
E.ON, the UK's largest integrated power and gas company, yesterday announced that it has become an official sponsor of The Tour of Britain. E.ON will use the race to promote the company to the hundreds of thousands of spectators that are expected to line the course and to a large television audience as part of BBC's live coverage. E.ON will also sponsor the King of the Mountains Competition.
Cycling USA appoints Pat McDonough as director of athletics
USA Cycling named Pat McDonough yesterday as its director of athletics effective immediately. McDonough replaces Steve Johnson, who was recently appointed chief executive officer.
The position entails overseeing all the major Olympic disciplines of cycling including road, track, mountain bike and BMX.
McDonough, a silver medalist in the team pursuit at the 1984 Olympic Games, was brought to USA Cycling in 2004 as part of an initiative to revive track cycling in the United States. McDonough has 15 years experience as a velodrome director.
As director of athletics, McDonough will oversee the identification and development of current and future athletes, craft selection procedures for major international events and create, implement and monitor USA cycling programs.
Cycling USA cited some of McDonough's initiatives as the reason for his appointment. He oversaw improved selection procedures, increased the amount of internationally-sanctioned track events in the U.S., introduced performance-based financial incentive programs to athletes, bolstered coaching staff, and helped improve results in international competition.
"I'm thrilled to be given this opportunity to further contribute towards the development and success of American cyclists," said McDonough. "We have some exciting programs in place and will be developing more initiatives designed to improve services to athletes across the board. The success of Americans at the international level is at an all-time high and ultimately our goal is to instill in our athletes that it's not about being the best in the country, it's about being the best in the world."
Russell Downing prepares for national title defence
DFL-Cyclingnews-Litespeed team leader Russell Downing will return to the UK this week to defend his national road race title. The race will be held on the East Riding Classic course on Sunday June 25.
The championship will start and finish in the picturesque town of Beverley, Yorkshire and heads out over a tough course that will test the 131 starters.
The race looks set to be one of the most demanding and closely contested in many years with the best of an ever-improving domestic racing scene pitting themselves against overseas-based pros.
As well as Downing, former champions Roger Hammond (Discovery Channel) and Jeremy Hunt (Unibet) help to make up a quality field including twice runner-up Tom Southam (Barloworld), Daniel Lloyd (Giant Asia), young riders such as T-Mobile development riders Geraint Thomas and Mark Cavendish and old stagers such as Malcolm Elliott (Plowman Craven).
Another rider who will be keen to go one better in 2006 is Steve Cummings (Landbouwkredit), who Downing outsprinted for the title in 2005.
Downing will be supported by brother Dean along with a strong squad including Tom Barras, Matt Brammeier and Scottish climbing specialist Alex Coutts.
The DFL-Cyclingnews-Litespeed team will prepare for the demands of the East Riding route by taking part in the Beverley round of the British Cycling Elite Circuit Series on Friday 23 June against strong opposition.
The National Road Race Championships starts at 10.00 am on Sunday 25 June in Beverley town centre.
Fantasy Le Tour 2006 game prizes confirmed
BBB's BSG-23 Winner Quick-Step World Champion glasses

Speedplay Zero pedals

Deda Alanera handlebars

fi'zi:k saddles

DedaTre RS Corsa clincher tyres

Reynolds SV KOM carbon wheels

With just under two weeks until the 2006 Tour de France kicks off, now is a good time to start thinking about your Fantasy Teams for the Cyclingnews Le Tour Fantasy Game.
Be a professional team manager for the 2006 Le Tour and create your own dream team from any of the real life riders in this year's Tour. Based on the live racing action, you will take up the challenge of using your knowledge and tactical skill as a race team manager to compete with other virtual managers from around the world. Follow the races live and use your skill and knowledge to win some great prizes. The Grand Prize will be announced shortly and you can read on to find out about our runner up prizes. Registration has already begun.
Le Tour Fantasy Game prizes
Daily prize from BBB Parts. We are pleased to announce that we are once again providing a daily stage prize from BBB Parts! This time, a pair of BBB's BSG-23 Winner Quick-Step World Champion glasses designed for Tom Boonen, will go to the manager with the highest scoring stage team each day during the Tour de France.
The glasses have a durable, flexible and lightweight Grilamid frame; adjustable metal nose piece for a perfect fit; and interchangeable polycarbonate lenses with 100% protection against harmful UV rays, up to UV 400nm.
The glasses are white with the World Champion rainbow stipes on the bands and they come with smoke blue revo lenses. They also come with three extra lenses; orange, yellow and clear with a flash mirror coating, and a carrying case so that you have a lens for all types of weather. They also have a special shaped lens with the BBB logo on the lens.
Set of wheels from Reynolds. From Reynolds we have a pair of Cirro SV KOM carbon wheels. The KOMs are ultra-light wheels specifically built for hilly road races or time trials. Pros choose to ride them when flight or explosive acceleration is their goal. More than 100 grams lighter than Cirro MID-Vs, KOMs are genuine racing wheels, not merely kind-of-light "all-purpose" wheels.
Ten pairs of tyres from from DedaTre. The ten runner-up winners will win a pair of DedaTre's RS Corsa clincher tires in black. The clinchers have a dual compound, a nylon casing and a puncture resistant belting. They are 23mm in width and weight 210grams.
Handlebars from Deda Elementi. Also from Deda we have a very nice looking Alanera Integrated full carbon fibre handlebar to fit high end racing bikes.
Three Giro Atmos helmets. Winners will have a choice of three new edition helmets: Discovery Team Atmos, a Livestrong Atmos or a Polka Dots Atmos helmet. The Atmos is the most aggressive silhouette Giro has ever created; a state of the art cycling helmet equipped with cutting-edge features. In-mold shell and carbon fiber reinforcements, as well as Super Fit Sizing, a Roc Loc4 adjustable fit system, 26 vents with Giro's proprietary Wind Tunnel internal channels and the full internal Roll Cage reinforcement. With all of these features, the Giro Atmos Team Issue helmet weighs in at an incredible 240 grams. No wonder it's worn by the best.
Three sets of Speedplay's Zero pedals. Speedplay are continuing to support the Fantasy game with three more sets of their Zero pedals - the same style of pedal used by ProTour teams such as Team CSC and Phonak. The stainless steel model is on offer and it will provide years of faithful service. It allows you to choose either a fixed position or up to 15 degrees of float. Zero pedals maintain the traditional feel of a fixed system while incorporating all the well-known advantages of Speedplay X Pedal Systems.
Three fi'zi:k saddles. fi'zi:k are also continuing their support of this year's games with three of high-performance road racing saddles. You'll have the choice from the fi'zi:k range, such as the Arione, Aliante or (appropriately) the Pave model. Or, you could choose from its limited edition, team replica saddles, including the new 'Di Luca Killer' and 'Cunego Piccolo Principe' models.;
Play for free in the Fantasy Le Tour 2006 game
Remember you can play for free for the first 5 stages! Try the game out and see how best to play. It's easy to play the Tour games - all you need to do is pick your dream team of 15 from the riders racing in this year's Le Tour start list. Then each day pick 9 riders to race for your fantasy team from these 15. You'll need a good combination of climbers, sprinters and general classification riders.
For more details go to the rules section of the site. There's also some great tips and tricks in the downloads and winners sections of the site. It's a great way to follow Le Tour 2006.
Good luck!
The Fantasy Cyclingnews Team
(All rights reserved/Copyright Knapp Communications Pty Limited 2006)