Latest Cycling News for June 16, 2006
Edited by Jeff Jones, with assistance from Susan Westemeyer
Gerrans motivated by good mountains performance
By Shane Stokes in St. Moritz
Simon Gerrans (AG2R)
Photo ©: Sirotti

Australian rider Simon Gerrans had a strong ride on yesterday's sixth leg of the Tour de Suisse, being clear in a long-distance breakaway for much of the mountain stage and then making a stirring bid for stage success. He overhauled 2005 Tour de France mountains jersey winner Michael Rasmussen on the final climb of the Albulapass and spent several kilometres at the head of the race before being caught and passed by the flying Spaniard Koldo Gil (Saunier Duval).
Jörg Jaksche (Team Würth), Jan Ullrich (T-Mobile) and Jose Gomez Marchante (Saunier Duval-Prodir) also got by, but in taking fifth place, Gerrans showed he is coming into strong form.
"This is definitely a whole new level for me, climbing-wise," he said at the finish in La Punt. "This is the first race I have done in the mountains this year, so I am pretty happy with the way things are going prior to the Tour.
"I think having last season under my belt as a first year pro played a huge factor in my improvement. I am probably just maturing as a bike rider, and generally getting stronger."
When asked if Rasmussen blew up on the final climb or if he got a second burst of energy, Gerrans said that it was probably a combination of the two. "I think Rasmussen may have cracked a little a bit about halfway up the climb, while I just stuck at my own rhythm, rode my own tempo and managed to take them back one by one. A couple of kilometres from the top I faded a little bit as well and got caught by these guys in the front."
"Still, this ride is great for the morale. I have been confirmed for AG2R's Tour team now… we have a very strong team going to the Tour this year, so for me to be coming into good form now is great."
Rasmussen hits the wall
Michael Rasmussen (Rabobank) was on track to what looked like a stage win in yesterday's sixth stage of the Tour de Suisse, until he ran out of food on the last climb and was caught by first Simon Gerrans, then Koldo Gil and everyone else. Rasmussen, the king of the mountains in the 2005 Tour, had attacked the lead group not long into the Albulapass with 25 km to go, and quickly opened up a gap. Gerrans and Moos were the next best on the road, but dangled 20-30 seconds behind the Dane for several kilometres. That meant that the race jury prevented the Rabobank team car from following Rasmussen and giving him food.
"Scandalous," said team director Adri van Houwelingen to AD. "The jury must understand that the guy was in the break for 200 kilometres. But they only said that the difference between the riders was too small. They jury should still know that this is not healthy for a rider. The rules have to be observed, that I agree with, but you have to interpret them in the right way. That didn't happen. After the race I didn't see any of the jury, but I'll definitely say something to them tomorrow."
Rasmussen will not start today's seventh stage.
Boonen: last day in Tour de Suisse?
By Shane Stokes in St. Moritz
Tom Boonen (Quick.Step-Innergetic)
Photo ©: AFP

Although today is another mountain stage in the Tour de Suisse, the fact that the first category climb of Lukmanierpass is a full 89.8 kilometres from the line means that it is possible that a large group will fight it out for the win together. If he can limit his losses on the climb, in theory world champion Tom Boonen could come back before the end and try to add to the stage win he took on day one.
Much will depend on how hard the climbers ride the Lukmanierpass and the day's preceding mountain, the second category Julierpass, which comes shortly after the start in St. Moritz. Either way, Tom Boonen told Cyclingnews earlier this week that he is likely to withdraw today. "I don't think I will finish the race...I will probably stop on Friday," he stated on Wednesday.
"The race has been good training but very hard. Yesterday (Tuesday) was a very hard stage and the rest of the Tour will be the same. The flat stages aren't that flat, put it that way! Even the first stage wasn't flat – we had a climb of almost 18 percent in the final. But it is good training here and good preparation for the Tour."
Boonen will head to France with clear targets. "The last three years things have been going well for me, in terms of victories. Now I have focused a little more on the Tour in the past few weeks. I am hoping for a good Tour start and then we will see how things go.
"My target is to start with a stage victory and then see how things progress from there, as regards the green jersey competition. It is always important to have a good result in the first few days. I think the green jersey will be won or lost in the first week."
Another sprinter who indicated to Cyclingnews that he was likely to stop before the end is Robbie McEwen. He had a hard day yesterday, finishing last on the stage, but is also using this race as training for the Tour. McEwen took three stage victories in the Giro d'Italia and feels he should be in good shape in France.
Gerolsteiner: Tomorrow is a new day
By Susan Westemeyer
Georg Totschnig (Gerolsteiner)
Photo ©: Sirotti

You know things have gone badly when the team manager says "Tomorrow is a new day. We'll start all over again." And that's exactly the remark Gerolsteiner's Hans-Michael Holczer made after Thursday's Tour de Suisse stage, undoubtedly a stage he would rather forget. "There are some days that you just don't need. Today was one of them." he said, but added optimistically, "But if that was our bad day for the whole season, that's ok!" Beat Zberg was the chief victim, having a very hard day in his homeland. First he had a mechanical problem, which cost him time. Then, when he finally caught up with the peloton again, he crashed in the feed zone.
"His helmet is totally broken. Beat lay still on the ground for a minute before he rather dazedly got back on his bike and rode on," was how Holczer described it. According to the Swiss newspaper, Tages-Anzeiger Zberg was trying to get his feed bag from the trainer on the right side of the road, when allegedly a car passed him and forced him over to the right, so that the bag caught in his front wheel, causing the crash. The helmet splintered, and he had not only scrapes, but also a bruise on his thigh "so that he could hardly put any more power on the pedals." Zberg finished the stage 74th, 19'41 down, but will start today.
But he wasn't the only victim of the day. The team's other captain, Georg Totschnig "just didn't have his best day," said Holczer diplomatically, as the Austrian climber finished 26th, over 6 minutes behind the winner. The team lost one member, as Marcel Strauss dropped out. And if that wasn't enough, one of the masseurs was involved in an auto accident.
"To be perfectly honest, we had imagined the day to turn out differently," concluded Holczer.
An interview with Danilo Hondo
Making the most of things
Whether or not Danilo Hondo consciously used the drug Carphedon or not will probably never be decided in a courtroom, but he will continue to deny it until the end of his days and wonder why he tested positive. But if the former Gerolsteiner rider has been dragged through the mud by doping charges and court cases, he's certainly not showing it too much, and has learned never to give up, as he tells Cyclingnews' Susan Westemeyer.
A very fit-looking Danilo Hondo


Photo ©: Chris Henry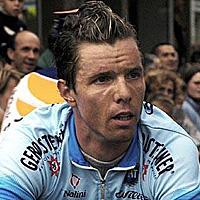 Cyclingnews: You have been able to ride races again since the Swiss court ruling on June 6. How are you coping with all of these ups and downs?
Danilo Hondo: It's a very difficult situation. There's no final decision yet; this is just another small step forward - you have to learn to make the best of life.
CN: In your very first races back, you finished near the front, but didn't win. Did you ever wonder whether you would win again - whether you still had the necessary physical and mental condition?
DH: When you start to ride again after a long break, even like the winter break, then you never know how good or how strong you will be. It's not just a question of physical form, especially in sprinting, where you immediately get that feeling of whether everything is going optimally in order to ride the perfect sprint.
To be second behind Petacchi in my first race back was practically like a win. To lose to a man like him is nothing to be ashamed of, and I knew then that I would win again. Of course you ask yourself whether you will win again, but when you train, you quickly see what your condition is. Sure, I was nervous before my first race, but within a few kilometres I realised I was doing well.
Click here for the full interview
Gerolsteiner names TdF squad
Levi Leipheimer and Georg Totschnig will lead Team Gerolsteiner in the Tour de France again this year, the team announced today. "We will do everything we can to support Levi Leipheimer and Georg Totschnig in their attempt to get on the podium at the Tour de France," said team manager Hans-Michael Holczer. "After the team's performance at the Dauphine Libéré and the Tour de Suisse, Christian Henn and I came to the decision that we would send a strong climbing team to the Tour de France."
The two captains will be supported by Markus Fothen, David Kopp, Sebastian Lang, Ronny Scholz, Fabian Wegmann, Peter Wrolich and Beat Zberg. Reserve riders are Robert Förster, Rene Haselbacher and Volker Ordowski.
Bettini for two more seasons with Quick.Step
Paolo Bettini will ride the coming two seasons (2007-2008) with the Quick.Step-Innergetic team. The Olympic Champion reached an agreement with team manager Patrick Lefevere on Thursday evening in Pontresina, where the team was staying for the Tour de Suisse.
"I'm very satisfied with the agreement we have reached," said Bettini. "Our choice to renew our agreement comes from the assurance that I'm still able to be protagonist, with precise technical guarantees and with a group of people and sponsors with which I have shared all the great successes of my career."
Team manager Lefevere commented, "We have still wanted Paolo, because he is for a long time one of the pillars of the team, a man on which we can count on. He is the Olympic Champion, and after Liege-Bastogne-Liege and the Giro d'Italia, we are sure that also in the future he will be able to give us great successes."
Van de Wouwer retires
Kurt Van De Wouwer (Unibet.com) will retire at the end of this year, reports Sportwereld.be. Van De Wouwer has had an anonymous season, with a ninth in the Tour du Finistère his best result.
"It's been nice," said Van de Wouwer to Sportwereld. "I've never been a big winner, but I've gotten what I could out of my career." Van de Wouwer's best year as 1999, when he performed well in the Tour de France. "Then I finished three times in the top 10 in four mountain stages. That was an unbelievable experience. The Tour de France remains a fantastic memory."
All of the Belgian's UCI wins came in 1997, when he was riding for Vlaanderen 2002. That year, he won the Circuito Montanes, and the prologue and stage 3 in the Hofbrau Cup. He has been a pro since 1994 and ridden for Lotto, Vlaanderen, Quick.Step, and Mr. Bookmaker.com (Unibet.com).
(All rights reserved/Copyright Knapp Communications Pty Limited 2006)