First Edition Cycling News for June 16, 2006
Edited by Jeff Jones
Tour de Suisse Stage 6 wrap-up
Gil grabs win and yellow jersey
By Shane Stokes in La Punt, with additional reporting from Anthony Tan
Koldo Gil (Saunier Duval-Prodir)
Photo ©: Sirotti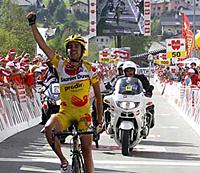 Spanish climber Koldo Gil Perez followed up on results such as a stage win in last year's Tour of Italy and the overall classification of the Euskal Bizikleta earlier this season when he took a very impressive victory on today's sixth stage of the Tour de Suisse.
Tour de France contender Jan Ullrich put the hammer down on the final climb of the Albulapass, showing promising improvements in his form, but it was Saunier Duval rider Gil who was best on the hors categorie ascent, flying clear of the group and passing lone leader Simon Gerrans (AG2R Prévoyance). The 28 year-old Spaniard held his advantage on the slightly tricky, technical descent down to the finish in La Punt, crossing the line 36 seconds clear of Jörg Jaksche (Team Würth) and a further four ahead of Ullrich.
As he himself predicted yesterday, overnight race leader Angel Vicioso had a tough time on the hors categorie climbs and trailed in 2 minutes and 9 seconds down in ninth place. The result saw Gil consequently vault to the top of the general classification with three stages remaining. He is now 34 seconds clear of Jaksche, with Ullrich 54 seconds back.
Gil joked in the press conference that he would need five minutes to hold off Ullrich in the concluding 30 kilometre time trial, then gave a more serious assessment of 90 seconds. As tomorrow's first category climb of Lukmanierpass is a full 89.8 kilometres from the line, he said that Saturday's penultimate stage to Ambri is where he will try to increase his buffer.
Click here for the full results, report and photos from stage 6.
Schleck loses time
CSC's Fränk Schleck conceded 2'09 to today's winner Koldo Gil in stage 6, which finished in La Punt. The time loss didn't cost him any places on GC, as he is still in sixth overall. But instead of being 16 seconds behind yellow, he is 2'27 back.
"Fränk probably should've been up front with Gil, Ullrich and Jaksche in order to get on the podium, but he simply didn't have it in him," said team director Dan Frost to team-csc.com. "He said they were too fast for him, but we'll have to wait and see – tomorrow is another day.
"Before we came here, we would have been extremely satisfied with this result, but now we've done so well in the first stages, it's difficult not to want more, but we definitely do not have reason to be unhappy."
Frost pointed out that Schleck is not supposed to hit top form until 10 days into Tour de France, whereas the top riders in Tour de Suisse probably all need to be ready from day one.
McGee now in doubt for Tour
Brad McGee's optimism about the elimination of his back problems has been dashed after he withdrew during Tuesday's Tour de Suisse stage to La Chaux-de-Fonds. McGee had hoped that his sciatic nerve problem had been fixed, but apparently not. "Bradley will undergo a few tests in the coming days," said FDJ director Yvon Madiot to Sportwereld. "If the cause of the problem isn't found, he doesn't see himself riding the Tour.
McGee also withdrew halfway through the Giro d'Italia because of the problem.
Zabel picks Ullrich, Boonen
Erik Zabel picks his former teammate Jan Ullrich to win the Tour de France next month. "Based on his physical qualifications, Ulle is top favourite. Nobody should be able to beat him," he told the German magazine TV Movie. "But you have to say that Ivan Basso also has a chance, after his great performance in the Giro d'Italia."
The Milram rider sees little chance to win his seventh green jersey: "I'm not the favourite. That would be Tom Boonen."
Courtesy of Susan Westemeyer
Cunego confirmed for Tour
Damiano Cunego (Lampre-Fondital) has been confirmed as a starter for the Tour de France. On Thursday during the Oregon Scientific Sport Party in Milan, Cunego decided on being in Strasbourg on July 1.
"I will take part in Tour because I understood that I want to prove myself in this charming race," he said. "This will be my first Tour: I will gain experience."
Cunego is currently training with teammate Paolo Tiralongo in Livigno.
Santos González back for Vuelta a Asturias
By Antonio J. Salmerón
Santos González will lead the 3 Molinos Resort-Murcia Turística team in the Vuelta a Asturias. The Spaniard will be joined by Mikel Artetxe (ex-Euskaltel-Euskadi), Jan Hruska, Jesús del Nero, Jorge Ferrío, Rafael Casero, Alberto Benito and Toni Tauler, with Roberto Torres as team director.
The race will be run over five stages. The first, over 176.4 kilometres, starts in Oviedo and finishes in Avilés. Stage 2 starts in the Cafés Toscaf factory, in Pravia, and will finish on the top of Acebo after 180 kilometres. The third stage is between Cangas de Narcea and Gijón, and is 174 kilometres long. The fourth stage starts in Gijón and finishes in Llanes, over 154 kilometres, and the fifth and final stage is between Llanes and Oviedo, over 184 kilometres.
The teams taking part are: Andalucía Paul Versan, Euskaltel, T-Mobile, Comunidad Valenciana, Unibet.com, Selle Italia, 3 Molinos Resort, Spiuk Extremadura, Acqua e Sapone, Barloworld, Relax-Gam, Chocolate Jacques, Kaiku, Orbea, Massi, Grupo Nicolás Mateos, Viña Magna, Ceramica Panaria and the Spanish national team.
Acqua & Sapone for Asturias
The Acqua & Sapone-Caffè Mokambo team has named its riders for the Vuelta a Asturias, which begins on Friday. After Kanstantsin Siutsou and Andrea Tonti finished second and fifth in the Subida a Naranco yesterday, the team is hopeful of more good results in Asturias. The remainder of the squad is composed of: Alexandr Arekeev, Luca Celli, Alessandro Donati, Rinaldo Nocentini, Giuseppe Palumbo, and Andrea Masciarelli, with Bruno Cenghialta as D.S.
"We have a very competitive squad," said Cenghialta. "Tonti and Siutsou are going through a good period, and yesterday they showed they had great condition. Unfortunately, the victory eluded us a little there. Besides Tonti and Siutsou, we have Nocentini and Andrea Masciarelli, who also have good chances to do well."
Lomme Driessens dies
Belgian Lomme Driessens has died in Vilvoorde on Thursday, aged 94. Driessens was a cyclist in his time, but he was best known as a team manager, working with riders such as Eddy Merckx and Freddy Maertens, as well as a soigneur for Fausto Coppi, Charly Gaul and Rik Van Looy. Seven of his riders became world champions, although he was also known as a manager who got the most out of lesser riders.
For more information: www.coupedelapaixcycliste.com/HTML%5FEn/Accueil.asp
KidsPeace Bicycle Racing League finals at Lehigh
The Lehigh Valley Velodrome in Trexlertown, PA, USA, will be hosting the annual KidsPeace Bicycle Racing League Finals on Friday, June 16. This Velodrome tradition will feature events with international riders along with the Bicycle Racing League races consisting of the top competitors from one of the world's best youth cycling programs.
The KidsPeace Spring Bicycle Racing League began at the beginning of April, with the participants being coached by some of the sport's leading athletes. Olympian May Britt Hartwell was a team head coach, along with 2005 Rider of the Year Ashley Kimmet as Hartwell's assistant. Also coaching the League were Mike Grabowski, Jorge Romero, and Bob Biese. This Friday, the Spring Bicycle Racing League, sponsored by KidsPeace, will have their chance to show what they have learned. The winner will takes all in the night's events and the top three competitors in each age group will receive a 2006 Spring Bicycle Racing League trophy.
The night's racing will feature some quality international competition: Jan van Eijden (Germany), the 2000 world sprint champion and team sprint world champion, and Italy's Roberto Chiappa, who was last week's sprint champion. Also racing will be Holland's Teun Mulder, the 2005 Keirin world champion and compatriot Tim Veldt. Among others scheduled to ride are Germany's Stefan Steinweg and Christian Grasmann, Australia's Pete Fitzpatrick, USA's Dave Clinger, and the Spike Pro Team.
Gates open at 6:30pm and racing begins promptly at 7:30pm on Friday night.
La Coupe de la Paix 2006
The Canadian province of Quebec will host La Coupe de la Paix between June 22 and 25, a four-race series in the municipalities of the Rive-Nord: Laval, Mascouche, Repentigny and Blainville. The event is well placed between the GP de Beauce and the Canadian road championships, making it possible for Quebec riders to measure themselves against internationals. The series is registered with the National Road Ranking, and competitors can score points towards a place on the national team.
So far, three teams from Australia, the Netherlands and the USA have confirmed their participation. A total purse of $50,000 will be awarded, with $10,000 per race ($6,400 men/$3,600 women) and $10,000 for the overall points.
(All rights reserved/Copyright Knapp Communications Pty Limited 2006)