Latest Cycling News for July 23, 2006
Edited by Jeff Jones and Shane Stokes
Floyd Landis profile
Rebellion, a self-effacing hero and redemption; when's the movie out?
On the final podium
Photo ©: Sirotti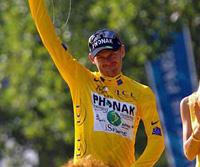 While the Champs-Elysées was packed with spectators enjoying an American win the Tour for the eighth consecutive year, a far more modest celebration was taking place at the Pennsylvania family home of the victor Floyd Landis. John Kenny reviews an amazing sporting achievement and the journey to success of a modest, determined and tough competitor.
Modesty, rebellion and heroic exploits, there's got to be a movie in the Floyd 2006 Tour story. There is so much colour in this narrative that it's hard to know where to start. His Tour win is a story in itself, but it's almost a sub-plot to the other elements of the drama. There's Landis' stunning ride back into contention on stage 17 that has been compared to the exploits of the great Eddy Merckx, there's the humble Mennonite upbringing that seems to be completely at odds with the colour and movement of the Tour and then there's the hip.
Landis was raised as a conservative Mennonite and it's tempting to draw comparisons to the Amish, but the communities are separate. Mennonites maintain conservative dress and have regulations on television and radio, although they accept most other technology, including bicycles. However, the lurid green Lycra clothing of the Phonak squad would assuredly not normally be considered modest attire.
When someone is as talented at a given sport as Landis, it is difficult to hold back the exploration of the boundaries of their gift. "That boy put us through the mill growing up," said Landis' mother, Arlene told the New York Times, "Just doing the normal thing, that's boring to Floyd." Mennonite children who test the boundaries of their communities are said to 'stretch' their parents. For Floyd's parents this probably started to occur when he started participating in mountain bike races, some of which were scheduled on Sundays, when vigorous exercise is forbidden.
Click here for the full feature
Mission accomplished for Caisse d'Epargne
Unzue happy with Pereiro's second place
Oscar Pereiro (Caisse d'Epargne)
Photo ©: Jon Devich

Team Caisse d'Epargne-Illes Balears has proclaimed itself very satisfied with the outcome of the 2006 Tour de France. The Spanish squad had entered the race counting on Alejandro Valverde as its tip for the top, but the ProTour leader crashed out early on. Oscar Pereiro's second place therefore exceeded all expectations.
"The Tour was surprising and unforeseeable," said manger Eusebio Unzue in a team statement. "We started the race with the feeling that we could win it, but that feeling went together with Alejandro's crash. Later we hoped that Karpets and Pereiro would do well in the Pyrenees so that we could fight for the first places on the general classification. Unfortunately we had to forget that dream too, as Karpets and Pereiro lost too much time to reasonably continue to think we could do well in the general classification. Another Tour started for us then. The aim was to go every day with the breakaways to try to win a stage."
However this paid off in a way not even Unzue could have anticipated. "It is with that idea that we left Luchon and it is precisely during one of those transition stages that Oscar went with the break with the intention of claiming the stage victory. Considering the passivity shown by teams that could win the Tour, Oscar had the opportunity to recover the time he lost in the Pyrenees and to put the yellow jersey on his shoulders.
"We consequently found the enthusiasm and the motivation which enabled us to perform a incredible final week. In the Alps, Oscar fought magnificently to defend his yellow jersey and confirmed that he really deserved his place on the podium of Paris. Twenty-four hours before reaching Paris we still had the hope and the dream to reach Paris with the yellow jersey in the team.
"In short, one can say that during this Tour we experienced completely contradictory states of heart and mind, starting with the loss of our leader and going onto chasing the final victory in this race. It was a really surprising and spectacular one [Tour] which, I believe, will make it possible for the sport of cycling to have a beautiful image once more.
On the podium
Photo ©: Sirotti

"I hope that our sport will finally step out this crisis in which it was plunged. I also believe that this year thanks to a greater equality between the riders – something which caused many incredible situations during the race, sometimes difficult to understand, we experienced plenty of true emotions.
I cannot forget the fact that we were really close to the victory and that may be…well, anyway, I am happy with our race because our team really gave its all to try to keep the yellow jersey."
Unzue said that while tactics undoubtedly played a part, 28 year old Pereiro has grown in confidence and will have bigger goals from now on. There is a parallel; back in 1990 Claudio Chiappucci got clear in an early break and finished ten minutes clear of the peloton. He also held yellow heading into the final time trial, but ended up finishing second to another American, Greg LeMond. However he came back the following year as a genuine contender, something that Unzue will hope Pereiro can do.
"There was a lack of coherence in some riders' behaviour who claimed they wanted to win the Tour," he said, "even if I must recognize that it is thanks to this inconsistency that we could go for the yellow jersey and, consequently, also had a possibility to win the race. It is thus on a note of satisfaction that I will go home, thanks to the behaviour of all the team throughout the race and of course thanks to what Oscar carried out. From now on we know he can have bigger ambitions than before."
More speculation about T-Mobile change
T-Mobile
Photo ©: Jon Devich

Rumours that Olaf Ludwig and Mario Kummer will lose their place within the T-Mobile team continue to grow, with German daily Bild today elaborating upon the stories which surfaced over the weekend.
Although the squad has itself played down the suggestions that Ludwig, the general manager, and team manager Kummer will be shown the door, the paper states that growing dissatisfaction amongst the riders about the management means that the relationships are no longer sustainable. Andreas Klöden is known to have been unhappy with some of the tactical decisions made during the race. He finished just 1'29 off race winner Floyd Landis and 32" off the second place of Oscar Pereiro, who lost a lot of time in the Pyrenees but gained 29'57 on stage 13 to Montélimar.
"The fact that I even beat Floyd Landis in this time trial makes me even more happy, but I sort of have mixed feelings right now," Klöden told Cyclingnews on Saturday. "It's great that I jumped on the final podium, but if we would have had a better tactical performance, the second placing would have surely been doable."
He elaborated on this in a post-Tour reception head at T-Mobile's corporate headquarters in Bonn, Germany, early on Monday. "With a little luck, I could have done more," he said. "It bugs me, that it was third place, the second spot was surely reachable. We missed our chance."
Who missed it exactly, the riders or the team management? "Mistakes were made by both," he answered. "The riders make the race but the those who sit in the team auto make the tactics."
Although T-Mobile took third overall and were best in the team's classification, Bild says that the sponsors will pull their support from Ludwig, who earlier this year applied for a ProTour licence extension through his company Olaf Ludwig Cycling gmbh.
Kummer was promoted to the role of sport and technical director last year. A T-Mobile press release issued on September 20th 2005 said that he would be "charged with developing and deciding team strategy and logistics."
According to today's newspaper article, the dissatisfaction has been brewing all season and now the sponsors have decided it is time for a change.
Bob Stapleton, who has been on the sponsor T-Mobile's board since August 2001 and manages the successful women's team, is tipped to succeed Ludwig. His High Road Sports sports marketing and management company may be the vehicle to take over the ProTour licence. The sporting leader is expected to be Rolf Aldag who, together with Stapleton, is already acting as an adviser to the team.
CSC satisfied
Team CSC came away from the Tour with two stage wins and fourth place overall, despite losing Ivan Basso before the race began because of Operacion Puerto. "I'm very pleased with our efforts in this year's Tour de France," commented Bjarne Riis on team-csc.com. "In spite of a catastrophic beginning we managed to turn things around and show, that we do have one of the strongest team out there. With two amazing stage wins and Carlos as one of the best in the mountains, we have a lot to be proud of. Most of all I'm extremely proud of the morale and fighting spirit the riders and everyone around the team have shown. It's when times are hard that people show, what they're really made of – and we did just that! We've come out on the other side of the 2006 edition of Tour de France even stronger."
Carlos Sastre got himself up into second overall before the final time trial, but ended up in fourth place after both Landis and Klöden overtook him. Nevertheless, the Spanish climber was happy with his performance. "I ended up doing Tour de France under entirely different circumstances than I'd expected, but I'm very happy with the results we've achieved," he said. "The team has supported me brilliantly and made it possible for me to attack in the mountains. It would've been fantastic to finish on the podium, but I'm not disappointed, because I did my very best and gave everything I had in me. That is what counts and I'm happy and proud of our accomplishments."
Third fastest Tour in history
The 2006 Tour de France was the third fastest ever, with Floyd Landis' winning average speed 40.784 km/h for the 3656.5 km distance. Only Lance Armstrong (41.698 km/h in 2005 and 40.956 km/h in 2003) has ridden faster to win La Grande Boucle. Armstrong also holds two more of the top five average speeds: 40.563 km/h in 2004 and 40.315 km/h in 1999.
Landis to ride two Dutch crits
Tour de France winner Floyd Landis will ride two post-Tour criteriums in the Netherlands this week. The Phonak rider will start in Stiphout on Tuesday and Chaam on Wednesday.
Phonak's Tour riders extend contracts
All nine Phonak riders at the Tour de France have extended their contracts with the Swiss team. Axel Merckx's contract extension (for 1 year) was followed by those of Floyd Landis (1 year), Bert Grabsch, Robert Hunter, Nicolas Jalabert, Koos Moerenhout, Alexandre Moos, Victor Hugo Peńa and Miguel Angel Perdiguero (2 years each).
Phonak's General Team Manager John Lelangue was very pleased with the Tour de France team's decisions. "This way we can get an early start on setting the way forward for next season."
Phonak comes home with the big prize
Not surprisingly, Phonak took home the lion's share of the prize money at this year's Tour de France. The Swiss team finished with almost half a million euro, more than double the winnings of Caisse d'Epargne, which came away with €236,330. T-Mobile finished in third place with €219,660.
Team prize money (euros)

1 Phonak              496,280 
2 Caisse d'Epargne    236,330
3 T-Mobile            219,660
4 CSC                 160,580
5 Rabobank            141,870
6 Davitamon-Lotto     137,820
7 Lampre               76,850
8 AG2R                 75,800
9 Saunier Duval        71,170
10 Gerolsteiner        66,830
11 Crédit Agricole     52,240
12 Bouygues Telecom    41,750
13 Milram              41,030
14 Cofidis             37,160
15 Discovery Channel   34,130
16 Liquigas            33,130
17 Française des Jeux  31,710
18 Quick-Step          30,970
19 Euskaltel           28,590
20 Agritubel           15,200

(All rights reserved/Copyright Knapp Communications Pty Limited 2006)