First Edition Cycling News for July 21, 2006
Edited by Jeff Jones and Shane Stokes
Stage 17 wrap-up
Landis bounces back with dominant Alpine performance
Floyd Landis (Phonak)
Photo ©: AFP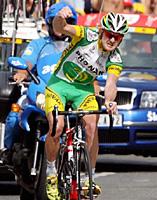 Twenty-four hours after his Tour de France chances looked to have gone up in smoke, Phonak rider Floyd Landis raced right back into the fight for the final yellow jersey with one of the most impressive solo rides in modern cycling history.
Racing à la Merckx, Landis broke clear in the early slopes of the first category Col de Saisies, 72 kilometres after the start in St. Jean de Maurienne and was out front for the remainder of the 200.5 kilometre stage. He carved his way through an 11 man breakaway group which had gone clear after 12 km, dropping the last remaining rider from that selection, Patrik Sinkewitz (T-Mobile) on the final climb of Joux Plane and then snaking his way town the descent to victory in Morzine.
Landis' maximum lead during the stage was 9'06, established when race leader Oscar Pereiro's Caisse d'Epargne team was riding at the front to try to limit their losses. Carlos Sastre's Team CSC and Andreas Klöden's T-Mobile squad then took over, driving the chase, but they found it difficult to reduce the gap to Landis.
Coming up on
Cyclingnews will cover the 60th edition of the Dauphiné Libéré live as of stage 4 on Wednesday, June 10, at approximately 15:00 local Europe time (CEST)/ 23:00 Australian time (CDT)/ 9:00 (USA East).

WAP-enabled mobile devices: http://live.cyclingnews.com/wap/

Sastre set off in pursuit on the final climb and reached the summit 5'07 back, but Landis' well known descending abilities saw this rise to 5'40 over the cautious Spaniard at the line. Frenchman Christophe Moreau (AG2R) had his best ride of this year's Tour to finish third, 17 seconds further back, while race leader Oscar Pereiro came in as part of a group 7'08 down. This was enough to see him retain yellow, with Sastre now just 12 seconds back.
More ominously, Landis' ride and the bonus seconds he picked up en route saw him jump from eleventh to third overall, 30 seconds off yellow, and looking like a very real contender again in advance of Saturday's 57 km time trial showdown.
When asked afterwards if he was happy with the stage win, Landis showed his focus and source of motivation. "I don't care," he said, smiling. "I came here to win the Tour, and that is what I am trying to do."
Click here for the Full results, report & photos, Live report, and Video.
An interview with Floyd Landis
Was it the beer?
Never before in recent Tour de France history has one witnessed such a amazing turnaround of events. Brecht Decaluwé wonders whether it was the beer that gave Floyd Landis his wings today.
Floyd Landis (Phonak)
Photo ©: Roberto Bettini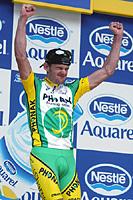 Q: When you came across the finish line, you showed an angry face and pumped your fist. What was going on?
FL: I was very disappointed yesterday, for a little while. Then I thought about it and my team has worked very hard for me to get here. For me to have a bad day was something I couldn't control. But today I thought, I could at least show them that I could keep fighting. No matter what, whether I win or not, I'm going to prove to my team that I deserved to be a leader. I didn't expect that I could do it quite that well. I thought they might be a bit disorganised if I attacked that early. You saw what happened.
Q: What you did today, left everybody stunned. Are you still amazed about what you've just accomplished today?
FL: I think that what I did yesterday left a lot of people stunned. That wasn't what you expected at this point. Yesterday was a disaster. I didn't have my team work for three weeks, to give up after one bad day. It was a long shot, but after all those hard mountains stage you can assume that people are tired and chasing wouldn't work so well.
Click here for the full interview
Pereiro is Mr. Plus
By Jean-François Quénet in Morzine
Oscar Pereiro remembers "a lot of confusion" when he crossed the line in Morzine. "It took me four minutes to realize that I still had the yellow jersey", he told Cyclingnews while drinking loads of water bottles to be able to undergo the doping control. "During the stage I've thought it was over for me", he said.
The showman from Galicia summed it up: "This was clearly an impressive cycling day." First, he was impressed by his former teammate Floyd Landis when he rode away. "He was going fast, fast, fast…" Later, he spoke with his compatriot Carlos Sastre, asking for some cooperation from CSC prior to climb the grueling Joux-Plane. "But today, for me, the most spectacular effort was the work of the Caisse d'Épargne team.
"In my head, after Floyd's attack, I thought this was a very difficult day," he recalled. "When we reached Joux-Plane, I chose not to ride flat out with the other guys but take my rhythm, then I continuously accelerated. I said to myself: 'plus', 'plus', 'plus'. It's the yellow jersey that made me do 'plus' all the way.
"Keeping the yellow jersey is a nice bonus for my team," he added. "Yesterday, we thought that Floyd was out for GC, and today he's got the Tour in his hands. Theoretically, he's going to win it. He's the hot favourite now. For me, the time trial will be a little bit difficult."
In Montélimar, after stage 13, Phonak's team manager John Lelangue was convinced that his former rider Pereiro wasn't a danger. However, he'll remain a danger till the end.
Dessel lacking strength
By Jean-François Quénet in Morzine
Cyril Dessel (AG2R)
Photo ©: Jon Devich

In just a few days of glory, Cyril Dessel has become the most encouraged rider of the Tour de France. The public has recognized in him the incarnation of good old cycling courage. But he had to step down on the Joux-Plane, going from 4th to 7th place on GC. However he might become even more popular for crashing on the downhill, though.
"I took the corner too wide," he admitted. "And I went into the grass. It may have been spectacular but I wasn't hurt at all. I'm more disappointed because I lost around about thirty seconds. That might cost me a lot in the time trial."
His position on GC is even threatened by Christophe Moreau, his companion at AG2R who rode as a domestique for him the day before but didn't wait this time. "This is normal," Dessel stated. "I've got nothing bad to say about that. He had good legs, it was a big war in the climb, he was right to go. I was missing a little bit of strength."
He was still smiling at the finish though. This is his nature. He's a friendly and usually happy man. "What happened today isn't a drama. I'm not targeting the honorary title of first Frenchman anyway. For me, making the top 10 of the Tour de France is an enormous result. Now I can truly hope for it."
Cunego loves the Tour, but he'll give it a miss next year
By Jean-François Quénet in Morzine
Damiano Cunego (Lampre)
Photo ©: Roberto Bettini

After coming 2nd in L'Alpe d'Huez, Damiano Cunego badly wanted to win a stage at the Tour de France. He was fourth in Morzine, but got a compensation for another missed victory by taking the white jersey over from Markus Fothen, only by five seconds though. "This is a very nice jersey," he said. "I wasn't looking for it but now I want to keep it. I'm afraid of the time trial, but I'll fight for it. I've had such a great emotion on the podium presentation."
He was aware that "the latest Italian to wear it was Ivan Basso" in 2002. "We're both stage race riders." The white jersey of the Tour de France is usually a starting ramp for an U26 up and coming cyclist, not a reward for someone who has been the world's best rider two years before. "I came here to learn," Cunego explained. "The Tour de France is the university of cycling. I've loved it straight away. For an Italian, the Giro is the maximum but the Tour de France is the most important race for the rest of the world."
Laying 14th isn't exactly Cunego's standard. He's worth a higher position. "Last year I had a bad season," he reckoned. "This year, it's been better but I've been disappointing at the Giro. At the Tour, I have showed that I'm still Cunego. But it would be a mistake to be taken by my current emotions and believe that I can do the Giro and Tour every year. Next year, I'll do the Giro and the end of the season, but in 2008, I'll do only the Tour and I'll try and do it for the overall win."
The other jersey to be contested in the time trial on Saturday will be the white one between Cunego and Fothen who are both riding the Tour de France for the first time.
The Tour de France of give-aways and competitions
Don't miss out at Tour time!
Resident freebies expert, Rufus Staffordshire, sniffs out some competitions where over $600,000 in prizes are on offer as manufacturers clamber for your eyeballs. Woof!
Scratch - but don't sniff
Photo ©: Trek

The Tour de France is not only a reasonably popular bike race, ahem, it's also a great opportunity to win an incredible range of prizes and competitions on offer from manufacturers, publishers and distributors.
Many of our sponsors are offering Cyclingnews readers a schwag-fest of give-aways during the lap-around-France. The prizes on offer range from pedals and laptops through to trips to Paris for the 2007 TdF, as well as actual kit being ridden by top pros in the Tour - including top bikes from Trek, Blue, and Avanti.
So that you don't have to go hunting around the Internet for all these goodies, we've assembled the Cyclingnews complete guide to Tour freebies and competitions.
Previous News Next News
(All rights reserved/Copyright Knapp Communications Pty Limited 2006)