First Edition Cycling News for July 20, 2006
Edited by Jeff Jones and Shane Stokes
Stage 16 wrap-up
Rasmussen soars, Landis blows, Pereiro back in yellow
Michael Rasmussen (Rabobank)
Photo ©: AFP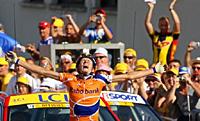 Race favourite Floyd Landis cracked dramatically on the sixteenth stage of the Tour de France today, as former race leader Oscar Pereiro (Caisse d'Epargne) swept back into the maillot jaune. The Phonak rider's unexpected collapse came on the final climb up to La Toussuire, with Landis slipping backwards approximately 11km from the line and finishing a massive 10'04 down in 23rd place.
The stage victory went to Michael Rasmussen, the Danish Rabobank rider precisely emulating his exploit of last year's Tour by going clear very early on, taking all of the points on each of the day's climbs, soloing in for the victory and opening up a very healthy lead in the King of the Mountains classification. Rasmussen attacked approximately ten kilometres after the start in Le Bourg d'Oisans and was joined on the Galibier by Tadej Valjavec (Lampre-Fondital) and then Sandy Casar (FDJ). He shed both of these heading up the Col de La Croix de Fer, and rode the remaining 70-odd kilometres alone, resisting solo chasing efforts from Levi Leipheimer (Gerolsteiner) and Carlos Sastre (CSC).
Coming up on
Cyclingnews will cover the 60th edition of the Dauphiné Libéré live as of stage 4 on Wednesday, June 10, at approximately 15:00 local Europe time (CEST)/ 23:00 Australian time (CDT)/ 9:00 (USA East).

WAP-enabled mobile devices: http://live.cyclingnews.com/wap/

Landis looked composed but was first distanced by Menchov (Rabobank) and several others 13 kilometres from the line. T-Mobile brought he and Klöden back on, but when an attack by Sastre with 11 kilometres left caused the speed to shoot up, the American blew up and began a long, lonely suffer-fest to the summit. Sastre stayed clear to take second place, finishing 1'41 behind Rasmussen and 13 seconds ahead of new yellow jersey Oscar Pereiro (Caisse d'Epargne), who took a time bonus for third. Cadel Evans (Davitamon) and Andreas Klöden (T-Mobile) were a further two seconds back in fourth and fifth, while a disappointed Landis finished 23rd and dropped to 11th overall.
Click here Full results, report & photos, live report, and video.
An interview with Oscar Pereiro
It's not over yet
Oscar Pereiro (Caisse d'Epargne) lost the yellow jersey to Floyd Landis on L'Alpe d'Huez yesterday, but regained it in spectacular style by placing third in today's stage to La Toussuire after Landis cracked. Now the Spaniard has a 1'50 lead on GC, but will it be enough? Hedwig Kröner reports on the drama from La Toussuire.
Oscar Pereiro (Caisse d'Epargne)
Photo ©: Roberto Bettini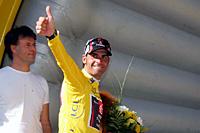 Q: Did you imagine that you could get this jersey back or is that a surprise to you, as it is for us?
OP: For sure, it's a surprise, as we all thought this morning that if all went normally, Floyd would still have the jersey. But he is not immune to having a bad day, either. Somehow, I just felt in the Galibier, that it would be a good day for me. That's why I asked my teammate Xabier Zandio to ride for me, to finish where we are now.
Q: Do you now believe that you can win the Tour?
OP: I think I have a good chance - maybe not to win the Tour, but to get on the podium. There is also the possibility to win it, but in a crazy Tour like this is, we have to take things day by day. This morning, we thought that Floyd was the strongest rider, but he then had an off-day today and lost a lot of time. But we've overcome a decisive day, and if all goes well tomorrow, maybe then I can think about it.
Click here for the full interview
An interview with Michael Rasmussen
The Bird Flew: 'Chicken' Rasmussen pulls off a great coup
Although his form has been a little less consistent this Tour than during the 2005 edition, Michael Rasmussen pressed the rewind button to great effect on Wednesday to dominate the second Alpine stage of this year's Tour. Rasmussen went clear on the first climb of the day with two other riders, Sandy Casar (Française des Jeux) and Tadej Valjavec (Lampre-Fondital), building up a large lead over the peloton and then taking maximum points on each of the day's four mountains. Brecht Decaluwé reports from La Toussuire.
Michael Rasmussen (Rabobank)
Photo ©: AFP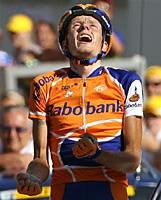 As he did on Sunday July 10th, 2005, Rasmussen laid the foundations for a probable victory in the Grand Prix de la Montagne classification today and also took the stage win. It confirms the climbing talent he showed last year and achieves the two goals he had set himself prior to the race start. Cyclingnews' Brecht Decaluwé was at his post-stage press conference and heard what the great Dane had to say.
Q: This was a great victory, and obviously you were a bit overwhelmed after the finish. We saw you were a bit emotional during an interview with Danish television. Could you tell us what you felt when crossing the line.
MR: This year, I've been riding in service of the team because we still have a contender for the yellow jersey. But yesterday did not go the way we wanted, obviously. After the stage, I spoke with the team management and said that I would do it my way today and see what would happen. It's difficult not to be overwhelmed by emotions. 90% of my season covers the three mountains stages of yesterday, today and tomorrow. So for me it is very important to perform during these three days.
Click here for the full interview
An interview with Floyd Landis
"Today doesn't change anything"
It takes a big man to take the maillot jaune, but perhaps an even bigger one to come out of his hotel room after having the golden fleece so cruelly taken away from him. Anthony Tan found out what Floyd Landis had to say a few hours after a very bad day in yellow.
Floyd Landis (Phonak)
Photo ©: Sirotti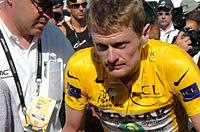 "First of all, I want you to believe me when I say I have respect for you guys, because this is the last thing I want to do," began Landis. "Anyway, what are the questions... I think I can take a guess," he said with wry smile.
Q: What happened?
FL: I had a bad day on the wrong day. The team did a good job in the beginning; I suffered from the beginning but I tried to hide it... In the end, I couldn't go.
Q: Why do you think it happened?
FL: Er, sometimes you don't feel well. Sometimes it's on the wrong day - today was not a good day to have a bad day... What can I say...
Q: What are you thinking about now?
FL: Stage 18, 19... whatever it is (half-laughs, referring to the time trial)
Click here for the full interview
Cyril Dessel gives his regrets to Phonak
By Jean-François Quénet in La Toussuire
Moreau, Dessel and Caucchioli
Photo ©: Sirotti

Floyd Landis might have looked isolated while wearing the yellow jersey, but there were a few former Phonak riders doing very well in stage 16. Tadej Valjavec and Oscar Pereiro were with the Swiss outfit last year; however, fewer people remember that Cyril Dessel also rode for Phonak. Two years ago, he wasn't picked for the Tour de France at the last minute after directeur sportif Alvaro Piño imposed the presence of Santiago Perez, and team manager Urs Freuler decided to select Martin Elmiger just for being Swiss.
That's why Dessel chose to leave Phonak and join AG2R, for which he couldn't ride the 2005 Tour de France either, due to an appendix operation. Now he's finally living his dream, running fourth overall in the Alps. "I never expected that," Dessel explained. "On the Glandon, we were still five riders from AG2R with Sylvain Calzati riding a good tempo that has helped us a lot. We're confident, that's why we don't make too many mistakes."
Directeur sportif Vincent Lavenu was full of praise for Christophe Moreau, who was initially the team captain. "He used his experience at the service of Cyril," Lavenu said. "He did it instinctively. I'm proud of my team. I'm proud of having chosen the right riders. French cycling needed what we're doing now. But today isn't the end of the surprises at the Tour."
Dessel felt sorry for Landis. "The main factor today was the heat," he said. "I saw Floyd throwing water at himself regularly. Sometimes it's a sign that a rider isn't going well. That was my impression of him in the last climb. A hunger flat can occur to anyone. That's why I feel I am currently far away from a final podium in Paris. There is another hard mountain stage and a time trial. We're not there yet." But what is likely is that Phonak would probably have loved to have Dessel still in their ranks for these Alpine stages…
The Tour de France of give-aways and competitions
Don't miss out at Tour time!
Resident freebies expert, Rufus Staffordshire, sniffs out some competitions where over $600,000 in prizes are on offer as manufacturers clamber for your eyeballs. Woof!
Scratch - but don't sniff
Photo ©: Trek

The Tour de France is not only a reasonably popular bike race, ahem, it's also a great opportunity to win an incredible range of prizes and competitions on offer from manufacturers, publishers and distributors.
Many of our sponsors are offering Cyclingnews readers a schwag-fest of give-aways during the lap-around-France. The prizes on offer range from pedals and laptops through to trips to Paris for the 2007 TdF, as well as actual kit being ridden by top pros in the Tour - including top bikes from Trek, Blue, and Avanti.
So that you don't have to go hunting around the Internet for all these goodies, we've assembled the Cyclingnews complete guide to Tour freebies and competitions.
Previous News Next News
(All rights reserved/Copyright Knapp Communications Pty Limited 2006)