First Edition Cycling News for July 19, 2006
Edited by Jeff Jones and Shane Stokes
Stage 15 wrap-up
Landis back in yellow as Schleck wins on l'Alpe
Frank Schleck (CSC)
Photo ©: AFP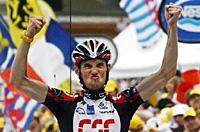 Three days after giving away the yellow jersey to Oscar Pereiro, Floyd Landis (Phonak) has taken it back in the 15th stage that finished on L'Alpe d'Huez. Landis placed fourth in the stage that was won by Luxembourger Frank Schleck (CSC), who survived an early break to beat Damiano Cunego (Lampre) by 11 seconds. Stefano Garzelli (Liquigas) was also part of that break, but held onto the Landis group to finish third at 1'10. Landis now leads the race by just 10 seconds from Oscar Pereiro, but he has more than two minutes on the rest of his rivals.
The 187 km stage was dominated by a 25 man breakaway that formed after 28 km: Frank Schleck, Jens Voigt, David Zabriskie (Team CSC), George Hincapie and Egoi Martinez (Discovery Channel), Eddy Mazzoleni (T-Mobile), Axel Merckx (Phonak), Damiano Cunego and Patxi Vila (Lampre-Fondital), Sylvain Chavanel (Cofidis), David De La Fuente and Ruben Lobato (Saunier Duval), Stefano Garzelli (Liquigas) were all part of it. Garzelli attacked on the Col d'Izoard to take the points at the summit, but was brought back to heel by the reduced size break after the descent, with the peloton at 6'30.
Coming up on
Cyclingnews will cover the 60th edition of the Dauphiné Libéré live as of stage 4 on Wednesday, June 10, at approximately 15:00 local Europe time (CEST)/ 23:00 Australian time (CDT)/ 9:00 (USA East).

WAP-enabled mobile devices: http://live.cyclingnews.com/wap/

The leaders numbered 15 on the final run into l'Alpe d'Huez, and as the first of the 21 switchbacks started, the contenders quickly sorted themselves out. Schleck and Cunego were the strongest, and were joined by Mazzoleni for a while until the latter was called back to help his team captain Andreas Klöden, who together with Floyd Landis had gotten rid the rest of the GC contenders on the climb. Schleck attacked Cunego inside 2 km to go to ride away for the win, while Landis and Klöden swallowed up Garzelli, Lobato and Chavanel, with Garzelli sprinting to take third. Maillot jaune Pereiro finished 14th at 2'49, and lost his jersey by just 10 seconds.
Click here for the Full results, report & photos, Live report, Video.
An interview with the maillot jaune, Floyd Landis
Conservatism pays off
Floyd Landis (Phonak) regained the maillot jaune with a solid, but by no means swashbuckling ride to finish fourth on L'Alpe d'Huez. Landis stayed with Andreas Klöden for much of the climb, catching some of the early breakaways to end just 1'10 behind winner Fränk Schleck. And while it was a conservative ride, Landis believes that it is the best way to win the Tour de France. Brecht Decaluwé reports for Cyclingnews.
Floyd Landis (Phonak)
Photo ©: Sirotti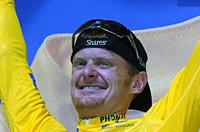 Q: How did you find your climb on Alpe d'Huez, and why did you attack suddenly after staying on the wheel of Klöden for so long?
FL: The first reason was that I was alone in the group of favourites, so the first kilometres went pretty hard. Another reason for my attack was that I wanted to get to Axel Merckx, who was a marking point for me. It surprised me to see that he was still there during the final climb. I didn't attack Klöden earlier, because my main goal today was to stay with him.
Q: You don't seem to be suffering during the climbs, how far are you away from you red zone? Where are you in your range?
FL: I'm a pretty good actor! (laughs) I'll let you know when I am at the red line, but I felt good today. It wasn't necessary to take more time on the other guys, I was just content to follow Klöden. During the next two stages, I'll be riding conservatively again. I don't feel the need to win any of those stages; I'll try to win a stage, but if it doesn't work out that way … I just want to save the energy of my team. Today, everybody saw that my team is stronger than some people hoped.
Click here for the full interview
An interview with Fränk Schleck
In the footsteps of Charly Gaul
26 year-old CSC rider Fränk Schleck took his biggest victory today by winning the Tour's 15th stage to L'Alpe d'Huez - the first rider from Luxembourg to do so. After being in the breakaway for most of the day, Schleck was able to drop Damiano Cunego with 2 km to go to solo to victory. Brecht Decaluwé reports from the top of the mountain.
A happy Schleck
Photo ©: Sirotti
Q: Even your famous compatriot Charly Gaul never won the stage on Alpe d'Huez. How do you feel now that you've stepped out of his shadow?
FS: (quietly) It's an great honour to be compared with Charly Gaul, as he was a very good rider. Sadly enough, he passed away a few years ago.
Q: You have won a stage with a mythical finish on top of Alpe d'Huez. Many famous riders have won over here. Is this win teaching you something about yourself?
FS: I will be more confident now. Many people said that I could do well, that I had to be confident. This morning I was feeling good and I was in a breakaway group. At the end of the day, I end up winning this fantastic stage. It will take a while before I realise that I've won over here.
Click here for the full interview
Riis very satisfied with his riders
By Hedwig Kröner in L'Alpe d'Huez
Today was another successful day for Team CSC's director Bjarne Riis. The Danish outfit once again proved that it was right in waiting for the mountains to show its full strength. With Luxembourger Fränk Schleck achieving the second legendary victory of his career so far, and the second victory for his team in this race, the team's tactician had all the reason to be cheerful in the finish of stage 15. And he was, but as usual, he also kept his cool.
"No, we didn't have that planned," was Riis' response about the day's unfolding. "We followed the group, and suddenly we had three men in front, so that was perfect. Dave (Zabriskie) and Jens (Voigt) did a fantastic job for Fränk until the last climb. I started to believe he could win then."
The 1996 Tour de France winner was also happy with the performance of Carlos Sastre, who became the team's GC captain after Ivan Basso was sidelined form the race start earlier this month. Although the Spaniard wasn't able to keep up with the biggest favourite, Floyd Landis, he only let go in the last slopes of L'Alpe and moved up from sixth to fifth in the classification.
"Sastre defended himself very well," Riis continued. "This morning I told him not to go too deep at the beginning of the climb so that he didn't explode. He did that, he lost a little bit but then he came back again. Jens helped him the last way up, so that was good. He lost a bit of time in the end, but I'm still satisfied with his performance."
And there were more exciting mountain stages ahead, the Dane added, which will provide more food for tactical thought and racing action. "Landis looks strong, for sure, Klöden is coming good, too. Carlos is comfortable, and this all sure looks very interesting..."
Oscar Pereiro defended his jersey until the last metre
Oscar Pereiro (Caisse d'Epargne)
Photo ©: Sirotti

Although he ultimately finished 14th, 2'49 off the stage winner and lost the race lead to Floyd Landis by just ten seconds, Oscar Pereiro said he was proud of his performance and that of his Caisse d'Epargne squad today.
"I am satisfied because after my bad performance in Pla de Beret, I had many doubts," he said. "Today I took confidence again in myself and in my shape. Tomorrow, the responsibility for the race will rest on other shoulders."
Pereiro congratulated his team-mates for their effort, including David Arroyo, who was in the break and dropped back to help his team leader. "It is a pity that we could not manage to save the leadership, but we nevertheless did the maximum to try," Arroyo stated afterwards. "I believe we achieved a great job today."
Pereiro recorded a time of 40'14 for the ascent, the eighth best of the day.
Meanwhile his team-mate Nicolas Portal crashed on the descent of the Izoard and suffered from a contusion to the right knee and to the right elbow.
Post-stage 15 quotes
By Brecht Decaluwé, Jean-François Quénet & Hedwig Kröner in L'Alpe d'Huez
Damiano Cunego (Lampre-Fondital, 2nd)
Damiano Cunego (Lampre-Fondital)
Photo ©: Sirotti

"I would have liked to win, but when you have a guy that's this explosive in front of you, you just can't do anything about it. I don't regret anything, and I'm happy with the way that my form is coming up. I still want to win a stage here.
"Yesterday, I said that L'Alpe d'Huez was just a climb like the other ones. I also thought the same while I was climbing. But at the top, the emotion is different than anywhere else. My second place means a lot for the future. I'll come back for winning that stage one day. I can improve a lot."
Andreas Klöden (T-Mobile, 5th at 1'10)
"It was very hard; I tried to take the initiative with our team. It went alright. Floyd was also really strong; but nobody took over the lead work, unfortunately. I had to lead almost everything myself. You saw the result.
"At the foot of the climb, Matthias Kessler rode a great tempo. I saw that some guys had problems, so I told him to go flat out. Then, I passed him and the group had shrunk."
Michael Rogers (T-Mobile, 15th at 2'49)
"It was tough on the last climb but I came out alright so I'm quite happy. It was a hard day, and there's more hard days to come."
Cyril Dessel (AG2R-Prevoyance, 19th at 3'04)
"I gave it my all. I had very good legs on the Col de Lautaret. I put myself in a good position at the bottom of L'Alpe d'Huez but my chain went off. I had to stop. I lost 20 to 30 seconds and I had to overtake 70 riders on the climb.
"My team-mate Mikel did an enormous job dragging me up there. It was such a violent effort; when we caught the yellow jersey group, [Oscar Pereiro's team-mate] David Arroyo accelerated because [Floyd] Landis' group was just ahead. I just missed a little something for staying on the wheels. But I believe I can be happy with the way I climbed. It confirms what I did last week."
Christian Vandevelde (Team CSC, 42nd at 5'16)
"The stage went great - I didn't really have much to do except to keep Carlos out of the wind as much as possible. And try to get him to the bottom of the climb in front. Then, I just had to hang on and do as much as I could for the team classification at the end.
"I did what I could, and Carlos is a smart rider, he knows himself very well. He didn't go at the first acceleration, he kinda waited and went back to them a little bit later."
The Tour de France of give-aways and competitions
Don't miss out at Tour time!
Resident freebies expert, Rufus Staffordshire, sniffs out some competitions where over $600,000 in prizes are on offer as manufacturers clamber for your eyeballs. Woof!
Scratch - but don't sniff
Photo ©: Trek

The Tour de France is not only a reasonably popular bike race, ahem, it's also a great opportunity to win an incredible range of prizes and competitions on offer from manufacturers, publishers and distributors.
Many of our sponsors are offering Cyclingnews readers a schwag-fest of give-aways during the lap-around-France. The prizes on offer range from pedals and laptops through to trips to Paris for the 2007 TdF, as well as actual kit being ridden by top pros in the Tour - including top bikes from Trek, Blue, and Avanti.
So that you don't have to go hunting around the Internet for all these goodies, we've assembled the Cyclingnews complete guide to Tour freebies and competitions.
(All rights reserved/Copyright Knapp Communications Pty Limited 2006)