First Edition Cycling News for July 18, 2006
Edited by Jeff Jones and Shane Stokes
Pereiro will fight
Oscar Pereiro (Caisse d'Epargne)
Photo ©: Roberto Bettini

Having enjoyed his first day in yellow on Sunday, Caisse d'Epargne – Illes Balears rider Oscar Pereiro says he is planning to fight hard to defend the race lead.
"My aim is to resist as long as possible," he said after the stage to Gap. "It was a surprise to become the leader of the race but now that the yellow jersey is mine, I don't want to give it up to anybody. Even if I am not the favourite for the final classification in Paris. I will see what happen from day to day and see to which point I am able to resist."
Coming up on
Cyclingnews will cover the 60th edition of the Dauphiné Libéré live as of stage 4 on Wednesday, June 10, at approximately 15:00 local Europe time (CEST)/ 23:00 Australian time (CDT)/ 9:00 (USA East).

WAP-enabled mobile devices: http://live.cyclingnews.com/wap/

Pereiro was happy with how stage 14 went. "I want to thank my team-mates because they realized a great job to control the race, a very impressive one. You could see how skilled they are. Personally I felt very well even if I was a little bit tired in the final, but that is normal after yesterday's stage. I had very good sensations. It was a very beautiful day, full of emotions, even if I had almost no time to enjoy my jersey because the stage was so fast."
"Les jeux sont faits" - Phonak confident
One day prior to this year's Tour de France's 'grand finale', the Swiss Phonak team is confident it made the right choice in letting go the yellow jersey on stage 13 to Montélimar. In the press room, this tactical move of the squad directed by John Lelangue was one of the most-discussed happenings concerning the overall classification of the race: Will Floyd Landis prove that 13 was his lucky number in the upcoming Alpine showdown, or regret the 29'57 he offered to former teammate Oscar Pereiro forever?
Floyd Landis (Phonak)
Photo ©: Roberto Bettini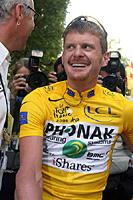 The risk of failure, for Phonak's team director Lelangue, is minimal. "We only decided to make a tactical choice," he told French L'Equipe. "A bit like a football coach, who sometimes makes his reserve team play. There is no real favourite for this Tour, so the race is naturally full of strategy, and unexpected events."
But giving the overall lead to another team does not mean that Lelangue thinks his is too weak. "No - we are taking this risk because we feel very sure about ourselves," he added. But this confidence concerns mainly the leader of his team, Floyd Landis.
"Lance's team was always very confident," the overall second-placed rider said. "I believe in mine, but I know we can't manage the Tour in the same way. To give the jersey away is a real choice. I had to protect my teammates, as they are not strong enough to have the weight of the race on their shoulders at that moment. Actually, I would have preferred not to take the jersey at all, and leave it to Cyril Dessel. He deserved to keep it longer, but that day on the Pla-de-Beret, I had to get some time off Klöden."
Click here for the full feature
100 percent for Klöden
By Hedwig Kröner in Gap
Not only has the captain's role at T-Mobile been decided on since the Pyrenees, the new leader himself is standing firm on assuming his responsibilities. On the Tour de France's second rest day in Gap, Andreas Klöden confirmed that his team would support him all the way, and that he had now reached the peak of his form for the upcoming decisive stages in the Alps.
"I will continue to fight for the Tour de France victory," the lean climber said in the team's press conference. "The team has grown to be very united - who knows what it was good for to have only seven riders at the start?" The now seventh-placed Klöden wants to give it everything in the next few stages to make up for the time he lost on the last climb of the Pyrenees, the Pla-de-Beret.
"On the last kilometres if that climb, I cramped, which cost me a few minutes," he continued. "That was the first hard mountain for me since I had to abandon the Tour last year in stage 16. My muscles weren't completely ready for it." Klöden only had 10 weeks to prepare for the Tour de France because of a shoulder fracture.
But now, the 32 year-old believes he has fully recovered his strength, which in 2004 brought him the second place behind Lance Armstrong on the final general classification. "My form is at 100 percent now," Klöden said. "I'm sure that the ground stone for the Tour de France victory will be laid on Tuesday in L'Alpe d'Huez. I don't think Pereiro will be able to defend the jersey there. My candidates for the overall win are Landis, Menchov, Evans and Sastre.
"We want to attack again, also after L'Alpe d'Huez, but not too soon. Alpe d'Huez is a good omen for me, as I finished third there on the time trial in 2004, and later I got second on GC. That mountain is some motivation for me."
Gerolsteiner on the lookout
By Hedwig Kröner in Gap
With team captain Levi Leipheimer down to 15th placing on general classification, his German team Gerolsteiner will be looking to find openings for him during the final week of the race in order to salvage a little of their initial podium aspirations. Cyclingnews spoke to Gerolsteiner's DS Christian Henn on the Tour's second rest day. Henn told us that Leipheimer's form was good, but that a top five overall finish at this Tour was going to be difficult.
"Levi is about six minutes off Landis, so it will be hard for him to achieve a placing within the Top five," Henn said. "There will be some riders catching up, as well, and I don't think he will be able to put time into guys like Landis, Menchov and Klöden in the time trial."
Looking back on the race until now, the former pro said, "The first time trial was bad, but we still don't know why. I was behind him in the team car, and it certainly looked good. We've tried to analyse what went wrong, but there was no reason, really. So we hope he'll be better in Mâcon."
But Leipheimer is first and foremost a climber, rather than a time triallist. "The one decisive stage in the Pyrenees went great for him," Henn added. "Tomorrow, in L'Alpe d'Huez, he will have to be up front. There is also a possibility that the race goes on like this, uncontrolled, with Phonak not being able to guard it. We still have Totschnig, and Fothen, who could take advantage of such a situation for Levi."
Jean-Marie Leblanc interview
Finally, the race is daring!
By Hedwig Kröner in Gap
The outgoing director of the Tour de France, Jean-Marie Leblanc, is rather happy with the way the last edition of 'his' race is unfolding. Speaking to the former professional cyclist and journalist at the start of stage 14 in Montélimar, Cyclingnews discovered a very relaxed race director, who at 61 years of age is also looking forward to his retirement.
Jean-Marie Leblanc
Photo ©: Hedwig Kröner
Jean-Marie Leblanc may be retiring after this Tour, but he still has the energy to answer critics. He shot back at some observers who had expressed their surprise at the outcome of Saturday's stage (where new yellow jersey Oscar Pereiro was allowed to gain more than 30 minutes on the stage). "A lot of people, myself included, thought that seven consecutive years of Lance Armstrong's domination at the Tour - apart from his class as a rider - started to get a little long," Leblanc explained. "Then, he retired, and everybody was happy, saying that we were finally going to have an undecided Tour, without real favourites. More so, there have been even less candidates for victory since Strasbourg because Basso and Ullrich aren't there. So you can't be happy about this, and at the same time, when things are really starting to get exciting, say that they [Phonak] didn't make the right choices."
Indeed, this year's Tour de France has already had multiple leaders and is much more open than in recent years. "We have just seen the maillot jaune change shoulders seven times!" continued Leblanc. "At the start of the Tour, I said that the race depended on the imagination and the strategies of the directeurs sportifs. You have to dare, you have to take risks and take initiatives - and today, exactly this is happening, so I'm overjoyed!"
For Leblanc, who has been in the position of race director since 1989, Phonak's move to leave the overall lead to Caisse d'Epargne's Oscar Pereiro, was not only understandable but also very intelligent. "Of course, there will be only one winner in Paris," he continued. "We will see if Floyd Landis made the right choice. Personally, I think they did the right thing. They don't have a very strong squad - it's good, and united - but they would have penalized themselves in those two stages today and yesterday. The stage to Montélimar was very long, 230 kms and very hot, too. Today, the parcours was hard towards the finish in Gap. So I understand their choice perfectly; it's a good decision."
Click here for the full interview
A strange chase
Mario Aerts (Davitamon-Lotto)
Photo ©: Jon Devich

Quick.Step has given its reasons why it started to chase the three man breakaway in yesterday's 14th stage to Gap. The boys in blue got to the front of the peloton with 75 km to go, and tried to bring the break to heel for Tom Boonen, but pulled out with around 40 km to go, when Boonen decided that he wasn't up for it.
After the finish, Mario Aerts (Davitamon), who was in the break, said that he sacrificed himself in order to stay in front of the peloton. "I'd rather gave the win to one of my companions in the break than to someone from the chasing peloton," he was quoted by HNB as saying. "The Quick.Step tactics to start riding, I didn't understand at all. At one moment we had a lead of 5'50. If you want to close that gap to six leaders, then you waste your whole team."
Quick.Step's Tom Boonen told Sporza TV and HNB, "I don't understand it [Aerts' reaction - ed.]" Tom Boonen replied. "I felt bad today and did hope to get better during the stage. I had marked this day for a long time already. In spring, I'll get up a climb like the Sentinelle without effort; but because of the tiredness I couldn't do it today. DS Wilfried Peeters gave the go-ahead to open the chase for the six leaders. But I didn't get any better and Rujano still hasn't recovered either from his fever attack. Ten kilometres we rode and took 45 seconds back. Then I gave the order to stop. But what is wrong with leading the peloton? This is a race, not a circus! I'd rather have seen Aerts win today than any other rider in the break."
Tom Boonen (Quickstep)
Photo ©: Jon Devich

Boonen also went back to his issue with Robbie McEwen in Friday's 12th stage. "Robbie was acting stupid on Friday, I still think so," said the Belgian. "But we don't argue, as we simply don't talk. I can reassure Belgium though. Quick.Step and Davitamon need each other more than anything at the moment.
"Come on now. It wasn't the first time this year we were leading the peloton? We always try to make the race. I haven't heard them complain when we did so during the first week of the Tour and McEwen won three times thanks to that."
Celestino on way home
Team Milram's Mirko Celestino was one of four riders who pulled out of the Tour de France on Sunday. Breakaway riders Rik Verbrugghe and David Canada came down in a crash with 40 kilometres to go and left the race to get necessary medical treatment while Celestino and Magnus Bäckstedt also called it a day before the finish.
The team said that general fatigue was the reason. "Mirko had not recovered from the efforts of the previous days and has had to raise the white flag. His physical condition was good and on the rise before the start, but evidently it was not sufficient to meet the demands of the Tour de France. He crashed during Paris-Nice and his resulting lack of racing meant that his recovery wasn't as good as it might have been."
Celestino will rest and then concentrate his efforts on hitting top for the end of the season. He will target the Italian semi-classics, riding the world championships and then the Tour of Lombardy.
Freire leaves the Tour... for a day
Oscar Freire has left the Tour de France on Monday's rest day in order to visit his wife and newborn son in hospital in Switzerland. Oscar's wife gave birth to baby Marco on Sunday. The race director and jury gave Freire permission for the visit, and the Spaniard, who has two stage wins so far in the race, travelled in a private jet to Lugano, Switzerland.
(All rights reserved/Copyright Knapp Communications Pty Limited 2006)