Tour de France Cycling News Extra for July 16, 2006
Edited by Jeff Jones
Stage 13 wrap-up
Pereiro takes yellow; Voigt rewarded at last
Jens Voigt (CSC)
Photo ©: AFP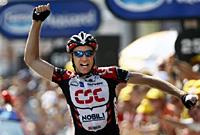 The longest and hottest stage of the Tour was also one of the strangest, as Oscar Pereiro (Caisse d'Epargne) took over the maillot jaune from Floyd Landis despite starting the day 28'50 behind the American rider. Pereiro was second in the stage behind Jens Voigt (CSC), who rode a great final kilometre to win ahead of the Spaniard. The pair were part of a break of five that escaped after only 23 km, and were half an hour ahead of the peloton at the finish. That time gap was enough to put Pereiro in yellow.
"This totally saves my Tour de France – yeah, in fact my whole season. I'm completely ecstatic and I almost feel like I could do the stage all over again," said Voigt.
"It was a great day for us. This was just what we needed – now we can start to have fun," said Bjarne Riis after the stage. "Both Jens and the team really deserve this and it definitely does wonders for the morale.
Coming up on
Cyclingnews will cover the 60th edition of the Dauphiné Libéré live as of stage 4 on Wednesday, June 10, at approximately 15:00 local Europe time (CEST)/ 23:00 Australian time (CDT)/ 9:00 (USA East).

WAP-enabled mobile devices: http://live.cyclingnews.com/wap/

The full composition of the break was Voigt, Pereiro, Sylvain Chavanel (Cofidis), Manuel Quinziato (Liquigas), and Andriy Grivko (Milram). Once they got clear, Phonak set tempo and no other team seemed to be concerned with chasing them. Thus, the gap kept growing. Grivko was the first to be dropped when he attacked and blew himself up on a climb with 25 km to go. Then in the last 4 km, Pereiro and Voigt got away from Chavanel and Quinziato. In the last kilometre, Voigt tried a pre-emptive attack at 800m to go, which failed, but then wound it up at 100m out to successfully hold off Pereiro. Chavanel was third at 40 seconds, while McEwen won the bunch sprint for sixth and increased his lead in the green jersey competition.
Landis and his team didn't seem too concerned about holding the maillot jaune today, as they can now hand the pressure onto Caisse d'Epargne for a few days, without really threatening Landis' chances. Pereiro only has 1'29 on Floyd, and it's unlikely that he'll hold that after the first Alpine stage.
Click here for the full results, report & photos, live report, and video.
An interview with Jens Voigt
"Oh no, not me again!"
Jens Voigt has been on the attack almost every day in the past week, but today on the way to Montélimar was the first time it actually worked. Voigt won the 13th stage from Oscar Pereiro after a 200+ km breakaway, and all the suffering in the past couple of weeks has finally paid off. Brecht Decaluwé reports from the finish.
A happy Jensy
Photo ©: Sirotti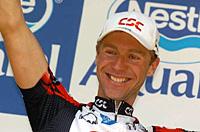 Q: Did you think you were the best rider in that group?
JV: Maybe it wasn't me who had the best legs in that break. But maybe you could say that if I won today, it might have been that I was the one rider who was most desperate for a win.
Q: Is that on your own behalf or on that of the team?
JV: Of course I wasn't only winning for myself, but also for the team. All these crashes and explanations on why I finished last in the time trial... Now I can say, 'I saved this energy for today!' But I also won for my team. We only have six riders left in the race, and out of the six, four have already crashed. So we only have two riders left who have not yet crashed. There was a lot of bad luck, and we just tried to keep the morale up. We had a good day in the mountains with Carlos Sastre and Fränk Schleck, and today, we have this stage win which I think is going to take a lot of pressure off us.
Click here for the full interview
An interview with Oscar Pereiro
Expect the unexpected
Oscar Pereiro (Caisse d'Epargne) was slightly disappointed to miss out on the stage win today in Montélimar, but received an unexpected reward when Phonak slowed down the peloton so much that he jumped from 46th to 1st in the general classification. Hedwig Kröner was there when the new maillot jaune spoke about his achievement.
Oscar Pereiro (Caisse d'Epargne)
Photo ©: Sirotti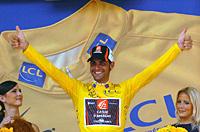 Q: Did you expect this to happen; was this premeditated?
OP: No, I was surprised to be in this situation! When I got into the breakaway, I didn't think about finding myself wearing the yellow jersey in the evening! During the stage, I realized that this was a possibility, when we saw the gap get bigger and bigger. But it's definitely a surprise to me.
Q: What did you talk about with Voigt in the last kilometres; was it to leave the stage win to him?
OP: No, not at all. We did talk before within the break, and agreed that if I was certain to get the yellow jersey, I wouldn't go for the stage win - if we would have been at 30 minutes within the last 5 kilometres. But then, we only had an advantage of about 27 minutes, so I told him that I was sorry, that I wanted to go for the stage as well, as there was a risk of not winning anything for me.
Click here for the full interview
It's show time in Phonak
By Brecht Decaluwé in Montélimar
Floyd Landis (Phonak)
Photo ©: AFP

John Lelangue, manager of the Phonak team, commented on the team tactics of today's stage. He explained that giving away the yellow jersey was an option they considered before the start of the stage: "This tactic was discussed during our team meeting this morning. We didn't want to chase again all day long. Our main objective is July 23, when the Tour is over so it's not possible to chase every rider."
It looked like a dangerous gamble to allow Oscar Pereiro Sio to take so much time back on Landis. The Spanish rider finished twice in the top 10 during the two previous editions of the Tour de France. "I know Oscar (Pereiro Sio) very well, as he was in our team last year. I saw how he was riding in the Pyrenees and I think he's not a big risk for us."
Pereiro in yellow means that tomorrow another team will have to control the race. "If they want to play along in the race, then we have an extra team to control the race. That means that our guys can enjoy some holiday, just like today. This was a good day for us."
Lelangue explained that the main goal of team Phonak's strategy was saving energy during the coming stages. "There are still seven stages left, and we only have eight riders to work for Landis. Yesterday, we saw that we didn't receive any help, not even from the sprinter teams. So we would have worked today, tomorrow and then in the mountains … we had to find a way to spare our riders."
It was probably not an easy choice to give the yellow jersey away. John Lelangue tried to compare his strategy with those of a football coach. "For an unimportant match before the final, the coach will play with his B-team, to spare his big names for the final."
Ballan disappointed
By Hedwig Kröner in Montélimar
Alessandro Ballan (Lampre-Fondital)
Photo ©: Anthony Tan

Italian rider Alessandro Ballan was feeling rather low after losing out to Yaroslav Popovych (Discovery Channel) on Friday's stage 12 to Carcassonne. Cyclingnews talked to the tall Lampre man on the very next day, at the start of another breakaway stage in Béziers, as he was having coffee in the village.
"I did a great stage, but then there was Freire and Popovych... I'm disappointed, as I got to the finish very tired, and then I could only get second," Ballan said.
The victory of the Ukrainian had prompted a lot of discussion in the media: rumour had it that there had been an agreement between two riders, the stage winner Popovych and sprinter Oscar Freire (Rabobank), and their two respective teams. Supposedly, Rabobank allowed the Discovery rider to win under the condition that the American team help them later in the Alps to get team leader Denis Menchov in a good position.
"I don't know," Ballan honestly replied when asked if he thought such a deal had been made. "Freire is a sprinter, he's a very fast finisher. I just didn't have the power anymore. If there was an agreement, I'm sorry about it. I'm just disappointed."
Nevertheless, the Italian hopes to do be out there again in the near future. "There are still five stages ahead, where I hope to do well. So maybe there is another chance for me, as I still feel good," he concluded.
(All rights reserved/Copyright Knapp Communications Pty Limited 2006)