First Edition Cycling News for July 14, 2006
Edited by Jeff Jones
Stage 11 wrap-up
Landis in yellow...just
Denis Menchov (Rabobank)
Photo ©: AFP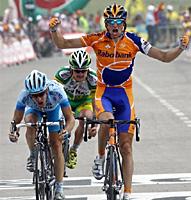 Floyd Landis (Phonak) has taken over the maillot jaune after placing third in the second Pyrenean stage that finished on Pla-de-Beret. Landis was the last of a three man group that sprinted for the win, with Russian Denis Menchov (Rabobank) taking his first ever Tour stage win ahead of a resurgent Levi Leipheimer (Gerolsteiner) and Landis. Cadel Evans (Davitamon-Lotto) and Carlos Sastre (CSC) were 17 seconds back to round out the top 5.
Overnight leader Cyril Dessel (AG2R) fought valiantly to retain the yellow, but came in at 4'45 - just eight seconds off what he needed to prevent Landis (who gained an eight second time bonus) taking over. He is now in second overall ahead of Menchov (at 1'01), Evans (at 1'17) and Sastre (at 1'52). The question is now whether Landis' Phonak team will be able to defend the jersey next week in the Alps, or whether they may let it go in the coming stages.
Coming up on
Cyclingnews will cover the 60th edition of the Dauphiné Libéré live as of stage 4 on Wednesday, June 10, at approximately 15:00 local Europe time (CEST)/ 23:00 Australian time (CDT)/ 9:00 (USA East).

WAP-enabled mobile devices: http://live.cyclingnews.com/wap/

The day's early break contained David de la Fuente (Saunier Duval), Fabian Wegmann (Gerolsteiner), Iker Camano (Euskaltel) and Juan Antonio Flecha (Rabobank), escaping after 31 km and building up an 8'30 lead before the foot of the Tourmalet, where the work of AG2R pulled them back to under 4'00 at the top. De la Fuente proved to be the strongest of the break, and lasted until the final climb up to Pla-de-Beret. He was caught and dropped by a group of 20 or so, while the yellow jersey group of Dessel was chasing at a minute. Dessel eventually conceded 4'45 as the lead group shattered to just five riders, with Menchov proving the fastest at the finish.
Click here for the Full results, report & photos, Live report and Video
An interview with Floyd Landis
The time has come
After placing third in today's 11th stage to Pla-de-Beret, Floyd Landis became the fifth American to don the maillot jaune. And despite needing a new hip, he is still the man many pick to win the Tour de France, as Hedwig Kröner reports.
Floyd Landis (Phonak)
Photo ©: Sirotti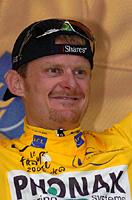 Q: You've never won a stage at the Tour. How important is that to you now that you have the yellow jersey?
FL: Well, the goal for our team since the start was to win the yellow jersey, so... if we do that without winning stages, I guess that would be fine. It's always nice to be able to win a stage but today there was more value in working on the last climb and try to get some time on the other guys who were dropped. So it was not my objective.
Q: Would it be correct to say that your team worked well during the first climb, and that you sort of gave them the last climb off?
FL: The same thing than yesterday. We told most of the guys that it wasn't necessary to have the whole team there with me, even one guy would be enough. Probably some people misjudged the strength of our team to think that they're all bad; today we gambled a little. A couple of teams were very confident and did most of the work for us. Probably we can't expect that to happen anymore, but we take it.
Q: What are your emotions in this Tour, given the hip problems you're experiencing? You said the other day that you didn't want to miss anything?
FL: I said I didn't want to miss anything in this Tour; what I was referring to was that when I found out about my condition a year and a half ago, I was told that my career won't go on forever. I should have been aware of that anyway, but it made me think about it more. Since then, I see things a little differently... I'm honoured to be sitting here.
Click here for the full interview
No plan works for Menchov
Denis Menchov (Rabobank)
Photo ©: Sirotti

Russian Denis Menchov (Rabobank) came into his own in stage 11, beating Levi Leipheimer and Floyd Landis at the finish in Pla-de-Beret. The probably winner of the 2005 Vuelta a España is now a strong candidate for the Tour podium in Paris, as Brecht Decaluwé reports from Pla-de-Beret.
Q: Did you think you could do this, and your team could do this today?
DM: We left this morning thinking that we would see what happened during the race. We knew that AG2R would work a lot and T-Mobile as well. So it depended on the situation, if we would work or not. In the finale, the situation was that there were three of us all going well, so Michael made an enormous effort, and I have to thank him for that.
Q: Was this move with Boogerd and Rasmussen on the last climb premeditated?
DM: No, as I just said it depended on the race situation. After the Portillon, as there were three of us in the group, so we talked. Michael asked me if I was feeling well, and I said 'Yes'. So we decided to work.
Q: It looked almost easy for you, you looked very 'tranquillo' - can you tell us something about that?
DM: It might look easy, but it never is. The stage was very hard, there were more than 200 kilometres. But I did feel very well; I had great sensations in the finale. I was 'tranquillo' today; we'll see how I go next week...
Q: Speaking about your sensations during the race - were they the same as at the Vuelta last year? Because this climb resembled a Vuelta climb, with Sastre there, too... And do you think this Tour will be decided between you and Landis?
DM: No, we have to have more respect here. A part from myself and Landis, Sastre and Evans were also really good today, and we have to see what happens in the last week of the Tour. Today also wasn't a climb to open up big time gaps. We will see them afterwards, in the Alps.
Q: Before the Tour, the favourite teams were Phonak, Discovery and T-Mobile. Now we see that Rabobank is the strongest team.
DM: Yes, I think so. I was confident that we would come to the Tour with a very good team, and now we can see that it is truly a great team.
Boogerd puts himself at Menchov's service
By Brecht Decaluwé in Pla-de-Beret
Michael Boogerd (Rabobank)
Photo ©: Sirotti

Michael Boogerd rode an impressive stage, leading out Rabobank teammate Menchov to an eventual stage win on the Pla-de-Beret. He set an aggressive pace which caused several favourites to drop off. At the finish the Dutch champion was very happy with his performance, but also complained about the behaviour of the other teams.
"Until now, all those teams tried to keep their leader in front of the bunch. That's annoying for the sprinters, because those other teams are bothering the sprinters teams. We never did that, and then, when there's an elite group of 21 riders, they stop riding! We were riding, but their behaviour is frustrating me."
While the Dutch rider explained that it frustrated him, Rasmussen finished and embraced Boogerd. "If you see that the group is reduced to twenty men, then you just have to ride hard. When Menchov says that he's good and you're there with three men, then you just have to work for him," Boogie explained.
The work of the Rabobank brought memories back of the famous US Postal team of Lance Armstrong: "Of course it's different as Lance isn't here," said Boogerd. "For myself, I never did this kind of work before, and I enjoyed a really great feeling. Actually, I think I'm quite tough, really a toppie," Boogerd laughed.
The Dutchman is a very experienced rider, competing in his eleventh Tour de France: "In 1998, I was very good but during the last three days I was riding harder backwards than forwards. The last week is always very difficult, so nothing's decided just yet. If the temperature remains 35 degrees, then one day, Boogie might be going bad as well … Paris is still far away," he concluded with the words of the famous Joop Zoetemelk.
Gonchar's not under investigation in Italy
By Tim Maloney, European Editor
Serguei Gonchar (T-Mobile)
Photo ©: Jon Devich

Although Le Monde is generally considered the paper of record in France, yesterday's report naming T-Mobile's former maillot jaune Serguei Gonchar's as still being under investigation by Paola Cameran, the prosecutor of Padova, was not correct. Gonchar's and other riders like Davide Rebellin had been under investigation for alleged evidence of doping collected in 2003 via telephone wiretaps and video surveillance, but Italian authorities closed the inquest in September 2005. The French newspaper reprinted yesterday taped conversations between Gonchar and his Liquigas-Pata team physician Dr.Enrico Lazzaro which allegedly implicated the Ukrainian in the San Remo doping probe from 2001.
T-Mobile spokesman Luuc Eisenga told Eurosport's David Harmon today, "We wouldn't have hired Gonchar's if he was under investigation and we've gotten the news confirmed from Italian authorities that (Gonchar's) was cleared of any wrongdoing in this investigation."
(All rights reserved/Copyright Knapp Communications Pty Limited 2006)