Cycling News Extra for July 12, 2006
Edited by John Stevenson & Jon Kenny
Teams angry over last minute change to USPRO Criterium champs
Downers Grove event goes US-only with five weeks to go
By Mark Zalewski, North American Editor
Tyler Farrar and Dave McCook battle on the line in the 2005 championships
Photo ©: Matthew Moses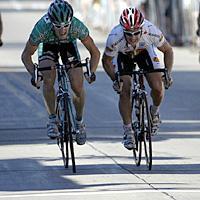 Team directors have reacted angrily to the news that the USPRO criterium championships in Downers Grove, Ill. on August 20 will be a closed championship -- meaning that only U.S. citizens on professional teams will be allowed to race for the stars and stripes jersey. The move follows the earlier restriction of the USA Cycling Professional Championships, Greenville SC, September 1 and 3 to U.S. professionals only.
"I think it's crap that they are doing it [making the change] this late, and you can quote me on that!" said Health Net-Maxxis director Jeff Corbet. "I already have hotel reservations and flights for this." None of the directors that spoke to Cyclingnews had heard of the change, with the race little more than a month away. "I've been the director for three of the last four winners, so you would think that might mean at least a phone call," said Corbet.
Race director Nick Sepke of Chicago Special Events Management told Cyclingnews that USA Cycling had requested the change following the decision to hold a closed championship race on the road. "USA Cycling approached me, because they are doing it for all of the national championships," he said. "The USPRO criterium championships will be for U.S. citizens only. It will be run by USA Cycling and not the UCI."
Bruyneel says Discovery will attack in the mountains
Coming up on
Cyclingnews will cover the 60th edition of the Dauphiné Libéré live as of stage 4 on Wednesday, June 10, at approximately 15:00 local Europe time (CEST)/ 23:00 Australian time (CDT)/ 9:00 (USA East).

WAP-enabled mobile devices: http://live.cyclingnews.com/wap/

You could be forgiven for asking "Where's Discovery Channel?" in this year's Tour de France. For the last seven years the team directed by Belgian former pro Johan Bruyneel was the dominant force in the Tour as it worked for Lance Armstrong. But as Discovery Channel and as the US Postal Service team, the squad proved it could win other grand tours too, propelling Roberto Heras to victory in the 2003 Vuelta a Espana and Paolo Savoldelli in the 2005 Giro d'Italia.

Savoldelli is riding this year's Tour, along with other possible contenders for the general classification including George Hincapie, who demonstrated last year that he can be a force in the mountains, and Jose Azevedo, who was fifth in 2004 despite riding that Tour as a super-domestique for Armstrong.

But as the Tour leaves the opening flat stages and heads for the hills, Discovery's best-positioned rider, Savoldelli, is 2:10 down on leader Serguei Gonchar (T-Mobile) with Hincapie at 2:30. At a press conference yesterday, team manager Johan Bruyneel admitted there was ground to make up. "We lost more time than expected in the time trial so it is up to us to make up for it if we can," Bruyneel told reporters.

"And there is only one way to make up for lost time -- attack and ignite the race so that no team should be able to be in control. There will be attacks from the first stage in the Pyrenees. Even if the stage does not end at a summit, there will be a lot of possibilities," he said. "We have to adopt an aggressive attitude. The wait-and-see attitude is not an option for us anymore."

The target of Discovery's aggression will be the T-Mobile team. Gonchar's current lead is seen as keeping the jersey warm for 2004 runner-up Andreas Kloeden, of whom Bruyneel said, "Andreas Kloeden is the best but there are many other riders. They are undoubtedly the strongest team."

That said, Discovery channel does not feel any pressure in its first Tour of the post-Armstrong era. "The good thing for us is that we do not have any pressure," he said. "Our riders have been part of an impressive winning streak. The team and the riders have the feeling they have nothing to prove."
Bigger than one rider
Huge crowds
Photo ©: Ben Atkins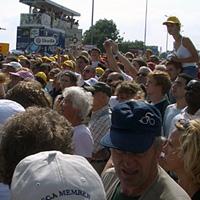 Has Operacion Puerto caused the real owners of the Tour de France - the French public - to slam their doors on the race, or is the national festival bigger than a few doping stories? Cyclingnews' Ben Atkins is at the 2006 Tour riding some of the route and observing the public reaction to the event in the aftermath of the drugs scandal.
During the Festina Scandal of 1998 the French public came out firmly on the side of the riders, who were seen as victims of an unjust system that forced riders beyond their natural limits. More than that though, they seemed to be upset with the media, that was seen to be on a witch hunt against their heroes.
But would Operacion Puerto be one scandal too far? Would the revelation that their heroes - allegedly - had feet of clay turn the public against their race? How much more scandal could the Tour's fans take before they all started waving giant syringes at the peloton - or worse, stay away altogether?
I had the opportunity to ride most of the route of Stage five Beauvais to Caen route on the morning of the race, giving me the chance to really see the fans close up - assuming some turned up. I would read what they wrote on the road and ask them what they were doing there. Had they come to cheer or jeer and what did they think of the riders they were waiting to see?
Click here for the full story.
Mayo and Gorospe looking forward to Pyrenees
Another team eagerly awaiting the Tour's entry into the mountains of the French/Spanish border is Euskaltel-Euskadi. For the de facto national pro team of the Basque Country, the Pyrenean stages are a homecoming welcomed by vast hordes of orange-clad fans. The pressure will be on to put on a good show, and team manager Julien Gorospe believes his man Iban Mayo is ready. Mayo won the mountainous sixth stage of the Dauphiné Libéré in June, a win that boosted his confidence in the run-up to the Tour.
"It was very important for [Mayo] to win a stage in the Dauphiné Libéré," Gorospe told reporters before yesterday's stage of the Tour. "He is another rider now."
Mayo was tipped as a potential Tour winner when he battled Lance Armstrong in the mountains in the 2003 Tour and won the 2004 Dauphiné, but his team's weakness in the team time trial and his own inconsistent form has kept him off the podium. This year there is no team time trial and Gorospe said that Mayo, "went through the first week without any problem and is physically okay."
However, even if Mayo shows some of his former brilliance in the mountains, he will struggle to make up his current 6:24 deficit. But Gorospe says he might yet be a contender. "If he wins a stage, he will make a jump in the overall classification. We will have to see day by day how things go," he said.
Gorospe confirmed that the team's home town advantage in the Pyrenees would likely be decisive. "All Basques will be there," he said. "And the crowd is very important if you want to win a stage."
Rasmussen denies rivalry, tips Gonchar
Danish mountain specialist Michael Rasmussen says that there is no rivalry between him and Rabobank team-mate Denis Menchov for the status of designated GC rider.
"Many of the journalists try to create a conflict that does not exist, because they build up some hypotheses. What if? Where should Menchov be in the general classification? Will you sacrifice yourself? And so on. That are things that we discuss in the team day by day. We can't start to discuss what should happen in the Alps, when we haven't reached the Pyrenees yet," Rasmussen said in his diary on feltek.dk.
"It's a little absurd when people start to ask questions about my dreams for the general classification when I might lose five more minutes during the last TT," he added.
Rasmussen said that he is still looking for a stage win and that he should be able to go for that goal even if the team finds itself defending Denis Menchov in yellow. "We saw that last year with both Savoldelli and Hincapie, even though Discovery Channel had Armstrong to ride for. I won't have to push Menchov up the hills," said.
With Menchov currently at 2:13 and Rasmussen 7:40, it seems unlikely that the Dane will be chasing general classification. But he has recovered from the illness that slowed him down in the first week. "I think I am doing well. I felt good yesterday and even better today," he wrote.
Like many other riders and observers, Rasmussen thinks this is now a wide-open Tour. "The riders left are all riders who have experienced crises in the Tour. None of them seems unbeatable. Last year Landis lost seven minutes during the stage to Pla d'Adet, and Menchov lost ten minutes on the first real mountain stage to Courchevel. Klöden has had downs before and Leipheimer has already lost five minutes. Cadel Evans is also a candidate and he has a reputation of having a black day losing all. It is hard to point out somebody who could last all the way."
The strongest team, Rasmussen believes, is undoubtedly T-Mobile, and unlike almost everyone else, Rasmussen is not discounting current race leader Serguei Gonchar. "The entire T-Mobile team rides as fast a hell. They have seven riders who could actually ride for the general classification at the time being. I won't be surprised if Gonchar still hold the yellow jersey when we start the stage to Alpe d'Huez. He is a durable rider and a rider who could ultimately make it to the podium. He still has the last time trial."
Simoni eager for the mountains
Gilberto Simoni (Saunier-Duval) is feeling excited about his prospects when the roads start to climb in the Pyrenees today, "I feel very good! After ten days of flat stages, we will finally arrive in the mountains and this will allow everybody to understand the 2006 Tour de France. Tomorrow will be a 'warm up' [when things start to get sorted out]," he said. Simoni will be backed in the mountains by José Angel Gomez Marchante, David Cañada and Riccardo Ricco.
Simoni finished third in May's Giro d'Italia, almost 12 minutes behind winner Ivan Basso but both Basso and Jose Enrique Gutierrez (second in the Giro) have been sidelined by their teams after being linked to the Operacion Puerto doping affair.
Today's first mountain stage between Cambo-les-Bains and Pau has two major climbs, the hors category Col de Soudet and the first category Col de Marie-Blanque. The 15-kilometre Soudet climbs at an average of 7.3 percent.
Cunego and Bennati hoping for stage success
Damiano Cunego (Lampre-Fondital) is hoping for a stage win in the Pyrenees after his poor time in Saturday's time trial all but ruled him out of overall contention. Cunego lost over six minutes to T-Mobile's Serguei Gonchar.
Today's climbs, the cols de Soudet and Marie-Blanque, should suit the Italian climber, who finished fourth in May's Giro d'Italia. "After [the] long flat stages, we're going to cover mountains stages," said Cunego, "I'm curious to discover the Pyrenees climbs, that I will cover without the obsession of the [overall] victory."
Meanwhile, Daniele Bennati, Lampre's team sprinter is hoping for better than his 13th place yesterday after struggling to hold his position near the front, "That was a kind of sprint that I don't like: not linear, with battles for the positions," he said.
Top Midwestern juniors selected for world cup
Six junior racers from the Midwestern U.S. have been chosen to compete for Team Borah Development at the upcoming Tour de L'Abitibi. They will race the eight-stage world cup cycling event in Val-d'Or Quebec during July 17-23.
The Canadian event is one of the most prestigious on the junior calendar and the 27 teams have representatives from eight countries.
The Team Borah squad will comprise, John Zaccone and Stephen Christy (both Sunrise Sports cycling team), David Williams (West Michigan Coast Riders), Kris Karnik, Lloyd Sutton and Logan Von Bokel.
MDonnelly junior tour kicks off in Mayo
By Tommy Campbell, Irish Independent, Evening Herald, Sunday Independent
The six-day MDonnelly junior tour is underway in County Mayo, Ireland 83 riders rolled off the starting ramp yesterday at Castlebar with a 2.8 mile time trial.
The StenaLine Irish team will have a job on their hands if they are to keep the title at home as the quality and depth of the visiting teams has improved dramatically in recent years. Stephen Halpin, Denis Dunworth, Fergus Keogh, Conor McAllister are the quartet with the burden.
"I feel very privileged to be able to support cycling in Ireland at this level. Competitors come from all over the globe and it gives the opportunity to the domestic juniors the window of opportunity to be able to compete against foreign opposition," said Alice Sherratt, organiser of the six-day event.
The tour riders have become increasingly diverse up in recent years, "Word has spread throughout the cycling scene that the [junior tour] is an event of high quality. This year will no different as I have two teams from America, four teams from South Africa, three from Holland and several from Britain," said Sherratt.
ProTour rider Mark Scanlon (AG2R) won the event in 1998 before going on to win the junior world road race title in Valkenburg, Holland, which make a significant difference to the stature of the event according to Sherratt.
Stages
Stage 1 - July 11: Castlebar ITT, 2.8 miles
Stage 2 - July 12: Westport-Westport, 69 miles
Stage 3 - July 13: Achill Island, 72 miles
Stage 4 - July 14: Ballina-Ballina, 67 miles
Stage 5 - July 15: Thurlough-Windy Gap, 66.5 miles
Stage 6 - July 16: Castlebar-Castlebar, 59 miles
Western lakes scenery to attract large numbers of cyclists
By Tommy Campbell, Irish Independent, Evening Herald, Sunday Independent
Cyclists from all over Ireland are expected to converge on Ballinrobe, Co. Mayo, on Saturday July 15 for the annual Tour of the Great Western Lakes leisure rides.
Over 60 cyclists took part last year and organisers are hoping to increase that figure, "The spin was very successful last year, and many who took part are returning again this year," said promoter Liam Horan.
The Tour is aimed at cyclists of all levels. There are three ride options available, the 40 km Tour of Lough Carra, the 70 km Mini-Tour of the Great Western Lakes and the full 140km lakes tour. "People can take part in whatever ride suits them best," said Horan,
"The Tour of the Great Western Lakes will make its way around Lough Mask, Lough Nafooey, Killary Fjord, and Lough Carra. These are some of the most scenic rides in the country," he added.
(All rights reserved/Copyright Knapp Communications Pty Limited 2006)