First Edition Cycling News for July 11, 2006
Edited by John Stevenson & John Kenny, with assistance from Susan Westemeyer & Sabine Sunderland
A week in the life of Floyd
Floyd Landis looking dapper in his suit.
Photo ©: Anthony Tan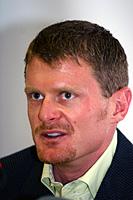 Phonak's team leader Floyd Landis has had a big opening week of the Tour, confirming his status as one of the race's favourites by taking second place in the first long time trial despite a bike swap and finishing the opening week second overall. But to keep things interesting, Landis chose the rest day to announce that he has been battling a severe hip injury for the last few years and will undergo replacement surgery after the Tour. Cyclingnews' Anthony Tan was there for the announcement.
"No, it doesn't feel to me like this is the last one. I don't race any differently, knowing that maybe it is or maybe it isn't. Until now, I've had a very good season and I've proved I can win some of the hardest races, so whatever happens here will be an outcome of the race."
Floyd Landis, Phonak's 30 year-old team leader, is talking about the possible consequences of his imminent hip replacement surgery. Landis has been dealing with a persistent hip problem since a crash in 2003, and yesterday finally conceded that he was going to need to get the joint replaced after this year's Tour.
The accident happened in January of 2003. Landis was out training by himself near his home in San Diego, where he lost control of his bike on some loose gravel, falling and broke the head of the femur on his right leg.
"The bone close to my hip had severed completely," said Landis. "I had surgery to reattach it, hoping it would heal. The following years showed that didn't work out exactly like we hoped. The odds of it working out were pretty high to start with," he mused.
"Since then, I've had two more surgeries, the last at the end of 2004, where we tried to restore some blood flow to the hip in order to prolong the functioning hip I had. At that point, we didn't have any misconception that the damaged hip was going to be the same, or that it would never need to be replaced - that was clear. The operation was to try and increase the blood flow and slow down the degeneration process."
Click here for the full report.
McEwen: "Evans will win the Tour de France"
Robbie McEwen (Davitamon-Lotto)
Photo ©: Jon Devich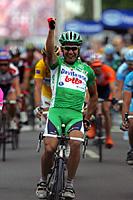 As it enters the critical phase in the mountains, Davitamon-Lotto is confident that their dream Tour will continue. Brecht Decaluwé reports from the team's rest day press conference in Bordeaux.
Team Davitamon dreams of bringing yellow and green to Paris with their Australian leaders McEwen and Evans. During the rest day the team organised a press conference in their luxurious hotel 'Aquitania' in Bordeaux. Sprinter Robbie McEwen and GC-rider Cadel Evans were present. The captains of the Belgian team are both Australian, which helps them to let their hair down: "It's good to have a compatriot in the team, as I understand all of his humour," said Evans. "It's good for the communication but for the rest it stays the same. In my previous team there weren't any other Australians, but now I have some and I must say I never felt better in a team."
Team manager Marc Sergeant summarised what happened so far: "The first week of the Tour was perfect. We had two goals: winning some stages with Robbie and doing a good GC with Cadel. The first mission has already been accomplished, all the rest is extra. Now we're going to work a lot to help Cadel as much as possible in the mountains."
Cadel Evans made his debut in the Tour last year, and it confronted him with some surprises which won't bother him this year. "I'm a little bit more confident, as last year, I really hadn't any idea what to expect. Everyone's going to be a little bit scared in the first mountains stage," he stated. "The stage isn't really a walk in the park, actually it's pretty heavy. Everyone's going to be scared of the course, but also of each other. But I don't think the first mountain stage will be hugely important, the next day will say more about the GC."
Click here for the full report.
Tom Boonen: you're only human
Contemplating the maillot jaune
Photo ©: Sirotti
World champion Tom Boonen has worn the leader's jersey for four days during the first week in the Tour de France. He has thus accomplished what so many can only dream of at the young age of 25. Still, the congenial cycling god from Balen (Belgium) couldn't hide his disappointment after making what he called a "juvenile" mistake in yesterday's final sprint. But as Sabine Sunderland writes, it's because he is only human.
Is it true that Boonen has 'lost it', as he claimed himself right after the stage, or is it a temporary low he's going through?
On the plane to Bordeaux the boyish, cheeky smile was on Boonen's face again. He was filmed while teasing teammate Bram Tankink and waved to the camera as if to comfort those who were worrying after his depressed remarks earlier in the day. This while sprint rival McEwen was taking advantage of the transfer to get some much deserved sleep.
Boonen is known to be somewhat hyperactive and in interviews he has admitted that he's not one to sit still in his couch, feet up, after training. Boonen needs movement and action around him he says, but the hype surrounding him during the first week might have proven a tad too much of a good thing for the World Champion.
For the first time in his career, Tom Boonen might be forced to make a choice which he might not like: be less demanding on himself. His ambitions and goals have seemingly been easy to achieve so far. Boonen won Ronde Van Vlaanderen twice, won Paris-Roubaix and almost playfully took the rainbow jersey last season. He also has won four stages in the Tour de France in previous editions, and has worn the yellow jersey for four consecutive days in this year's Grand Boucle. What more can you ask of yourself?
Click here for the full story.
Klöden: I can win the Tour
T-Mobile's Andreas Klöden is confident that he, and not one of the other favourites, will stand on the top step of the podium when the Tour de France has its Parisian finale on July 23. "There is not a single rider here who I didn't beat in 2004," the T-Mobile rider told reporters on the Tour's rest day Monday.
Klöden is currently sixth, 1:50 behind team-mate Serguei Gonchar, who didn't ride the 2004 Tour. Of the other favourites, Phonak's Floyd Landis (whose 2004 Tour was performed in the service of eventual winner Lance Armstrong) is 50 seconds ahead of Klöden. Non-2004 Tour rider Cadel Evans (Davitamon) is two seconds behind and there is only 20 seconds between him and Discovery Channel's dark horse Paolo Savoldelli (another 2004 Tour absentee).
Nevertheless, Klöden believes T-Mobile will retain the lead. "I feel confident we can keep the yellow jersey in the team all the way to Paris," he said.
Klöden's team-mate Mick Rogers believes that the team will work for the German. "We're in a pretty good position, but tomorrow we'll have to sit down and talk about a possible strategy," he said. "The most likely scenario is that we work to protect Klöden."
However, Rogers has his eye on one team that is possibly full of Tour considers and has yet to display the strength it showed in supporting Lance Armstrong to seven Tour victories. "The Tour has still got to get to the mountains and I think that Discovery Channel are still dangerous," he said.
(Look out for a report on T-Mobile's rest day press conference later today on Cyclingnews.)
Voigt keeps on keeping on
How much longer will CSC's Jens Voigt keep on riding? Well, says the likeable 34-year-old German, it depends. Writing for www.sport1.de, he was impressed with an even-older rider, noting that in Saturday's time trial, "Viatcheslav Ekimov finished 22nd. And he's 40 years old! I actually don't want to ride so long. But you should never say never. After all, I have four children to feed and a house to pay off. That's why I want to keep on riding until they push me off my bike."
"But seriously," he continues, "40 is pretty old. But I want to keep on until I'm 38. Mario Cipollini became world champion at age 36. I'll keep on riding as long as I stay healthy and have fun."
Van Impe to Boonen: stay calm
Belgian former pro Lucien Van Impe, the 1976 Tour de France winner, says his compatriot Tom Boonen needs to stay calm. Van Impe understands the pressure that goes with wearing the yellow jersey, as Boonen did for four stages last week.
"The rest day will have done Tom good," Van Impe told VRT. "It will be easier for Tom now he hasn't got that jersey anymore; now he just has to keep his cool. He can still get that green jersey, there's still five or six sprints to come, so it's definitely still possible. Tom will have it easier to win when the stages get tougher. He can't give up now, he has to keep going."
The usually irrepressible Boonen's confidence took a blow when he was unable to cap his time in yellow with a stage win last week. "He needs people who tell him that he can still do it," said Vane Impe. "Like his mum wrote on the team's website, in the words only a mother can express, she backs him all the way. It's important for you when you're in such a position to feel the support in your back."
"Concerning the overall rankings: I think we'll see things more clearly in the next days. It's a pity we won't be seeing the guys we really wanted to see in the battle for the Yellow Jersey. But the next few stages will bring some clarity on the abilities of the current favourites."
Hulsmans tips Floyd vs Evans showdown
Quick.Step's Kevin Hulsmans had some guarded praise for rival team sprinter Robbie McEwen on the rest day. "If you look at the first week; McEwen is definitely the man of the sprints," said Hulsmans. "But the tour is another two weeks long, so I prefer to wait and see what happens next before I pass comments on who is the best sprinter there."
But Hulsmans, whose team is focused solely on assisting Boonen to stage wins and isn't thinking about the general classification at all, was less cautious about his tips for the yellow jersey in Paris. "As far as the overall classification is concerned, realistically; I think Floyd and Evans are the two big favourites," he said.
Vansevenant renews
Wim Vansevenant has signed for Davitamon-Lotto for two more years and won't be following his friend Peter Van Petegem who didn't get his contract renewed. Vansevenant says he is happy to finish his career with Davitamon-Lotto.
"It was a nice opportunity to announce that I'm prolonging my contract with DVL for another two years; it gets good publicity this way," Vansevenant told VRT during Monday's Tour de France rest day. Like most Tour riders, he didn't spend the whole day off the bike, but nevertheless the Tour's first break was an easy day. "Today was quite restful. Training, massage and a bit of sitting around and having coffee," he said.
Vansevenant has been a worker for green jersey Robbie McEwen in the opening stages of the Tour, but his role is a bout to change. "My task so far has been to keep things together for the sprint, so that my team mates could save themselves for what is to come," he said. "Now I'll have to work for Cadel Evans and I hope we can end up winning the yellow jersey."
Tour of Drenthe included in women's world cup
The Netherlands Tour of Drenthe is to be included as part of the UCI women's world cup from 2007. The new race may become the second Dutch world cup race on the calendar if Autumn's Rotterdam Tour is included.
The world cup series for 2007 will feature Geelong, the Tour of Flanders, Fleche Wallonne, the Tour de Berne, GP Montreal, GP Plouay and the Rund um die Nürnberger Altstadt. There are three more races to be added to the final calendar.
Organiser Femmy van Issum of Drenthe hopes that the women's event will remain in its April position so that the Women's race can run concurrently with the men's Tour of Drenthe.
Pat Caurant dies
Pat Caurant (Team Spine) died on Saturday as a results of injuries sustained in a collision with a truck on a training ride. Courant suffered severe damage to his head and face and never regained consciousness after the July 1 crash, according to the San Francisco Chronicle.
The crash occurred during a weekly ride, called the "House of Pain," that is open to anyone who can keep up. Caurant and another rider, Justin Laue, had made a left turn when Caurant, who was travelling at 20-25 mph, collided head-on with the truck, according to highway patrol officer Steve Creel. He was taken to John Muir Medical Center in Walnut Creek and place in an induced coma. Laue suffered only minor injuries. The accident is under investigation.
Caurant, named the "2005 Best All Around Rider" by the Northern California Cycling Association, planned to retire from cycling after riding in the USA Cycling National Championship races in Pennsylvania this week. Caurant had a bad fall from his bike in May, suffering a concussion and was "ready to hang up his cleats," said his father, Michel Caurant.
"He was going to do nationals and then be done," said his sister Christine Caurant.
Pat Courant was a school teacher by profession, and an enthusiastic supporter of youth cycling programs. Michel, Mary & Christine Caurant have asked that anyone wishing to commemorate Pat should make donations in his name to three organisations:
The Dyslexia Awareness and Resource Center (www.dyslexiacenter.org)
The Chabot Space & Science Center (www.chabotspace.org)
The Fast Freddie Foundation for youth cycling (www.fredrodriguez.com/foundation)
Everyone at Cyclingnews extends our condolences to Pat's family and friends.
(All rights reserved/Copyright Knapp Communications Pty Limited 2006)