First Edition Cycling News for July 9, 2006
Edited by Jeff Jones & Hedwig Kröner
Stage 7 wrap-up
Greatest day for Gonchar in Brittany
Serguei Gonchar (T-Mobile)
Photo ©: AFP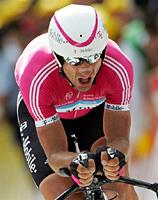 Team T-Mobile has had an excellent result today with Serguei Gonchar taking the victory on Le Tour's first long time trial from Saint-Grégoire to Rennes, in Brittany. The Ukrainian proved to be the strongest by far on the flattish course, beating Floyd Landis (Phonak) by one minute, with German TT champ Sebastian Lang (Gerolsteiner) getting third at 1'04.
"This is definitely the greatest day in my life after the World Championship [in 2000, which he won - ed.]," Gonchar said. "This was completely unexpected for me. I did my time trial to 100 percent, I won, and so I'm very, very happy. Today, everything worked out fine, the legs responded perfectly so it was a real pleasure - while still being very painful."
Coming up on
Cyclingnews will cover the 60th edition of the Dauphiné Libéré live as of stage 4 on Wednesday, June 10, at approximately 15:00 local Europe time (CEST)/ 23:00 Australian time (CDT)/ 9:00 (USA East).

WAP-enabled mobile devices: http://live.cyclingnews.com/wap/

Neither Team CSC not Discovery Channel were able to live up to the expectations today. Moreover, CSC suffered another loss as Bobby Julich crashed on a roundabout, injuring his right hand. The American was taken to hospital.

"There are apparently no fractures," CSC team director Alain Gallopin said. "Nevertheless, they will keep him overnight and he will have a little surgery to clean the wound properly. You could see the bone and the tendons, so the wound is rather deep.

Another unexpected event today was the bad performance of Levi Leipheimer (Gerolsteiner), who finished over six minutes behind the winner.

Click here for the Full results, report & photos, Live report, and Video.
An interview with Serguei Gonchar
Honchar stands the test of time... or should that be Gonchar?
36 year-old Serguei Gonchar showed today there's plenty of fight left in the old dog from the Ukraine. But for the last time, how do you spell that surname of his? Brecht Decaluwé finds out.
Serguei Gonchar (T-Mobile)
Photo ©: Roberto Bettini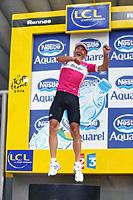 Q: You have an advantage of more than a minute on Floyd Landis; can we consider you as the favourite from now on?
Serguei Gonchar: Most important now is that I have this jersey, because I waited for it for a long time. There are two stages before we get into the Pyrenees, then we will see how things are unfolding for me.
Q: What about your team?
SH: We are all 100 percent motivated for this Tour de France. It's sad for Jan Ullrich that he isn't here, but we are well prepared and we are showing that we are a very competitive team.
Q: We saw that you used an impressive gear to grab this win; how were your sensations during the time trial?
SH: It went alright in the beginning; later on, I suffered a small crisis due to the headwind but I felt that if I could overcome it, victory could be mine.
Click here for the full interview
Post-stage comments
By Brecht Decaluwé & Audrey Tautouer in Rennes
Mario Kummer (T-Mobile manager)
Mario Kummer, manager of the T-Mobile team, suffered the loss of team leader Jan Ullrich before the start of the Tour de France. With two stage wins so far [Kessler won the stage to Valkenburg - ed.], this Tour de France might turn out to be a surprisingly good one for the German team.
"Tonight, we will come together with the staff and see how we will handle things tomorrow. During the rest day, we have more time to discuss our tactics for the rest of the Tour de France," said Kummer.
Michael Rogers (T-Mobile, 4th at 1'23)
This year's time trial world champion is Michael Rogers, and the Australian dreamed of capturing the yellow jersey but teammate Sergei Gonchar brought an end to those dreams. Rogers finished fourth and is 1'08 short of the overall lead.
"It's been a really hard day although I didn't do a bad pace at all. I started alright, but apparently the other guys were stronger. My team-mate is in the lead, so it's a good day for the team. I went as hard as I could but didn't have the strength to do better."
However, there's another time trial later on and another chance for Rogers: "That's still a long way to go," he said.
Marcus Fothen (Gerolsteiner, 7th at 1'41)
Marcus Fothen was able to take back the white jersey of best young rider today, and is now seventh overall. The German rider went flat-out and dug very deep, which was noticeable at the finish where he needed a lot of time to recover.
"It was hard, but I don't know what Vaugrenard did, but normally I will have the jersey," said Fothen. Vaugrenard needed three minutes more than Fothen, so the latter now leads the competition from the Swedish rider from Française des Jeux, Thomas Lövkvist.
With an advantage of more than one minute, might he begin to dream of bringing the jersey to Paris? "First of all, we need to get Totschnig or Leipheimer on the podium in Paris. Second to that is my jersey," Fothen said.
"Before the Tour de France, we decided that we wouldn't work for the jersey. Together with Ronny Scholz and Fabian Wegmann, I hope to be a good help for Totschnig and Leipheimer in the mountains."
The mountain stages may also bring other young guys to the fore. "There are riders I know well, like Cunego and Rujano," said Fothen. "In the past, they both did well in the Giro d'Italia. So it will be a hard job to work for Totschnig and Leipheimer and defend the jersey."
Cadel Evans (Davitamon-Lotto, 11th at 1'49)
Australian rider Cadel Evans survived really well during today's time trial. He finished eleventh, conceding no more than a minute on the other pre-race favourites like Landis and Menchov.
"Coming into the mountains, that's not a bad position to be, but we'll see the truth on paper tonight. Today I wanted to limit my losses as Landis is the big favourite, but I heard he punctured. Still, the mountains are something completely different than this work."
The course today was quite fast with some hills featuring in it, and the wind might have played a role as well, Evans said: "The wind picked up since this morning, but the difference wasn't that big as during the time trial last year."
Christophe Moreau (AG2R-Prevoyance, 15th at 2'03)
"The course was much more difficult than I expected. I thought it would be flat but it wasn't at all! There were false flats and little hills from the start to the finish. It wasn't possible to recover without losing time. This time trial was as hard for the mind as it was for the legs.
"I have been given new responsibilities in the team, the staff trust me and I don't want to disappoint them, that's why I really didn't want to miss this first rendezvous. Indeed, this is the first piece of the building for the general classification before the upcoming stages in the Pyrenées and the Alps. I felt good today, didn't lose too much time and that makes me confident for the mountain stages."
Carlos Sastre (Team CSC, 18th at 2'10)
"I suffered a lot today. The course was very difficult and fast, which doesn't suit me. My result is not perfect but I did my best to lose the least time as possible. I didn't know about Bobby [Julich's] crash before crossing the finish line. It is sad because he was very important in the team, which means that we have to go on without two of our main riders."
George Hincapie (Discovery Channel, 24th at 2'42)
Discovery Channel's GC rider George Hincapie lost almost three minutes on today's stage winner Gonchar. But what he probably found worse is that he lost almost two minutes to Floyd Landis. At the finish, the Discovery team rider didn't give much comment, other than saying: "It wasn't too good...I felt good before but I don't know."
Didier Rous (Bouygues Telecom, 25th at 2'50)
"I am happy with my performance today, even if I suffered because of the wind. My teammates who started earlier in the day told me I could use the 55x11 gear quite often, but I only managed to use it in the false flats going down."
Benoît Vaugrenard (Française des Jeux, 59th at 4'38)
"I did quite well in the first part, but missed power in the second half of the course, which was very difficult. I knew it was not possible to keep the white jersey after this stage but the most important thing for me was to ride within [myself] today. Indeed, we are in Brittany and I had supporters all along the 50 kilometres of the stage."
Laurent Brochard (Bouygues Telecom, 73rd at 5'16)
"The course was pretty hilly and not easy to find the right rhythm. The last kilometres were a bit easier but still very painful. I feel better day after day and I also feel better on the bike than off of it, which is encouraging for the coming two weeks."
Robbie McEwen (Davitamon-Lotto, 109th at 6'26)
The green jersey wasn't in contention today, so Robbie McEwen knew before the race that he would be wearing it tomorrow. The only thing he needed to be sure of was that he ended within the 25 percent time limit of the winner, which proved not to be so easy.
"During the first twenty kilometres, I couldn't find my rhythm, and I thought I would end outside of the time limit. When Tom Boonen overtook me, I was just improving a little bit. Then it was alright, and the last eight kilometres, I could even ease off a bit."
Crossing the finish line well within the time limit, the Australian sprinter was already thinking about tactics for tomorrow's stage: "Hopefully, T-Mobile will control the race as they know the sprinters' teams will help them eventually, probably for the last time before we hit the mountains," he said.
Julich crashes out
In Saturday's first long time trial of this year's Tour de France, Team CSC suffered a great loss to its roster as Bobby Julich crashed on a roundabout, injuring his right hand. The American was taken to hospital.
"There are apparently no fractures," CSC team director Alain Gallopin said. "Nevertheless, they will keep him overnight and he will have a little surgery to clean the wound properly. You could see the bone and the tendons, so the wound is rather deep.
Gallopin added that the crash did not happen out of a lack of concentration of his rider. "He knew the course and has the experience of riding fast even in corners, but there was a lot of gravel at that particular junction, as people walked over the graveled sidewalk, and some of it ended up on the road. His wheel just slid," he added.
It wasn't a successful day for the Danish team overall, as their best rider, pre-race favourite David Zabriskie, finished 13th, almost two minutes down of stage winner Serguei Gonchar (T-Mobile). Jens Voigt finished last, 10 minutes slower than the Ukrainian, and CSC lost its place near the top of the teams classification.
Mixed feelings at Gerolsteiner
German team Gerolsteiner had a great, but also a disappointing day in Rennes on Saturday. On one hand, German time trial champion Sebastian Lang ended up as third-placed in the race against the clock, and the team's up-and-coming youngster Markus Fothen took the White Jersey of Best Young rider after an outstanding performance; and on the other hand, team leader Levi Leipheimer had a black day as he lost more than six minutes on the stage winner, T-Mobile's Serguei Gonchar.
"I'm really happy about my third placing," said Lang. "Honestly, I didn't expect it. I've been working for our captains in the wind for one week, and I've also supported David Kopp in the sprints. So I do work a lot. That's why I was hesitant and wanted to decide only during the race, how much I'd put into it. But I felt that everything ran smoothly after three or four kilometres. I got into the rhythm fast and after the first time check, went flat out. I don't wear the German championship jersey by chance, for sure."
Team manager Hans-Michael Holczer, however, admitted that he could "laugh and cry today". Overall favourite Levi Leipheimer maybe lost his chances on a podium in Paris in this time trial, losing 5 minutes on Floyd Landis (Phonak), for example. "That was a big blow," he said. "Why it didn't work out today, I can't say. In any case, it will be very hard to get that time back."
Holczer still counts on his two captains, Leipheimer and Georg Totschnig, who was 4 minutes down. "On top of that, Markus got into a good position as well," he said. "Even if we have to wait for the mountains. But I wouldn't have a problem in switching the focus. We do have that option." But Fothen himself, who counts as a complete rider who will have Grand Tour possibilities once he has matured - was cautious.
"I will not be able to defend that white jersey properly," the 24 year-old said. "But I will try to wear it as long a possible while working for our leaders."
Clerc: "Negotiations over ProTour dead"
ASO director Patrice Clerc announced on Saturday that there would be no more negotiations on the ProTour with UCI officials, after the governing body of cycling apparently turned down a compromise paper established with the help of the sports' sponsors.
"We deeply regret that the proposal, elaborated with much help of the sponsors, has been rejected," Clerc said. "We did not expect that decision." The compromise mainly consisted of having 18 ProTour teams (instead of 20) in the future, who would get three-year (instead of four-year) licences, in order to make the circuit more open to other teams.
"This decision seals the split of cycling," Clerc added. "The compromise is dead and the discussions on it will not be taken up again. The UCI has rejected the compromise, and we will not talk about it anymore. That's for sure."
The conflict about the UCI's road cycling calendar reform has been going on since 2004. The organisers of the three Grand Tours and many cycling classics are not actually part of the ProTour, only accepted to let the ProTeams participate in their events. In April 2006, a compromise seemed to have been found, but it once again went up in smoke.
McQuaid reacts to rejection of ProTour
By Shane Stokes
UCI President Pat McQuaid has chosen to play down today's announcement by Patrice Clerc that the organisers of cycling's three major Tours would never join the ProTour. Clerc spoke to reporters prior to Saturday's time trial at the Tour de France, saying that there would be no further discussions with the UCI on the matter.
"My primary reaction would be that I do not wish to get into a war of words over the airwaves with Patrice Clerc," McQuaid told Cyclingnews on Saturday evening. "I think that he has enough on his plate at the moment, given that people like Dick Pound have come out recently and said that his event is in the toilet. I feel that Patrice Clerc should be dealing with that issue rather than worrying about the ProTour and the discussions on it."
The Irishman was keen to clear up talk about a lack of recent communication on the subject. "I've heard suggestions that the last time I had discussions on the ProTour was when I was down to see the Spanish authorities back in May. That is completely incorrect," he asserts. "We actually spoke the Monday before the Tour, myself and Patrice Clerc sitting down for three hours in a meeting in Brussels. That was prior to another meeting I had that afternoon with Christian Prudhomme and Patrick Lefevere, about what we would do if and when the list of names [relating to Operación Puerto] came to us. So it's totally wrong to say that there hasn't been talks of late."
McQuaid said that the tone of that ProTour-themed meeting last Monday week was amicable but that no solution was met. However, he suggested that Clerc should be thankful for at least one element of the new system.
"I think he can be grateful to the UCI ProTour as it was because of the ProTour and the Code of Ethics that the decision was able to taken last Friday to exclude the riders implicated in the doping affair," he continued. "Under UCI rules and also under the rules of every other Federation out there, we cannot sanction a rider unless he has been proven guilty. Neither can the Tour de France. At the end of the day, the UCI ProTour teams' Code of Ethics meant that the teams were the only ones who were in a position to do it. They met their responsibility and did just that. Therefore I think he can be thankful to the UCI ProTour that that happened."
As regards the future, McQuaid didn't want to be drawn just yet on what direction the ProTour will head now. However his concluding comment seems to suggest that this matter may be far from closed. "The final point I would like to make is that the UCI is the governance of cycling. It regulates the calendar. And it will continue to do so in the future."
Cyclingnews' recent coverage of the ProTour-Grand Tours split
October 4, 2008 - New ASO chief to maintain values
September 26, 2008 - UCI declares peace, appoints new VP
August 30, 2008 - UCI re-signs five ProTour races
August 22, 2008 - ProTour: Bouncing back or lame duck?
August 19, 2008 - Stapleton analyses 'world calendar'
August 18, 2008 - Feedback on 'world calendar'
August 18, 2008 - UCI announces 'world calendar'
Cyclingnews' complete coverage of the ProTour-Grand Tours split
(All rights reserved/Copyright Knapp Communications Pty Limited 2006)