Tour de France Cycling News for July 6, 2006
Edited by Hedwig Kröner
Stage 4 wrap-up
McEwen flies to victory in Saint-Quentin
Robbie McEwen (Davitamon-Lotto)
Photo ©: AFP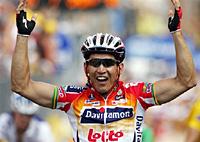 In a similarly chaotic finale as three days ago in Strasbourg, Robbie McEwen was the strongest sprinter today in Saint-Quentin. Beating his rivals by several bike lengths, the Davitamon-Lotto rider again showed that he is the best when it comes down to profiting from hectic, uncontrolled situations, which put others far behind. Isaac Galvez (Caisse d'Epargne) finished second and Oscar Freire (Rabobank) third, with yellow jersey bearer Tom Boonen only fourth (after Thor Hushovd was relegated), but doing enough to keep the maillot jaune.
Coming up on
Cyclingnews will cover the 60th edition of the Dauphiné Libéré live as of stage 4 on Wednesday, June 10, at approximately 15:00 local Europe time (CEST)/ 23:00 Australian time (CDT)/ 9:00 (USA East).

WAP-enabled mobile devices: http://live.cyclingnews.com/wap/

"I have such a great team," said McEwen after the victory, which he dedicated to Fred Rodriguez. "Gert Steegmans got me to the front at 200 metres - he is such a TGV train, it's unbelievable."

Boonen retained his overall lead. Erik Zabel (T-Mobile) punctured with only three kilometres to go, so he could not participate in the sprint.

A breakaway made of Egoi Martinez (Discovery), Bradley Wiggins (Cofidis), Christophe Mengin (Française des Jeux), Laurent Lefèvre (Bouygues) and Cédric Coutouly (Agritubel) had led the race for 180 kilometres before getting reeled in by the swarm with 2 km to go. Julian Dean (Credit Agricole) crashed in the finale when he hit Steven de Jongh (Quick.Step), while to his left, Thor Hushovd almost pushed Bernhard Eisel into the barriers. That cost the Viking his fourth place.

Click here for the Full results, report & photos, live report and video from stage 4.
An interview with Floyd Landis
Make no mistake
After the debacle last Friday, the names of Valverde, Landis, Evans, Schleck, Leipheimer, Menchov, and Hincapie have gone from outside favourites to real podium contenders. And with T-Mobile and Team CSC both losing their lead riders, the Phonak Cycling Team have, by default, strengthened themselves, placing 30 year-old American Floyd Landis in the spotlight as a man who could win overall. Anthony Tan reports.
Phonak's Floyd Landis
Photo ©: Anthony Tan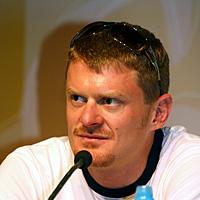 "Well, I think my team will stay behind me, that's the important thing... assuming that I've done my job - would you like a number?" laughed Landis.
At 20 years of age, this lanky Mennonite with soft ginger hair rejected his parent's wishes to ignore the temptations the modern world had to offer, and hasn't looked back since. His typically quiet nature, skewed humour and softly spoken voice belie a rare inner determination, although his faces changes to one of a grinch as he pedals in anger up the mountains of France, a place where he took arguably his biggest victory to date in Paris-Nice earlier this year.
However, there was another race in France where things didn't go too well. Less than three weeks ago at the Critérium du Dauphiné Libéré, a promising second place in a 43 kilometre time trial around Bourg-de-Péage was followed by a flop the very next day up Le Mont Ventoux, losing nine and a half minutes to stage winner Denis Menchov.
"From the beginning of the season, our objective has been the Tour. I didn't expect a few races to go as well as they did - and I didn't expect the Dauphiné to go as bad as it did!" he laughed again. "But I was happy with the time trial; the first day on Ventoux was not so good, and after that, I decided to use it as a training race. I didn't go there with that in mind - I would say I was disappointed with myself - but like I said, the objective is the Tour."
Click here for the full interview
Boogerd ready to Boogie-Woogie
By Anthony Tan in Valkenburg
Michael Boogerd already has two Tour stage wins
Photo ©: Anthony Tan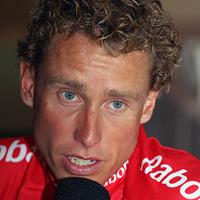 Resplendent in his national champion's stripes of Holland - and for the third time in his career - charismatic Dutchman Michael Boogerd is ready the Boogie-Woogie his way through his eleventh Tour de France.
Speaking to Cyclingnews shortly before the kick-off in Strasbourg, a congratulations was first in order before asking him the significance of his third Dutch title. "It's always important to win - especially when it's the national championship. You want to have the jersey, and I want to show it in the Tour," said a fired-up Boogerd.
Interesting is that the team's two oldest riders, Boogerd and Erik Dekker, 34 and 36 years-old respectively, behave like two of the youngest. At their national championships two Sundays ago, Rabobank general manager Theo De Rooy said their faces looked like a pair of juniors on the start line in Maastricht: "A heartbeat of 120, waiting for the start, then 'Whoof!', full gas y'know, like, 'Let's see if we can make a decisive split on the first lap of this circuit'," he recalled.
"That's the quality of these riders," said De Rooy. "As far as Erik Dekker was concerned, the strange thing is, two or three years ago, he was already expressing his doubts about whether he will do another Tour de France, saying, 'Well, I don't know, I've already done so many Tours de France, I think this will be my last... '
Click here for the full interview.
Wilfried Cretskens diary: What I do
Have you ever wondered aout the life of a pro cyclist in the service of Tom Boonen? Here's ypur chance to find out first hand. Throughout the Tour de France, Quick.Step's Wilfried Cretskens will provide Cyclingnews with his insights. The first entry was made on Monday - here it is.
"Most people who read this on CN might lift an eyebrow when they see my name. It doesn't bother me that I'm not that famous worldwide, because that's not my goal. I've got an assisting position in the team, so the others are more in the picture of course. People who need to know, they know; and that's what's most important to me.
"Some people compare me with Wilfried Peeters (current coach of the Quickstep team, and lieutenant of Johan Museeuw). Comparisons are something I dislike; I'm Wilfried Cretskens and that's it. You can't compare all those careers, and it doesn't make sense either. I know that Peeters and I didn't win much. But if I get some good results, that's never intended to be like that. I just do my job; and if I'm still in the front at the end, that's just alright. At the end of the year, there are some smaller races where I get a free role. Then I can race in a different way; and of course, that's great fun!"
Click here for the full diary entry of Wirlfried Cretskens.
Millar will get to Paris
By Brecht Decaluwé in Saint-Quentin
David Millar (Saunier Duval-Prodir)
Photo ©: Jon Devich

David Millar is back in the peloton, quite a special peloton actually: The Scotsman has returned to the Tour de France competing at the highest level. Millar, born in Malta, was suspended for two years but kept training and recently found a ProTour team that adopted him - Spanish Saunier Duval. Before his suspension, the 29 year-old was known to be very strong against the clock; a quality you don't lose, even being out of competition for so long. Cyclingnews' Belgian diarist, Wilfried Cretskens, predicted a win for David Millar in the prologue. The actual result proved to be a 17th placing, fourteen seconds down on winner Thor Hushovd...
"No, but I knew that I wasn't going fast enough," Millar said. "So realistically, I know I have to be happy with that result, but I know I can do better. My training was focused on time trialling, not on doing a prologue." The first time trial in the Tour de France this year will be on Saturday, July 8 - that should suit the tall Saunier Duval man even more.
"Saturday, I hope to do really well in the long individual time trial, but maybe I might do really crap," Millar cautioned. But he is still sure of his overall objective: "I'm pretty sure I can get to Paris! I don't know if I'll be 'lanterne rouge' or not, but I will get to Paris!"
Any rider supporting Portugal at the TdF?
By Brecht Decaluwé in Saint-Quentin
Running concurrently with the Tour de France are the World Cup football finals in Germany. This evening, the second semi-final is on schedule between France and Portugal.
Sure, there are enough Frenchmen in the peloton, but Cyclingnews went searching for a supporter of Portugal. It turns out José Azevedo is the only rider from Portugal in this year's Tour de France peloton, but 31 year-old Carlos Da Cruz has some Portuguese roots as well, even though his nationality is French.
In 2003, Da Cruz came second in a stage of the Tour behind Pablo Lastras. We asked the rider from the FdJeux team if he would watch the game tonight, and which team he would support: "I'll be watching the game tonight, for sure," he replied.
"If Portugal wins, the French riders in the team will have a party in our room; otherwise, we'll surely find a room to party elsewhere. I'm supporting Portugal together with my friend Sandy Casar; he's not a big football supporter but, for some reason, he chose to support Portugal during this World Cup.
"We hope to enjoy a great evening, and of course, I'm supporting France as well... after all, I'm French! But for tonight, I'll support Portugal because that's going to deliver more suspense while we watch the game."
Just over 1 day left to join Fantasy Le Tour
Fantasy Prizes
Giant TCR Advanced

BBB's BSG-23 Winner Quick-Step World Champion glasses

Santini clothing
Photo ©: Santini

Speedplay Zero pedals

Deda Alanera handlebars

fi'zi:k saddles

DedaTre RS Corsa clincher tyres

Reynolds SV KOM carbon wheels

There's still time to join the Fantasy Le Tour Game - with over one day left until registration closes. Register your teams now and win some amazing prizes! You can join until stage 6 begins and there's ample time to learn how the game works.
Registration Deadline
This year we've increased the amount of time you have to enter your teams to the official pre-start time on the day of Stage 6 at 12:50 CEST. You need to make sure your teams have the "Race Fees Paid" status next to them by the following times around the world:

Fri 7th July - 12:50 Central European Summer Time
Fri 7th July - 06:50 US Eastern Daylight Time
Fri 7th July - 05:50 US Central Daylight Time
Fri 7th July - 03:50 US Pacific Daylight Time
Fri 7th July - 20:50 Australian Eastern Standard Time
5 Daily Stage winners announced!
The first five winners of daily stage prizes have been confirmed. Winning a pair of BBB Parts BSG-23 Winner Quick-Step World Champion glasses, designed for Tom Boonen. Their teams had the highest cumulative stage points for the first stages of the Tour.
Daily Stage Prize winners
Prologue winner - Team McGuire (Manager - McGuire)
Stage 1 winner - Team 3 (Manager - Johann Ribbens)
Stage 2 winner - Team Once More (Manager - Hercules III)
Stage 3 winner - Team Bleu Touchpaper (Manager - Nigel)
Stage 4 winner - Team 2Tourstimul (Manager - Stimulleke)
There is no disadvantage in joining the game once the Tour has started so try the game out for FREE until stage 6 begins. Experiment with different team selections and see how they fare every day live here at Cyclingnews. There are plenty more winners to come with over 49 prizes confirmed for the prize rosta this year, with more prizes to come. We'll keep you updated.
The Fantasy game is a great way to get to know the Tour in more detail, as you take on the role of being a team manager during each day of the Tour, making the best of your team selections as the Tour unfolds stage by stage. Depending on how the riders finish each stage in real life you will score points for your Fantasy team to win some great prizes. You'll get a much more intimate knowledge of the lesser seeded riders as you watch their progress in your own teams and in other Fantasy manager's teams each day. You'll also get a much more in depth insight into how the riders perform over the coming weeks through the sprints and the mountains.
Remember you can change your 15 riders right up until stage 6 begins so there is no need to worry about the recent changes to the start list. There is plenty time to get your team right before the game closes to registrations.
Fantasy Game Prize List
Grand Prize from Giant TCR Advanced T-Mobile Team bike.
Daily Prize from BBB Parts - 21 pairs of BSG-23 Winner Quick-Step glasses.
Runner-up Prizes - Set of wheels from Reynolds. - Cirro SV KOM carbon wheels
Runner-up Prizes - Ten pairs of tyres from DedaTre.
Runner-up Prizes - Handlebars from Deda Elementi.
Runner-up Prizes - Three Giro Atmos helmets.
Runner-up Prizes - Three sets of Speedplay's Zero pedals.
Runner-up Prizes - Three fi'zi:k saddles.
Runner-up Prizes - Six complete sets of Santini ProTour replica team kit.
Play for FREE in the Fantasy Le Tour 2006 game
Try the game out and see how best to play before you pay. It's easy to play the Tour games - all you need to do is pick your dream team of 15 from the riders racing in this year's Le Tour start list. Then each day pick 9 riders to race for your fantasy team from these 15. You'll need a good combination of climbers, sprinters and general classification riders.
For more details go to the rules section of the site. There're also some great tips and tricks in the downloads and winners sections of the site. It's a great way to follow Le Tour 2006.
Good luck!
The Fantasy Cyclingnews Team
(All rights reserved/Copyright Knapp Communications Pty Limited 2006)