Tour de France Cycling News for July 5, 2006
Edited by Jeff Jones
Stage 3 wrap-up
Kessler gets it right; Boonen takes maillot jaune
Matthias Kessler (T-Mobile)
Photo ©: AFP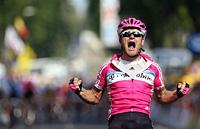 Matthias Kessler (T-Mobile) has done what he couldn't quite do yesterday: crossed the line ahead of the peloton to win a stage in the Tour de France. The German attacked on the key climb of the Cauberg with just over two kilometres to go, and soloed away to win by five seconds. Behind him, Michael Boogerd tried to get Oscar Freire up for the win, but the gap was too big, and instead it was Kessler's teammate Michael Rogers second, then Daniele Bennati (Lampre-Fondital) ahead of Tom Boonen. Yellow jersey wearer Thor Hushovd (CA) was 17 seconds back, meaning that Boonen took his first maillot jaune and will wear it in tomorrow's Belgian start.
Coming up on
Cyclingnews will cover the 60th edition of the Dauphiné Libéré live as of stage 4 on Wednesday, June 10, at approximately 15:00 local Europe time (CEST)/ 23:00 Australian time (CDT)/ 9:00 (USA East).

WAP-enabled mobile devices: http://live.cyclingnews.com/wap/

The day was filled with punctures and crashes, with the most serious involving Alejandro Valverde (Caisse d'Epargne). The ProTour leader clipped a wheel with 20 km to go, coming down hard and breaking his collarbone. He is out of the Tour, as are Erik Dekker (Rabobank) and Fred Rodriguez (Davitamon-Lotto), who crashed at 54 km to go and also couldn't continue.

The 216 km stage from Esch-sur-Alzette to Valkenburg saw a breakaway form after 16 km with Jens Voigt (CSC), Jose Luis Arrieta (AG2R), Unai Etxebarria (Euskaltel), Jerome Pineau (Bouygues), and Christophe Laurent (Agritubel). The leaders weren't given a big advantage - at the most 6'07 - but were still 1'20 ahead of the bunch when Arrieta dropped everyone on the Trintelen with 16 km to go. The experienced Spaniard looked good for a while, but only had 20 seconds when he hit the Cauberg, and was quickly caught. After Caucchioli tried to attack, it was the turn of Kessler and Philippe Gilbert, but the latter had to pass after having spent some of his energy chasing back on after a flat. Kessler made it to the top with a 5 second gap, which he kept over the final 2 km to the finish.

Click here for the Full results, report & photos, live report and video from stage 3.
Pit-bull Kessler never let go till today
Matthias Kessler (T-Mobile)
Photo ©: Sirotti

After two attempts in as many days, Matthias 'the pitbull' Kessler succeeded in winning a stage in this year's Tour by continuing to believe in himself. Brecht Decaluwé was there as he reflected on his hard-earned victory.
Q: Yesterday you attacked on the last hill; today you do the same. Why did it work today, and not yesterday?
Matthias Kessler: I felt good yesterday, and today as well. The difference was that the last hill yesterday was five kilometres from the finish. That allowed the peloton to reorganise; they were much faster than me, of course. Today, there were only two kilometres left after the Cauberg, so I knew it would be harder for them to come back.
Q: How hard was it to concentrate back on the race after the sending off from your team captain, Jan Ullrich? Did your hear anything from him afterwards?
MK: The first day we affected by the removal of Ullrich and Sevilla, but we are pro riders, so we needed to get re-focused and show what we're capable of. Anyhow, our shape was alright coming into the Tour de France, so we want to show that. We're all motivated for this Tour de France.
Q: The removal of Ullrich must have resulted in some tactical adjustments; can you tell us about the new tactics of the T-Mobile team?
MK: Of course we needed to change tactics, because now we're only with seven of us and Klöden is our new leader. The tactics are kept inside the team; but I'm sure you well see us again when the stages get tougher.
Q: There were lots of falls today; what's the cause of that?
MK: The race today was hard because of three reasons: the heat, the distance and the fatigue of some riders. It all contributed to the overall hectic nature and loss of concentration in the peloton. Everybody must watch out if they don't want to be involved in a crash.
I heard that Klöden fell with ten kilometres to go, but I think he got back in time. I also hear that Valverde is out of the race due to a fall; that's really sad, because the team doesn't have a captain anymore.
Q: Your attacks of today and yesterday, was that to show you're still proud of your T-Mobile jersey?
MK: Not really, I'm just 100 percent motivated to ride this Tour de France. We want to win stages for everybody who supports us, the sponsors and the fans. I hope to be able to show myself a few more times in this Tour de France.
An interview with Tom Boonen
King for a day
This morning, Tom Boonen said that he wanted to win the stage, grabbing the maillot jaune by default. He didn't win, but he did grab the lead, and as a consequence, 'Tommeke' will have the honour of riding through his home country draped in yellow tomorrow. From one Belgian to another Brecht Decaluwé spoke to the man who will be king for a day.
Q: Tom Boonen, how happy are you with this yellow jersey?
Tom Boonen (Quick.Step)
Photo ©: Roberto Bettini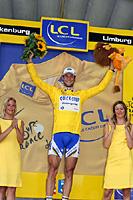 TB: Actually, I tried to win the stage but I had to deal with a flattening tire in the last five kilometres. It was very dangerous to stand on the pedals, so I stayed in the saddle and rode defensively. I hoped that everything would be brought back together, but that didn't happen.
Q: Hushovd and McEwen couldn't keep up with the pace on the Cauberg, so you were the only real sprinter in the peloton. Did you know you would be so strong?
TB: I expected that they would have to let go. On the hill of the 'Haute Levée' the pace was hard, but not impossible. I saw that McEwen and Hushovd exploded there, so I told the team they needed to make the race harder. The final was very hectic, which made the race hard to control.
Q: How long do you think you can keep this yellow jersey? Do you think you might keep it for four days, until the individual time trial?
Click here for the full interview
A bad day for crashes
Valverde, Rodriguez, Dekker all out; Horner and O'Grady also injured
Alejandro Valverde (Caisse d'Epargne)
Photo ©: Roberto Bettini

Stage 3 of the Tour de France took a heavy toll on the peloton in terms of race-ending crashes. The biggest name to bow out was ProTour leader, stage win and Tour GC candidate Alejandro Valverde, who touched his teammate Oscar Pereiro's back wheel with 20 km to go and crashed, breaking his collarbone. Valverde couldn't get back on the bike and was taken away in an ambulance to Maastricht hospital, where the collarbone fracture was confirmed, as well as abrasions to his left elbow and hip. The bone was was fastened to allow him to travel to Spain - likely tomorrow - where it will be decided if an operation is necessary.
"I am really disappointed of course at being so unlucky," declared Alejandro Valverde after leaving the hospital. "Now what I hope is that I will come back as soon as possible in good shape because I am already hungry to compete again. I am sure my teammates from Caisse d'Epargne-Illes Balears will do great things during the Tour. I would have like to share those emotions with them, but it will be for next year!"
Another crash with 54 km to go took out Davitamon's Fred Rodriguez and Rabobank's Erik Dekker. Both abandoned the race immediately, and although Rodriguez didn't break any bones, he suffered heavy concussion. Dekker suffered concussion and serious facial injuries: abrasions, facial trauma, a contusion, a ripped upper lip, as well as a couple of broken teeth. He was kept unconscious on Tuesday night so that his face could be cleaned. Thus ended what is almost certainly his final Tour de France.
Stuart O'Grady (CSC) also crashed during the stage, and a CAT-scan in the hospital in Genk revealed a small fracture on his fourth thoracic vertebra. He will probably be able to continue the race, with a decision being made before tomorrow, depending on how much pain he is in and how much power he has to work with.
Finally, Chris Horner (Davitamon-Lotto) had to be checked out in Herentals for a suspected broken hand. Fortunately for the American, it was not broken and he will be able to race tomorrow.
Valkenburg for the second time
By Anthony Tan in Valkenburg
Valkenburg Mayor Dr. Constant Nuytens
Photo ©: Anthony Tan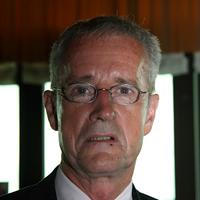 With Valkenburg the centre of attention for the second time in Tour de France history, Mayor Constant Nuytens has reason to smile. "Very, very happy," he told Cyclingnews. "The Tour de France will come for the second time, because in 1992, the Tour was also here. But now, to have it again, we are very happy, and it is a great honour for us organisers."
Not forgetting that the finish of the Amstel Gold Race is held on the famous Cauberg climb each year, and that Valkenburg also hosted the world road championships in 1998, which was won by Swiss rider Oscar Camenzind and also signaled the return of Lance Armstrong after his battle with testicular cancer, one could quite easily say this southern Limburg town is the centre of Dutch cycling.
Said Rabobank's Pieter Weening: "When you talk about cycling, it's the heart of Holland. The Tour is special, but Valkenburg is also special. It's a nice town, and the people all grow up with cycling... Amstel Gold every year, the national championships nearby - there are a lot of races around here, and the people like it. Everything is nice here; you can build nice circuits, and it's perfect."
Asked what's required to host a stage finish of the world's biggest cycling race, Mayor Nuytens first responded with a look that said, 'How much time have you got?'
"It's very difficult. But we have a tradition [of cycling], and we have also done it before. We have about five or six people who are very, very good, and they have spent about a year organising it.
"We don't have a big party for the riders, because coming here, the riders are tired and they go straight to the hotel [after the finish]," continued Nuytens. "And the next day, they start in Huy in Belgium - but for the people of Valkenburg in the region of Limburg and also for the people of Germany and Belgium, there are many events, which culminate in the finish of the Tour [stage]."
A cycling fan and keen rider himself, the softly spoken Valkenburg Mayor said he tries to ride three times a week, and has visited La Grande Boucle in France on many occasions. "Every year, we have an arrangement with [former TdF director] Monsieur Leblanc, where, for one hour, we can talk with him. Now, he is coming to us," he smiled.
Fothen: White jersey is "a nice bonbon"
Markus Fothen
Photo ©: Sirotti

24 year-old Markus Fothen of Gerolsteiner won the white jersey of the young rider at the Tour de France on Tuesday. "Of course this is a nice bonbon," he said. "I speculated on it, and I'm happy that it worked out so soon. But our goal remains to bring our two captains as far forward as we can." Those two captains, Levi Leipheimer and Georg Totschnig, didn't lose any time today, and directeur sportif Christian Henn said, "It was very important to have both of them up there today."
First Fantasy winners - still time to join
Fantasy Prizes
BBB's BSG-23 Winner Quick-Step World Champion glasses

Giant TCR Advanced

Santini clothing
Photo ©: Santini

Speedplay Zero pedals

Deda Alanera handlebars

fi'zi:k saddles

DedaTre RS Corsa clincher tyres

Reynolds SV KOM carbon wheels

There's still time to join the Fantasy Le Tour Game. Register your teams now and win some amazing prizes! You can join until stage 6 begins and there's ample time to learn how the game works. There is no disadvantage in joining the game once the Tour has started so try the game out for FREE until stage 6 begins. Experiment with different team selections and see how they fare every day live here at Cyclingnews.
First Fantasy winners announced!
The first four winners of daily stage prizes have been confirmed. Winning a pair of BBB Parts BSG-23 Winner Quick-Step World Champion glasses, designed for Tom Boonen. Their teams had the highest cumulative stage points for the first stages of the Tour.
Daily Stage Prize winners
Prologue winner - Team McGuire (Manager - McGuire)
Stage 1 winner - www.jjcycling.co.za/3 (Manager - Johann Ribbens)
Stage 2 winner - Once More (Manager - Hercules III)
Stage 3 winner - Bleu Touchpaper (Manager - Nigel)
There are plenty more winners to come with over 49 prizes confirmed for the prize rosta this year, with more to come.
The Fantasy game is a great way to get to know the Tour in more detail, as you take on the role of being a team manager during each day of the Tour, making the best of your team selections as the Tour unfolds stage by stage. Depending on how the riders finish each stage in real life you will score points for your Fantasy team to win some great prizes. You'll get a much more intimate knowledge of the lesser seeded riders as you watch their progress in your own teams and in other Fantasy manager's teams each day. You'll also get a much more in depth insight into how the riders perform over the coming weeks through the sprints and the mountains.
Remember you can change your 15 riders right up until stage 6 begins so there is no need to worry about the recent changes to the start list. There is plenty time to get your team right before the game closes to registrations.
The full Le Tour Fantasy Game Prize List
Grand Prize from Giant TCR Advanced T-Mobile Team bike.
Daily Prize from BBB Parts - 21 pairs of BSG-23 Winner Quick-Step World Champion glasses designed for Tom Boonen.
Runner-up Prizes - Set of wheels from Reynolds. - Cirro SV KOM carbon wheels
Runner-up Prizes - Ten pairs of tyres from DedaTre.
Runner-up Prizes - Handlebars from Deda Elementi.
Runner-up Prizes - Three Giro Atmos helmets.
Runner-up Prizes - Three sets of Speedplay's Zero pedals.
Runner-up Prizes - Three fi'zi:k saddles.
Runner-up Prizes - 6 complete sets of Santini ProTour replica team kit.
Play for FREE in the Fantasy Le Tour 2006 game
Remember you can play for free for the first 5 stages! Try the game out and see how best to play. It's easy to play the Tour games - all you need to do is pick your dream team of 15 from the riders racing in this year's Le Tour start list. Then each day pick 9 riders to race for your fantasy team from these 15. You'll need a good combination of climbers, sprinters and general classification riders.
For more details go to the rules section of the site. There're also some great tips and tricks in the downloads and winners sections of the site. It's a great way to follow Le Tour 2006.
Good luck!
The Fantasy Cyclingnews Team
(All rights reserved/Copyright Knapp Communications Pty Limited 2006)