Tour de France Cycling News for July 4, 2006
Edited by John Stevenson, John Kenny, Anthony Tan and Jeff Jones
Stage 2 wrap-up
McEwen best of the sprinters in Esch
Robbie McEwen (Davitamon-Lotto)
Photo ©: AFP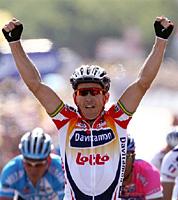 Robbie McEwen (Davitamon-Lotto) has wasted little time in claiming a stage win in the 2006 Tour de France, winning another hectic sprint in Esch-sur-Alzette ahead of Tom Boonen (Quick.Step) and Thor Hushovd (Credit Agricole). The latter was on McEwen's wheel as they made the final dash to the line, but clicked out of his pedal when he bumped into McEwen, and ended up freewheeling across the finish. Nevertheless, he claimed enough time back to take the maillot jaune from George Hincapie.
Coming up on
Cyclingnews will cover the 60th edition of the Dauphiné Libéré live as of stage 4 on Wednesday, June 10, at approximately 15:00 local Europe time (CEST)/ 23:00 Australian time (CDT)/ 9:00 (USA East).

WAP-enabled mobile devices: http://live.cyclingnews.com/wap/

The 228 km stage starting in Obernai again saw the first break of the day succeed: Aitor Hernández (Euskaltel-Euskadi) and David de la Fuente (Saunier Duval) took off after 1 km and were not seen again for some time. The pair already had 11'20 after 31 km before first Discovery, then Quick.Step, Davitamon and Credit Agricole came to the front to control the gap. De la Fuente was the strongest, and dropped his companion on the Côte de Kédange-sur-Canner with 40 km to go in a bid to take a solo win. But he was caught by a flying Fabian Wegmann (Gerolsteiner) on the Côte de Kanfen at 16 km to go, and his day in front was finished.

Wegmann continued until 7 km left, then Calzati, Kopp, and finally Kessler all tried to break clear. The latter survived in front until 250m to go, when the sprinters caught him. McEwen had the advantage in the lead out, and kept it all the way to the line, comfortably holding off Boonen and Hushovd.

Click here for the Full results, report & photos, live report and video from stage 2.
An interview with Robbie McEwen
Boom-boom Becker? No. Boom-boom Boonen? No. Boom-boom McEwen? Yeah!
Monday, July 3 marked Australian sprint king Robbie McEwen's ninth Tour de France stage victory. Less than half an hour elapsed since taking the stage win before the Davitamon-Lotto rider was at the winner's press conference - but as Brecht Decaluwé found out, he's already looking for more!
Q: This is your ninth victory; has this victory a special meaning to you?
Robbie McEwen (Davitamon-Lotto)
Photo ©: Sirotti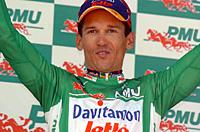 Robbie McEwen: Every stage you win in the Tour de France is special. This is the last one, but I remember every single one of them in a different way. Today is a very special one, because it's the most recent one.
Every year you have to prove yourself again and again. And you can't forget the fact that I've just turned 34, they often say that when sprinters get older, they get slower. I haven't slowed down yet, so that's a good sign. The stage was nice because, the way the team worked very well together. It was a very tough final with those small hills. I survived the stage very well and had plenty of speed. I think that what makes it special is that every year you start with a big zero on the scoreboard. You have to come here and you have to score. There's that pressure to get that stage win; now I've got it and that takes a bit pressure away. We can go for more!
Q: What happened in the sprint with Hushovd?
RM: I've already spoken with Thor since the finish. Thor and I already watched to the video together. Thor came with his front wheel against my left foot.
When I look to the video and what I remember of the sprint, I started on the wheel of O'Grady and he was behind Zabel. Then I went passed both of them. Because O'Grady passed Zabel on his left, I needed to go even more to the left. From there I road a direct line to the finish line as the road curbed just a little bit to the right. With about hundred metres to go I felt something against my foot and I pulled back to the right. That proved to be Hushovd. We're still friends, no problem.
Click here for the full interview
An interview with Wilfried Cretskens
A catch-up with Cretskens
Catching up with soon to be Cyclingnews diarist Wilfried Cretskens straight after his prologue last Saturday, Brecht Decaluwé found the room-mate of world champion Tom Boonen is no longer his room-mate after all...
Time trialling
Photo ©: Luc Claessen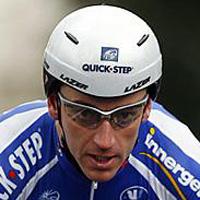 Cyclingnews: Wilfried, you were the tenth rider to start the prologue; twelve riders have already finished and still you're the slowest rider, but I guess that doesn't bother you?
Wilfried Cretskens: No, that doesn't bother me at all, because I know what's on my plate for the next days; that's more important. Today we have other men who need to set a sharp time. The next days, it's up to me to bring those guys to the finish as good as possible.
CN: Do you put in an effort for such a prologue, because you know you've got nothing to win or lose?
WC: When a rider says that he's riding around at 50 percent, then that's bullshit; you always need to ride at your maximum. We've had a few easy days behind us, so you know you need to open up the gas, to be ready for the coming stages.
CN: What's the course like? Will you be able to give some information to Boonen?
WC: At first sight, it looks very easy, very smooth; but that isn't the case. Also, you think the wind is blowing in the wrong way; but that's also wrong. I'll tell Tom [Boonen] that he shouldn't start too fast, but not too slow either. You've got to make the right decision. There are lots of corners which you can take on high speeds. So you need a combination of concentration and speed.
Click here for the full interview
A quick chat with George Hincapie
George Hincapie (Discovery Channel)
Photo ©: Sirotti

Becoming the fourth American to wear the maillot jaune in Tour de France history was a pretty special accomplishment for Discovery Channel rider George Hincapie. After Hincapie's acquisition of the jersey on the first stage of the Tour, Brecht Decaluwé found out what it meant to him.
Q: Were you interesting in grabbing yellow at the start of today?
GH: Yesterday [in the prologue], I was really disappointed to miss out on the yellow jersey by such a small margin after a great ride. But I got beaten by a great rider. Today, I wasn't busy with winning seconds, but when we caught the breakaway, I saw an opportunity that I couldn't pass up.
Q: Congratulations with being the fourth American who gets the yellow jersey. You were close in the past but in 1998 you were as close as two seconds of grabbing yellow. Did you think about that?
GH: Those two seconds were the longest in my career... that was so hard. But I think I'm a much better cyclist than I was back then. Today, it wasn't actually planned to sprint for the bonuses but the opportunity arose. I worked super hard to start the Tour de France in great shape. I'm happy to turn around the disappointment of yesterday to a great day...
Q: How long do you intend to keep it?
GH: I'd love to keep it as long as possible, of course. It's really up to Johan [Bruyneel], I don't know if we'll try to control tomorrow. I don't have much time, and for me to sprint against Boonen and Hushovd... that's not really my thing anymore, All I've been training for is time trialling and climbing, so my sprint is slower, for sure. But if I could keep it for another day or two, that would be great.
Q: Has this put you in the position of leader?
GH: I don't like that term leader. Those are just words from the papers. I know what my ambitions are. I know I can take care of myself. I'm one of the best riders in the classics, like Flanders or Roubaix. So, for that, I can do that on my own, I don't really need a whole team behind me. I'm sure that if the occasion arises, I will get that role.
Everybody wants to see the replacement for Lance [Armstrong] but there's really no replacement for Lance, and I don't know if we'll see another Lance in our lifetime. We came here with different ambitions, we came here with a great team; and we just want to accomplish those ambitions.
Q: There was a lot of talk about doping, but now most riders just want to talk about cycling?
GH: Yes, I agree. We all worked hard to come here. It was definitely an unfortunate situation what happened. We all want a clean sport. Hopefully, we can turn that around to a positive thing. I know that I've worked hard to be here and I just hope that I'll have a good Tour de France. I'm not really thinking about that anymore.
Q: Major triumph today, but what about your crash in Paris-Roubaix?
GH: That was a huge shock for me. That day, I was in a great position with a group of eight or nine guys, feeling super good, super confident too. So, when I crashed it was a huge disappointment for me. But when I last thought about it, I've done eleven Tour de Frances, so to come out of that crash with only a little bump on my shoulder, I'm pretty lucky altogether because this [sport] is just so dangerous.
Aussie-Norwegian round-up
Cyclingnews' enigmatic Aussie reporter John Trevorrow got a few quick grabs with a few of the crew from Down Under as well as Thor Hushovd at the start of the second stage in Obernai.
Cadel Evans (Davitamon-Lotto)
CN: Hi Cadel, how's it been so far?
A: It wasn't too bad yesterday. Pretty quiet day for us [GC] fellas, really. We just tried to keep out of trouble. We'll just see how today goes. I reckon some of the teams will put the pressure on towards the finish in an attempt to get rid of Robbie on the climbs. I guess I'll try and look after Robbie a bit. We'll see how it goes.
Michael Rogers (T-Mobile Team)
CN: Hi Mick, how's it shaping up?
A: I came here with the idea of looking after Jan but obviously all that has changed now. We can only concentrate on the stages ahead and do as good a Tour as we can.
I'm not going too bad; I was really happy with my prologue the other day. It was a very positive day for me and I just have to stay out of trouble for the next few stages. Try and conserve my energies for the time trials and the climbs. At the moment, as things stand, Klöden and I are co-team leaders up until the time trial and then we'll see how it pans out from there.
Even within the team we're a bit undecided; it's been a bit of a shock and I think it's going to take a couple of days to work out the whole thing. It [team leadership] will be decided on the guy in the best form - there are no lucky performances. This is a top team and all the energies will go to looking after the best rider; whether it be me or Klöden or someone else as team leader. I reckon we can have a good GC race.
Thor Hushovd (Credit Agricole)
Thor Hushovd looked in a spot of bother before the start. He couldn't even sign an autograph because of his injured arm.
CN: You are obviously in a bit of pain?
A: Yes, we will see how it goes. My arm is pretty sore. I can ride 240km, no problem, but whether I can race is a different problem. I cannot grip too hard so we will just have to wait and see.
Robbie McEwen (Davitamon-Lotto)
CN: You look pretty relaxed?
A: No probs. I feel great and it should be a hectic stage. It gets a bit tough towards the end and I'm sure the pressure will be on, but they are only cat 4 climbs so I should be able to handle it. It looks a fast run into the finish so it should be a very quick sprint.
Gerolsteiner fighting back
By Susan Westemeyer
Gerolsteiner's Fabian Wegmann had to give up the polka-dot mountain jersey on Monday, but was able during the stage to fight back and finish within two points of escapist Manuel de la Fuente (Saunier Duval), who took the jersey. De la Feunta gained the points in a long escape, of which Wegmann was not a part. "I tried, and did manage to pick up a few points," he said. "Maybe I'll try again on Tuesday to get the jersey back."
Teammate Peter Wrolich, who finished 10th, was surprised to find himself alone at the end of the "hard, fast, long" stage. Because of a mass crash some 2 km before the finish, he was the only Gerolsteiner in the front group. "I was on Boonen's wheel in the finale, but waited too long," he admitted. He isn't looking for any chances on Tuesday, though. "That will be more something for my teammate Fabian Wegmann. I'll try again the day after tomorrow."
T-Mobile's Azzuri and "Klinsi's boys"
Now that the Tour has finally gotten underway, Team T-Mobile might have thought it could put its troubles behind itself and concentrate on cycling. but it's not to be -- matters of far greater importance are threatening to spit the seven-man Tour team, and it's all going to come to a head Tuesday night.
That's when the tip-off of the first semi-final game of the World Cup will happen, between Germany and Italy. And it so happens that the T-Mobile cyclists are all fans of, you guessed it, Germany or Italy. Giuseppe Guerini and Eddy Mazzoleni lead the Italian faction, and are joined by Mick Rogers and Serhiy Honchar, both of whom have lived for years in Italy. The four are "sure the Azzuri will have the upper hand in the end," writes Andreas Klöden.
But he's not ready to give in so easily. "They shouldn't count their chickens, is all I can say to that!" he declares. He, Mattias Kessler and Patrik Sinkewitz will support the home German team, cheering "Klinsi's boys" on. (And no doubt they will be joined by various support staff members.)
T-Mobile riders told to end Ferrari connection
Three of T-Mobile's Tour de France riders have been told to end their association with controversial sports doctor Michele Ferrari. The team has ordered Michael Rogers, Patrick Sinkewitz and Eddy Mazzoleni to cease using Ferrari's services as a coach and advisor.
The move comes as part of a general tightening-up in the wake of Operacion Puerto as teams attempt to better police their riders' training. T-Mobile star Jan Ullrich and mountains specialist Oscar Sevilla were sent home shortly before the Tour after their names appeared on a list of riders associated with Spanish doctor Eufemiano Fuentes who was arrested in May on suspicion of involvement in a large doping network.
Ferrari is not implicated in Operacion Puerto and was last year cleared of charges of sporting fraud arising from accusations by Filippo Simeoni.
Jeff's Hot Picks for Fantasy le Tour game
Giant TCR Advanced

Santini clothing
Photo ©: Santini

BBB's BSG-23 Winner Quick-Step World Champion glasses

Speedplay Zero pedals

Deda Alanera handlebars

fi'zi:k saddles

DedaTre RS Corsa clincher tyres

Reynolds SV KOM carbon wheels

There's still time to join the Fantasy Le Tour Game. Register your teams now and win some amazing prizes! You can join until stage 6 begins and there's ample time to learn how the game works. There is no disadvantage in joining the game once the Tour has started so try the game out for FREE until stage 6 begins. Experiment with different team selections and see how they fare every day live here at Cyclingnews.
Jeff's Hot Picks
We asked our very own Fantasy team expert here at Cyclingnews, Jeff Jones, for his thoughts on this year's game:
"With so many of the favoutites out of the running I think the Tour game is going to present some really hard choices for Fantasy Managers this year. After my recent near prize win in the Giro game I'm not sure I want to tell you all who I'd reccommend for this year's Tour (and yes I do know I'm not allowed to actually win the prizes!). If I were to pick some riders and share them with you all I'd have to include Leipheimer, Valverde and Evans. More than that would be telling too much too soon...Good luck everyone."
The Fantasy game is a great way to get to know the Tour in more detail, as you take on the role of being a team manager during each day of the Tour, making the best of your team selections as the Tour unfolds stage by stage. Depending on how the riders finish each stage in real life you will score points for your Fantasy team to win some great prizes. You'll get a much more intimate knowledge of the lesser seeded riders as you watch their progress in your own teams and in other Fantasy manager's teams each day. You'll also get a much more in depth insight into how the riders perform over the coming weeks through the sprints and the mountains.
Remember you can change your 15 riders right up until stage 6 begins so there is no need to worry about the recent changes to the start list. There is plenty time to get your team right before the game closes to registrations.
The full Le Tour Fantasy Game Prize List
Grand Prize from Giant TCR Advanced T-Mobile Team bike.
Daily Prize from BBB Parts - 21 pairs of BSG-23 Winner Quick-Step World Champion glasses designed for Tom Boonen.
Runner-up Prizes - Set of wheels from Reynolds. - Cirro SV KOM carbon wheels
Runner-up Prizes - Ten pairs of tyres from DedaTre.
Runner-up Prizes - Handlebars from Deda Elementi.
Runner-up Prizes - Three Giro Atmos helmets.
Runner-up Prizes - Three sets of Speedplay's Zero pedals.
Runner-up Prizes - Three fi'zi:k saddles.
Runner-up Prizes - 6 complete sets of Santini ProTour replica team kit.
Play for FREE in the Fantasy Le Tour 2006 game
Remember you can play for free for the first 5 stages! Try the game out and see how best to play. It's easy to play the Tour games - all you need to do is pick your dream team of 15 from the riders racing in this year's Le Tour start list. Then each day pick 9 riders to race for your fantasy team from these 15. You'll need a good combination of climbers, sprinters and general classification riders.
For more details go to the rules section of the site. There're also some great tips and tricks in the downloads and winners sections of the site. It's a great way to follow Le Tour 2006.
Good luck!
The Fantasy Cyclingnews Team
(All rights reserved/Copyright Knapp Communications Pty Limited 2006)