Tour de France News for July 3, 2006
Edited by Hedwig Kröner
Stage 1 wrap-up
Hincapie in yellow as Casper takes a long shot; Hushovd injured by spectator in sprint
George Hincapie (Discovery Channel)
Photo ©: AFP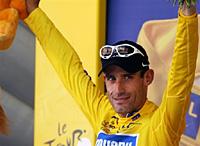 Coming up on
Cyclingnews will cover the 60th edition of the Dauphiné Libéré live as of stage 4 on Wednesday, June 10, at approximately 15:00 local Europe time (CEST)/ 23:00 Australian time (CDT)/ 9:00 (USA East).

WAP-enabled mobile devices: http://live.cyclingnews.com/wap/

George Hincapie (Discovery Channel) only had to wait just one day before donning the maillot jaune of race leader in the Tour de France. The tall American picked up 2 bonus seconds in an intermediate sprint - enough to take the lead from Thor Hushovd. Then Jimmy Casper (Cofidis) rode an incredible final 300 metres to hold off Robbie McEwen (Davitamon-Lotto) and Erik Zabel (Milram) to claim the first stage, which ended in a bunch sprint in Strasbourg.

Yesterday's winner Hushovd was looking good for a top three in today's rush to the line, but had his right arm gashed open by an object held by a spectator with 50 metres to go. After the finish, Hushovd collapsed and was taken away in an ambulance.

The stage was dominated by a seven man break that started after only 3 km when Stéphane Augé (Cofidis), Matthieu Sprick (Bouygues Telecom) and Benoît Vaugrenard (Française des Jeux) went clear, and were joined by Nicolas Portal (Caisse d'Epargne), Fabian Wegmann (Gerolsteiner), Unai Etxebarria (Euskaltel) and Walter Bénéteau (Bouygues Telecom). The leaders gained a maximum of five minutes, but the various sprinters teams always had them in check. Bénéteau was the last to be caught at just over 7 km to go, and the expected bunch sprint produced a slightly unexpected winner in Jimmy Casper.
Casper: Greatest day of all
By Brecht Decaluwe in Strasbourg
Jimmy Casper (Cofidis)
Photo ©: AFP

Cofidis' rider Jimmy Casper was the happiest man in Strasbourg today when he took the first stage of this year's Tour de France - his first Tour victory ever. "I think that today is the greatest day in my life," the Frenchman said shortly after his impressive sprint. "Actually, it would be if I could share this happiness with my wife and kids, who are at home."
Casper rolled up the crème de la crème of cycling sprinters, making Boonen, McEwen and co look like they were almost standing still. "At 1.5 kilometres before the last curve I was still not too well-placed, so I thought it was better to stay there and see what happens in the very last moment," he continued. "With about one kilometre to go, I had to go into the brakes. I decided to come back through the inside, which succeeded. Then, it opened up just at the right time with this rider in fourth position jumping, and I did the perfect sprint. I hope I can repeat that soon. I know that people waited to see me win for a long time and I hope that I can make up for it now."
The 28 year-old has definitely earned himself a morale boost. "I beat really big names like Boonen, the world champion," Casper continued. "He's such great rider. Also Robbie McEwen is a top three rider worldwide when you talk about sprinting. Beating all these big names makes me really happy."
Asked if he had seen what happened to Thor Hushovd, he replied, "It's really sad; I saw that he fell down, but it didn't change anything for my victory." Hushovd had been heavily wounded by a big cardboard hand given to the spectators by PMU, which also sponsors the jersey for best sprinter. "I think that in the past, it was already said that those objects are dangerous," Casper continued. "The objects shouldn't be there in the last kilometre. [They had already been forbidden inside the last kilometres after Robbie McEwen complained in 2002, but now seem allowed again - ed.] It's good that the crowd is already shut off in the last kilometres."
This French victory comes just right after the country's soccer team beat Brazil's 'Selecao' on Saturday night, entering the World Cup semi-finals and putting the whole of France into a new frenzy similar to 1998. "Yes, of course!" was Casper's answer if he had watched the game. "We watched the first half downstairs with the rest of the hotel, the rest of the game we saw in our room. Together with David Moncoutié, I tried to relax a bit while watching the game. But we really got into it, of course. It was great to feel all those emotions. I'm not a football fan, but I'm French so I'm proud of the victory."
Hincapie: first disappointed, then rewarded
By Tim Maloney, European Editor in Strasbourg
George Hincapie (Discovery Channel)
Photo ©: Tim Maloney

Just as Lance Armstrong was runner-up in the Tour's opening time test last year and started Stage One in the green Maillot Vert of Best Sprinter, Discovery Channel's George Hincapie was resplendent in his Maillot Vert this morning in Strasbourg.
But Hincapie, who missed the Maillot Jaune by less than one second in yesterday's 7.1km Prologue told Cyclingnews that "It's tough...I mean, (that small margin) could be anything; I could have lost it in a corner or maybe I was in too big of a gear at the end, but Hushovd could have also gone a second faster in a corner or something," he said. "I'm really disappointed but at least I know I am in really good shape."
We asked George what the vibe was like without Lance and he explained that "It's definitely different this year without Lance. More low key compared to last year, but we still have a lot of pressure from ourselves, family and friends to try and do well. We work really hard, we all have our own ambitions even with Lance not around."
After yesterday's disappointment, Hincapie enjoyed the thrill of victory in Strasbourg as he took over the maillot jaune thanks to his 2-second time bonus - again, a small margin...
Pozzato plays his cards first for Boonen at Le Tour
By Tim Maloney, European Editor in Strasbourg
We spoke to Quick.Step's Filippo Pozzato in Strasbourg Sunday, who told us, "That prologue yesterday looked easy but it turned out to be really hard, especially the last three kilometres. I'm hoping to do well here at the Tour; my form is good and I hope to have some chances here."
We asked Pozzato where he was going to find some space to play his cards and the likeable young Italian, winner of Milano-Sanremo this March responded: "In the sprinter's stages, like today, we're all for Tom (Boonen), but there are other stages, like Tuesday's hard stage to Valkenburg that are good for me. So after that, I'll take it day by day and see if there other chances that come."
In his last year with Quick.Step, Pozzato is one of the most courted riders in the peloton and we asked 'Pippo' if he would stay with Quick.Step or had chosen a new squad for 2007. "At this point, I haven't made any decision..." he said. "I'm focusing on the Tour and evaluating things. I'll be talking (to my team and some others) and then can understand better what I want to do next season."
Danilo Di Luca sick, hoping for better days
By Tim Maloney, European Editor in Strasbourg
Cyclingnews caught up with Liquigas-Bianchi's star Danilo Di Luca, one of the most articulate and friendly Italian riders in the peloton. 2005 ProTour champ Di Luca was not his usual self Sunday as he started the 93rd Tour under the hot weather, suffering all day at the back of the peloton and ending up last man on Stage 1, 2'29 behind the pack at the finish in Strasbourg.
"On Thursday night, I had a 40 degree fever and it turned out that I had an inflammation in my prostate," a disheartened Di Luca said. " he team doctor gave me a lot of antibiotics so I could start the Tour. Now the fever is gone and I can sit on the saddle, but it's a real shame. I was in fantastic form and was really looking forward to having a good Tour, but now it's hard to say how long I can last. I'll just take it day by day now."
Damiano Cunego, Tour rookie and potential protagonist
By Tim Maloney, European Editor in Strasbourg
Damiano Cunego (Lampre-Fondital)
Photo ©: Sirotti
Although some observers criticized Lampre-Fondital's Damiano Cunego for his mediocre prologue on Saturday, the young Italian rider can hardly be considered suited for a flat 7km race. Cyclingnews caught up with Cunego in Strasbourg on Sunday, where he was surrounded by French fans seeking his autograph. "I'm happy the way things went yesterday; it was a really a prologue for specialists and that's not me!", explained Cunego. "I tried to do my best without forcing it, also because it's a month since I've raced. In the next 10 days, I'm just trying to stay out of trouble and come into top form. But I'm really happy to be here at the Tour, it's such a big race, like everything is three times larger than any other race. It's great to be here."
We asked Cunego about the fact that initially he came to the Tour just for experience this year, but now with Ullrich and Basso out of the picture, that he could be a real protagonist after his excellent 4th place at the Giro d'Italia. "I hope so", he responded. "Above all, I think I can be a factor in the final week with the hardest mountain stages. I hope to be a factor and maybe even win a stage, even if it won't be easy! It might be easier to win a stage if I lose a few minutes on GC." We asked Cunego if he was dreaming of winning on l'Alpe d'Huez and he smiled, saying "that's a climb that is very special... it would be really great to win there."
Tour Diary Watch: the Germans
After having had to suspend two of its riders, including its leader Jan Ullrich, Team T-Mobile isn't going to get depressed and give up - quite the opposite, according to new team captain Andreas Klöden. "I can assure you, we won't let it get us down," he wrote in his Tour de France diary on the team's website. "We are hot for this Tour and we will take our chance to fight for ourselves - and for Jan. We owe that to our loyal fans!" Klöden was pleased with the team's performance in the prologue, especially with Serguei Gonchar's 11th place. "Too bad that it wasn't enough for the yellow jersey. After all the drama of the last few days, that would really have been something!"
CSC's Jens Voigt said he learned the fate of his captain Ivan Basso this way: "We drove out in the cars to look at a piece of Monday's course. Bobby Julich and I sat in one car, suddenly we stopped, and the car with Ivan Basso turned around. We were told that he was returning to the hotel. It was immediately clear to us what that meant." While he still believes in the innocence of not only his captain but of others involved, Voigt added on German sport1, "I stand by my statement: Whoever is guilty, must face the consequences."
The prologue "didn't go so well," he continued. "I don't want to look like a poor loser, but it's not so easy to change everything overnight. I came to France to be a helper for Ivan. It is difficult to flip the switch from being helper to an aggressive rider."
One of the winners of the day was Gerolsteiner's Sebastian Lang, who led for a long time, finally finishing fourth. But the only thing on his mind was the doping scandal. "As I see it, the sport only really has a future when steps like suspensions and race exclusions are consistently enforced," he wrote on his personal website. "Otherwise we won't be able to end the fight against ignorance of the rules. I know very well, how much we have to be thankful to Jan Ullrich [in terms of popularity of the sport in Germany - ed.] and it is exactly for this reason that I cannot tolerate the whole thing. He was an example and an ideal for me, like for many other young cyclists and fans. I don't want to rule on his guilt, but it is a bad sign that he lied in his statement."
(All rights reserved/Copyright Knapp Communications Pty Limited 2006)