Tour de France Cycling News for October 27, 2005
Edited by Anthony Tan
Le Tour 2006: One of the hardest in years
By Anthony Tan, with additional reporting by Tim Maloney in Paris
Le Tour 2006
Photo: © ASO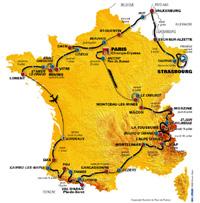 On midday Thursday at Paris' Palais des Congres, the official route of the 2006 Tour de France was unveiled. A classic course according to veteran Tour experts, but also one of the hardest in recent years, the 93rd edition of La Grande Boucle follows an anti-clockwise direction around France, the 20 stages covering some 3,600 kilometres including nine flat stages, five mountain stages, four medium mountain stages and two individual time trials. Three mountain-top finishes are on offer (yes, L'Alpe d'Huez is in there!) including 22 Cat. 1, Cat. 2 and hors categorié passes, two rest days and 116 kilometres of individual time trialling.
Beginning on July 1 with a 7 kilometre prologue in Strausbourg on the French-German border, Le Tour 2006 skirts around the northern perimeter of France towards Lorient, side-stepping into Luxembourg, Netherlands and Belgium on the way. The first full-length individual time trial comes on Stage 7, a 52 kilometre race against the clock from Saint-Grégoire to Rennes, and the often controversial team time trial is absent this year.
A transfer to Bordeaux after Stage 8 marks the first rest day, before two difficult, back-to-back Pyréenean stages on Stages 10 and 11: 193 kilometres from Cambo-les-Bains to Pau on July 12, followed on Thursday, July 13 by a 208 kilometre stage from Tarbes to Val d'Aran-Pla-de-Beret. The usual traverse across to the Alps takes up four days including a rest day in Gap, before two brutal Alpine stages that both end in mountain-top finishes - the first finishing atop the legendary L'Alpe d'Huez, and the second a 182 kilometre journey from Bourg d'Oisans to La Toussuire.
After the finish the following day in Morzine, the peloton heads north back to Paris, but before those famous final laps on the Champs-Elysées, what could be a nail-biting time test marks the penultimate stage of the 2006 Tour: a 56 kilometre ITT from Le Creusot to Montceau-les-Mines.
Total prizemoney: €3.2 million, with €450,000 for the winner. But just who will that be?
Photography
For a thumbnail gallery of these images, click here
Images by AFP Photo
Images by Roberto Bettini/www.bettiniphoto.net
Images by Tim Maloney/Cyclingnews.com
Images by Fotoreporter Sirotti
Images by Jonathan Devich/epicimages.us
The Stages
Prologue - July 1: Strasbourg ITT, 7 km
Stage 1 - July 2: Strasbourg - Strasbourg, 183 km
Stage 2 - July 3: Obernai - Esch-sur-Alzette (Luxembourg), 223 km
Stage 3 - July 4: Esch-sur-Alzette - Valkenburg (Netherlands), 216 km
Stage 4 - July 5: Huy (Belgium) - Saint-Quentin, 215 km
Stage 5 - July 6: Beauvais - Caen, 219 km
Stage 6 - July 7: Lisieux - Vitré, 184 km
Stage 7 - July 8: Saint-Grégoire - Rennes ITT, 52 km
Stage 8 - July 9: Saint-Méen-le-Grand - Lorient, 177 km
Rest Day - July 10: Bordeaux
Stage 9 - July 11: Bordeaux - Dax, 170 km
Stage 10 - July 12: Cambo-les-Bains - Pau, 193 km
Stage 11 - July 13: Tarbes - Val d'Aran/Pla-de-Beret (Spain), 208 km
Stage 12 - July 14: Luchon - Carcassonne, 211 km
Stage 13 - July 15: Béziers - Montélimar, 231 km
Stage 14 - July 16: Montélimar - Gap, 181 km
Rest Day - July 17: Gap
Stage 15 - July 18: Gap - L'Alpe-d'Huez, 187 km
Stage 16 - July 19: Le Bourg-d'Oisans - La Toussuire, 182 km
Stage 17 - July 20: Saint-Jean-de-Maurienne - Morzine, 199 km
Stage 18 - July 21: Morzine - Mâcon, 193 km
Stage 19 - July 22: Le Creusot - Montceau-les-Mines ITT, 56 km
Stage 20 - July 23: Antony (Parc de Sceaux) - Paris Champs-Elysées, 152 km
The mountains
Stage 10 - July 12: Cambo-les-Bains - Pau, 193 km

Km 50

Col d'Osquich

500 m

6 km at 5.3 percent

Km 101.5

Col du Soudet

1,540 m

14.7 km at 7.3 percent

Km 148

Col de Marie Blanque

1,035 m

9.3 km at 7.7 percent

Stage 11 - July 13: Tarbes - Val d'Aran/Pla-de-Beret (Spain), 208 km

Km 76

Col du Tourmalet

2,115 m

18.4 km at 7.7 percent

Km 106

Col d'Aspin

1,489 m

12.3 km at 5.2 percent

Km 137

Col de Peyresourde

1,569 m

9.5 km at 7.1 percent

Km 162

Col du Portillon

1,320 m

7.9 km at 8.4 percent

Km 205

Pla-de-Beret

1,860 m

13.5 km at 5.4 percent

Stage 15 - July 18: Gap - L'Alpe-d'Huez, 187 km

Km 86

Col d'Izoard

2,360 m

14.2 km at 7 percent

Km 134

Col du Lautaret

2,058 m

12.1 km at 4.4 percent

Km 187

L'Alpe d'Huez

1,860 m

13.9 km at 7.9 percent

Stage 16 - July 19: Le Bourg-d'Oisans - La Toussuire, 182 km

Km 45.5

Col du Galibier

2,645 m

42.8 km at 4.5 percent

Km 127.5

Col de la Croix-de-Fer

2,067 m

22.7 km at 7 percent

Km 147.5

Col du Mollard

1,638 m

5.8 km at 7 percent

Km 182.5

La Toussuire

1,690 m

18.4 km at 6 percent

Stage 17 - July 20: Saint-Jean-de-Maurienne - Morzine, 199 km

Km 82

Col des Saisies

1,650 m

14.9 km at 6.4 percent

Km 108.5

Col des Aravis

1,498 m

5.9 km at 7.3 percent

Km 133.5

Col de la Colombière

1,618 m

11.8 km at 5.9 percent

Km 160.5

Côte de Châtillon

735 m

5.1 km at 4.9 percent

Km 187

Col de Joux-Plane

1,700 m

11.7 km at 8.7 percent
(All rights reserved/Copyright Knapp Communications Pty Limited 2005)