An interview with Charly Wegelius, May 20, 2008
Green Gregario
Behind every champion in cycling, there's a clutch of team-mates who put aside their own personal ambitions to help the leader to win. Charly Wegelius is one of those foot soldiers, and has been riding very strongly in the Giro d'Italia thus far. Cyclingnews' Shane Stokes spoke to the Liquigas rider.
Charly Wegelius autographs a book
Photo ©: Shane Stokes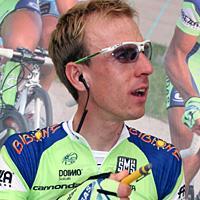 Charly Wegelius has been a prominent sight on several key stages of the Giro d'Italia, towing the peloton along and giving his all for team leaders Franco Pellizotti, Vincenzo Nibali and Daniele Bennati.
The 30 year-old has been with Liquigas for four seasons and has had some good achievements in that time. Last season he was part of the winning team time trial squad on day one of the Giro and, more importantly, the Finland-born Briton was a valuable part of the line-up that supported Danilo Di Luca in his successful bid to win the race.
Di Luca moved on to LPR Brakes over the winter but Liquigas has continued to ride strongly. Wegelius and the others won stage 1b of the Settimana Ciclistica Internazionale Coppi Bartali this year, and performed strongly in the Giro d'Italia. Bennati has won two stages, Pellizotti has led the race and he and Nibali were lying ninth and tenth overall on the first rest day.
Wegelius' prominence in riding for these leaders shows his strength. He's been hurtling along at the front of the bunch on climbs while other riders – including several well-known and much higher-paid names – have been slipping out the back of the group. When this good condition is commented on, he plays it down; he feels there is a job to do, and he just quietly goes ahead and does it.
"You are a bit more tempted to try to take an easy day."
-Wegelius explains that working hard for the team leaders also requires backing off on 'easy' days.
"It is part of having the pink jersey and the responsibility that comes with it," he said, speaking of his work at the front when Pellizotti was in the race lead. "I'm not surprised that we got the jersey, but I am surprised that we got it so early. But this is an Italian team and having the pink jersey is good for them. And putting hay in the barn early is important for them, too."
As Wegelius suggests, holding the Maglia Rosa is a big return for the sponsors and also boosts team morale. However, the team's aims to win the race for the second year running means that it had to voluntarily step back from the limelight. It did so on stage six to Peschici, allowing eleven riders to hit the line over eleven minutes clear and enabling Giovanni Visconti (Quick Step) to take over the race lead.
"It was intentional, because it is hard work to defend the jersey," he said. "We don't have that many riders who can do it because we have Daniele and Pellizotti and Nibali, we have got quite a few top riders. So defending the jersey on long stages like this isn't that easy, especially when so many people want to go in the breakaway."
Pellizotti has had solid runs in recent Giri d'Italia, placing sixteenth, ninth, eleventh, ninth and eighth overall between 2002 and 2007. Now 30 years old, he believes that it is possible to win the race, or at least to finish on the final podium.
Wegelius in his element, leading his team down the road in the Giro
Photo ©: Roberto Bettini

"He has been preparing for this race all year," said Wegelius, confirming that the Giro is the Italian's big target. "He has been getting ready to do his best since January."
Cyclingnews spoke to the Briton on Friday, and asked him how he thought the race would unfold from that point. He correctly predicted that there would be something of a ceasefire until the race against the clock; from this point, he thinks that things will liven up again.
"I think that Quick Step will probably be quite happy to have the jersey," he stated, speaking of Visconti's exchanging of his Italian national champion's tunic for the maglia rosa. "So hopefully they will able to defend it. I think that everything is going to be a little bit on hold until the time trial, because I don't think there's going to be huge differences between the big favourites today [Friday].
"Then I think from the time trial onwards, we will see Astana being more prominent in the race. They haven't put a foot wrong so far and I think that they are all so good in the time trial that I think they will make a big leap forward there."
He said that following Liquigas' spell in the limelight, they'd change their tactics and use their strengths to maximum effect. "I think that we will go back to our original plan now, which is Bennati for sprint stages and Nibali and Pellizotti for the overall…they can still do very well there. Let's just say that this little parenthesis with the pink jersey is an added bonus, but I don't think it changes the overall plan for the race."
A willing helper
Wegelius is already at the front in the build up races in the spring
Photo ©: Roberto Bettini

Wegelius had more than enough good results in his early career to suggest that he could chase some victories of his own. Back in 1999 he was second in the European time trial championships and third in the under 23 Liège-Bastogne-Liège, then turned professional with Mapei the following year. He was third on stage four of the 2002 Tour de Suisse and, finished 51st in his first Giro one season later.
In 2005 he had a strong showing in the Vuelta a Aragon in Spain, finishing second to Comunidad Valenciana's Ruben Plaza in the uphill time trial on day four and ending the 2.1 ranked event third overall. That showed he could chase bigger results but then – and now – he backs away from the responsibility of being a leader.
"I would like to think that when I get a chance to do something for myself, I'd be able to do it," he told Cyclingnews. "But it is kind of a habit you get out of as well. I have a certain job in the team and you forget how to ride races to win, too.
"There are no easy races but when you have a slightly easier day [as regards having good legs], you are a bit more tempted to try to take an easy day rather than get into the break!"
Wegelius will not ride today's time trial full speed, saving his strength for the more important work ahead
Photo ©: Roberto Bettini

Like his team leaders, he targets good form for the Giro, his most important race of the year. He rode his first Tour de France last year, placing a respectable 45th overall, but the Corsa Rosa has always been the time when he needs to peak. He does it in a slightly different way than those who will be aiming for general classification.
"A rider like me doesn't have to get a really precise condition, I just have to be good for a month," he said. "So I am a little bit better or a little bit worse [than previous years], but it is there or thereabouts.
"In getting ready for the Giro, we follow a certain pattern. Compared to the riders who do the Classics, we start training later. In December they are already doing quite specific training while we are just riding our bikes. And then you do a racing programme that should allow you to race enough to get into condition without getting wasted. So you come here with good legs but a fresh brain, and still being able to give your best."
Wegelius still has a week and a half to ride for the team leaders, expending energy to help the chances of Pellizotti, Nibali and Bennati to land success. After that, he's likely to ride the Tour de Suisse, then rebuild form for the Vuelta a España or the Deutschland Tour.
Then, as now, he'll be working for the bigger names on the team. He could be chasing solid results of his own at times, of course, but he likes things just the way they are.
Photography
For a thumbnail gallery of these images, click here
Images by Shane Stokes/Cyclingnews.com
Images by Roberto Bettini/www.bettiniphoto.net