Giro d'Italia feature, May 21, 2008
Bruseghin secures second Giro d'Italia stage nearly one year to date
By Gregor Brown in Urbino, Italy
Marzio Bruseghin living la dolce vita.
Photo ©: Roberto Bettini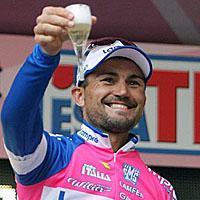 Italy's Marzio Bruseghin does not win that often, in fact, few were listing the 33 year-old Lampre rider as a favourite for the Giro d'Italia's 39.4-kilometre individual test from Pesaro to Urbino. The rider from Piadera di Vittorio Veneto did not bother himself with the pundits prognostics, instead he set about winning the stage by eight seconds over Tour de France champion Alberto Contador.
"My characteristics were favoured here," Bruseghin noted in a quiet voice following the win, only his third in the professional ranks. His other two victories also came thanks to time trials; his first win was in the 2006 Italian Championships, which allowed him to wear the maglia tricolore on the way to his second win, nearly one year ago on the slopes of Oropa.
In the 2007 Giro d'Italia, Bruseghin leapt into the spot light by taking the 12.6-kilometre mountain time trial run from Biella to Santuario Di Oropa, just ahead of climber Leonardo Piepoli.
Bruseghin knows that there are only certain days that suit his style. "The finale was adapted to me, it was a climb that demanded power. Also, [Contador] had to deal with wetter roads – I was a little lucky. It went well; it was a day like that.
This has only happened three times
Photo ©: AFP

"I can't take the maglia rosa, but there are certain stages, like this one, where I can take advantage." His advantage was eight seconds on Contador, 20 seconds on Andreas Klöden and 36 seconds on Italian time trial champion Marco Pinotti.
The winning sensation was there on the Giro d'Italia's first rest day, just 24 hours before the stage into Urbino's walled city. "I had a little bit of feeling for this stage," Bruseghin admitted. "I heard what the reactions were yesterday and I stared to think that this could be the day for me. It is not easy to understand this [feeling], even after ten years."
"Your words can burn. I believe that [Riccardo] Riccò is a great rider, but according to me you have to be modest. You can win, but you need to be modest."
-The modest Bruseghin has a very different philosophy from his younger compatriot.
Bruseghin came into the professional ranks in 1997 with the Brescialat squad, and then from 1999 to 2002 he raced in Spain with Banesto. In 2003, he returned to Italy to serve as a gregario for Alessandro Petacchi at Fassa Bortolo and, starting with 2006, working for Damiano Cunego at Lampre. He is currently in fifth overall, 7'52" behind race leader Giovanni Visconti.
Time trials are technical affairs and Bruseghin acknowledged that the win could not have come without the help of his team staff. He dedicated the victory to the Lampre squad.
"This victory goes to the team," he continued. "The team mechanics worked hard; their work was fundamental. The frames were selected specifically for this time trial. This was the same as we did last year in the time trial of Oropa.
"We worked with attention to everything. ... We were all working towards this win, the mechanics, everyone."
The forces came together for Bruseghin
Photo ©: AFP

Being around for 12 years, Bruseghin considers himself more of an old school type of rider. The rider nick-named 'Asino' for his collection of mules, credits the good life to riding solid throughout the year.
"There is a mode to win races, you have to take cycling in as part of your life. You live well and the results will come," he noted with a wine glass in his hand. He produces his own Prosecco and will surely have a special bottle set aside for tonight's celebrations.
Lampre does not have a rider for the overall classification as Cunego is focusing on the Tour de France this year; Bruseghin will take the race as it comes over the next days. "My Giro goes day by day, it is very hard and takes a lot from you," he observed. "Every day in the mountains will be a war to not lose time. I will have to manage myself and hold any advantages I can."
Not his own label of Prosecco…
Photo ©: AFP

Moreover, he shied away from naming himself as a favourite for the mountain time trail to Plan de Corones. "No way. We will have to see on the day, maybe I could do it. We would have to see. First there is Pampeago and Marmolada," he added of the feared weekend stages that precede the 12.9-kilometre mountain time trial in the Dolomites.
Following the Giro d'Italia he will race the Italian Championships and then see how the Olympics selection unfolds. "I will give the maximum to all the races. I hope to be in contention for the Olympics time trial. It will be a hard time trial. We will see and then make a decision as the season rolls on."
Photography
For a thumbnail gallery of these images, click here
Images by Roberto Bettini/www.bettiniphoto.net
Images by AFP Photo