Recently on Cyclingnews.com
Markus Eichler's Giro diary
Markus Eichler rides the Giro for Milram
Photo ©: AFP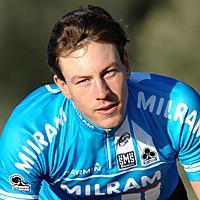 Markus Eichler of Team Milram is actually a Classics specialist, who is riding his first Grand Tour. The 26 year-old turned pro in 2004 with the Continental Team ComNet-Senges. In 2006 he signed with Unibet.com – which means he didn't have many opportunities to show what he could do, although he did win the Ronde van Drenthe. This season he signed with the German ProTour Team Milram.
His Grand Tour started out with a 13-hour journey from his home in Mönchengladbach, Germany, to Palermo, and thanks to the long transfers, he is still trying to catch up on his rest. Going into the eighth stage, he was 175th overall, over an hour and 12 mintues down. But Milram is a sprinter's team, and this is not really a sprinter's Giro. Eichler is enjoying the experience, anyway .... at least so far.
Wednesday, June 4, 2008
I made it!
Hello everybody,
The race is over and I have a cold. I'm back in Germany and brought a cold with me.
As I said before, half of the Giro peloton had a cold. I was as careful as I could be but in the end it got me, too. It's just a sore throat and sniffles, but after such a strenuous race it's not really what I want. But maybe that's just a part of three-week Grand Tour.
Yesterday I did absolutely nothing all day. I took it easy and looked at what had happened at home while I was gone. And of course I started fighting my cold.
In Sunday's time trial I was the first to start but unfortunately was not the first to cross the finish line. I started out just fine, but the longer it went on, the slower I got. My battery was simply empty. In the middle I thought I had taken the wrong route. There was no longer a car in front of me and I was in a long tunnel. I was a little unsure, but fortunately then I saw the car waiting for me. Suddenly Mikhail Ignatiev of Team Tinkoff shot by me like a rocket..... ok, he ended up finishing third in the stage. Danny Pate of Slipstream also passed me, and he ended up sixth on the stage. So I ended up coming over the finish line as the third rider of the day, to the cheers of the crowd. The fans weren't making fun of me, they appreciate what you go through for some 3,000 kilometres!
Overall the Giro was great. We didn't get the stage win, but we came close several times. Still, we did a good job. Our material also held together well over the three weeks – our mechanics did a classy job. We had only three flats in almost 3,000 kilometres – I find that pretty remarkable.
All in all, it comes down to your head. When you go up the mountains alone and know that you have absolutely no chance here to win anything, then you constantly have to work to motivate yourself. I kept on telling myself to hang on, so that I could help the team in some small way. As for my legs, at some point I reached the stage where it simply couldn't get worse. I am satisfied with my first three-week Grand Tour, because I fulfilled my assignments and forced myself to the finish. I can't wait to see what next challenge is waiting for me!
Greetings,
Markus
Greetings,
Markus
Greetings,
Markus