Enrico Gasparotto: 'Gaspa' back as team-leader in Giro
2005 Italian Champion Enrico Gasparotto, 26, will have many opportunities as he leads Team Barloworld in the 2008 Giro d'Italia.
Photo ©: AFP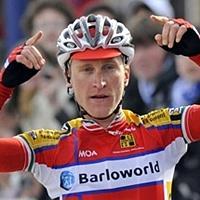 Enrico Gasparotto – maglia rosa for two days the 2007 Giro d'Italia – is back to face another three-week tour of his home country. After switching teams this winter, the 2005 Italian champion has leadership responsibilities within Claudio Corti's Team Barloworld. Expect 26 year-old 'Gaspa' to feature in stages with sharp and fast finishes, all the while revealing his adventures here on Cyclingnews.
(For more on Gasparotto read Growing up.)
Stage 1 - Saturday, May 10: Palermo (Team Time Trial), 23.6km
A good start
Hi guys
Barloworld had a great ride on the first day
Photo ©: Roberto Bettini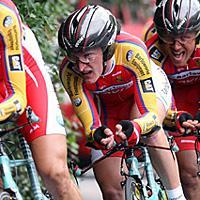 my second Giro d'Italia started today with the team time trial and I must say that I wasn't so nervous. I was sure about my condition and above all I was sure about the possibility of Team Barloword to do a good result on the first stage. We prepared this stage with a training camp a week ago and manager Corti and directors Volpi and Tebaldi believe a lot in our possibilities. They are convinced that my team-mates and I can get a good result.
So this evening we can say that nothing is impossible! Today we arrived fifth and the whole team is happy about our result – also because the other guys that are fighting for the final pink jersey are behind us and behind Soler. We trust in him so much!
At the middle of the stage we were the fastest team, better even than the American guys. And when I heard that from the directors on my radio I started dreaming about the pink jersey – maybe I dreamed too much. But in the end I am very happy because I am still close to the pink jersey – only 14seconds. That permits me to continue to dream.
Tomorrow will be a hard stage, with a not so easy final, but I've got good legs and can continue to dream.
Now I must go to sleep. Tomorrow will be hard and my team-mate, who shares the room with me, is preparing the bag for tomorrow. It's better for me, too, to prepare my bag – and I'll make sure to pack my dream as well...
Good night!
Enrico Gasparotto