Giro d'Italia feature, May 26, 2008
Tour Champion Contador takes Giro's maglia rosa
Confidence rising as mountain stages pass
By Gregor Brown in Passo Fedaia
Contador is happy in the lead
Photo ©: AFP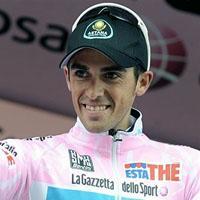 Winner of the Tour de France's maillot jaune, Spaniard Alberto Contador, has donned the Giro d'Italia race leader's maglia rosa after a demanding stage 15 to the Passo Fedaia. The 25 year-old of Team Astana kept the reins tight on Italy's Riccardo Riccò and now leads the overall classification by 33 seconds heading into Monday's mountain time trial.
Contador's Team Astana only got its invitation at the last minute after organiser RCS Sport booted NGC Medical. However, the team has made the most of its visit to Italy by placing Andreas Klöden, Levi Leipheimer and Contador within the top of the classification leading into Sunday's stage 15, where Contador emerged as the man to beat.
"Yesterday, wasn't a good day for me," he revealed in a press conference following the romp of 154 kilometres in the Italian Dolomites. In the stage 24 hours previously, he had been hampered by allergies, even though he went on to finish 45 seconds behind the top GC favourite. "[I had] a lot of allergies to begin with. Considering how things went, I had to be content because I am not in top condition. Today, when it started to rain, I felt a lot better."
In fact, he drilled back on Riccò with Italian Danilo Di Luca. Neither of the top guns where able to pull the wily Saunier Duval rider back, but losses were limited to 16 seconds. Moreover, the classification was whittled down to a manageable group that includes, above all, Riccò, Di Luca, Marzio Bruseghin, Denis Menchov and Gilberto Simoni.
"It's a gift – if they and told that 20 days ago on the beach that I would be in the maglia rosa I wouldn't have believed it."
-Alberto Contador, getting used to his brand new pink jersey
It almost did not workout so well for Contador, who felt threatened on the Passo Giau, some 70 kilometres from the finish. "There arrived a moment when I didn't feel that good; when they started to attack – Riccò, Menchov – I chased but I couldn't get their wheel. It was a moment when I didn't feel good. I thought that my chances of taking the pink weren't possible. Then when we started the Marmolada [Passo Fedaia - ed.] my sensations were very different – even though I broke a wheel – my head was totally focused on it."
Contador's back wheel was wobbling due to a broken spoke and, although he opened up the brakes to the maximum, there was still rubbing when he was riding out of the saddle.
"I tried to climb without standing so the wheel wouldn't move as much. ... I tried to sit in the saddle, and I thought with six kilometres to go to change the wheel or not." He decided on the latter, continuing to the finish without stopping.
If Contador manages to hold his advantage on the 12.9-kilometre individual time trial run to Plan de Corones Monday, he can potentially keep the leader's pink top at least until Friday's stage to Monte Pora.
Alberto Contador Velasco (Astana) initially struggled
Photo ©: AFP

"I think it's a perfect day to take the maglia rosa," said the rider from Madrid. "I came close yesterday at five seconds, so, today, to have it is the best day. I don't know tomorrow's time trial course and in the morning will try to climb it in the car. Then it is a rest day and, later, more normal stages [Wednesday and Thursday - ed.] and then we have two hard days, so I think it's a perfect day.
"It's a gift – if they and told that 20 days ago on the beach that I would be in the maglia rosa I wouldn't have believed it. I came here thinking about the stages, but little by little, the people around me lifted my spirits, and they convinced me to keep fighting. The sensations became better, for that I am in the maglia rosa."
Contador is a gifted time trialist and excelled in the Urbino time trial last Tuesday. For that reason, he relishes in the fact that this Giro is laden in timed events - four in total counting one team and three individual time trials. He will have his work cut out for him Monday – an ascent with gradients touching 24 percent – but the final 28.5-kilometre to Milano on the Giro d'Italia's final day will suit his talents.
"Like yesterday and today there were very small differences – this is good for me," he explained. "They didn't take too much from me, and I can take advantage in the final time trial – we'll see how it goes tomorrow.
"Without a doubt, the two time trials will benefit me. It's true that tomorrow is a very different kind of time trial. It's a mountain time trial on a hard pass. It will depend on the others' strengths, not if you're a specialist. The last one I like – if the things are close with the classification, it may favor me. All of the other stages are going to be dangerous. ... The most dangerous is the Mortirolo and two hard climbs [stage 20]. Even though it's not a summit finish, it will be very hard."
Contador has kept close tabs on his rivals and, after the stage up Fedaia, considers Riccò rival number one. "I think the most dangerous is now Riccò. Today, he demonstrated that he's very strong – just s much as Bruseghin, Menchov, Di Luca, Simoni – all are very dangerous.