Markus Eichler's Giro diary
Markus Eichler rides the Giro for Milram
Photo ©: AFP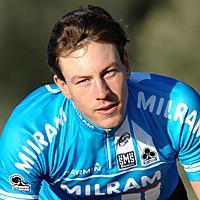 Markus Eichler of Team Milram is actually a Classics specialist, who is riding his first Grand Tour. The 26 year-old turned pro in 2004 with the Continental Team ComNet-Senges. In 2006 he signed with Unibet.com – which means he didn't have many opportunities to show what he could do, although he did win the Ronde van Drenthe. This season he signed with the German ProTour Team Milram.
His Grand Tour started out with a 13-hour journey from his home in Mönchengladbach, Germany, to Palermo, and thanks to the long transfers, he is still trying to catch up on his rest. Going into the eighth stage, he was 175th overall, over an hour and 12 mintues down. But Milram is a sprinter's team, and this is not really a sprinter's Giro. Eichler is enjoying the experience, anyway .... at least so far.
Thursday, May 22, 2008
Stage 12 - Cakes, crashes and broken radios
Hello,
Gosh, that was an unlucky day for us. The stage has been over for a few hours now and I'm still thinking about it. But since I haven't written anything for nearly two days, let me catch up a bit.
On Wednesday I had to do without my obligatory coffee in the Tour Village for the second time in a row. We arrived just shortly before the start and there just wasn't time. The stage was very strenuous, constantly up and down. But I noticed that the rest day had helped me. Nevertheless, I quickly found the large group behind the peloton and we got through relatively well.
The field is always accompanied by these three-wheeled motor scooters, they have two wheels in front and one behind. One of them stalled right in front of us on the steepest part of the climb up Monte Carpegna, with much smoke and exhaust noise. The Italian drivers were running around like headless chickens and it stank of burnt rubber. Plus there was very heavy rain. I was really very happy to reach our bus eventually and after a shower, to finally put on some dry clothes.
I slept well again that night, as I have been able to more often than not. This morning I wasn't going to miss out again and was in the Tour Village. To make up for lost time, I had a double espresso...
The stage was pretty chaotic. Today Matej [Jurco] rode for us at the head of the peloton to chase down the escape. I helped him out, but then a rather strange thing happened. I had let myself fall back to the rear of the peloton, to take a nature break, and when I joined the field again, suddenly everybody stopped. I didn't know what was going on. Suddenly waiters appeared among us with trays and distributed little cakes. Of course a lot of guys helped themselves. It seemed to have something to do with honouring Marco Pantani. And then we just went on...
Our goal today was, of course, to ride for Erik [Zabel] and to bring him into position. Twenty kilometres before the finish we were all forward, Erik, Marco, Alberto and I. Then Erik crashed with 14 kilometres to go, which pretty much tore us apart.
The conditions were pretty dangerous. It had rained heavily and the street was pretty slick. Somehow Erik's shoe was damaged in the crash, so it took a while before he was riding again. At that moment our radios didn't work properly, and we were riding forward in the field without a plan. It's always that way, when one thing goes wrong, everything goes wrong. We can at least be happy that no one was injured.
Now we have to see what tomorrow brings. That is another stage for us before we really get into the mountains...
Greetings,
Markus