Giro d'Italia feature, May 24, 2008
Cavendish uses acceleration to grab second Giro d'Italia win
By Gregor Brown in Cittadella
Cavendish has taken two wins
Photo ©: AFP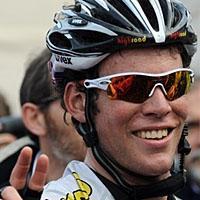 Two days after his 23rd birthday, Team High Road's 'Manx Express' Mark Cavendish has taken a second Giro d'Italia stage victory, once again fending off points leader Daniele Bennati on the finish to Cittadella. Unlike some of the peloton's older sprinters such as Australian Robbie McEwen, Cavendish plans to fight his way through the tough mountain stages that follow, but might just crack open the bubbly with his team this evening.
"I think that we can celebrate a little bit now," he said with a smile at the post-stage press conference. "We were going to get a bottle of champagne the other day but I said we would have to leave it until we win. I thought yesterday, but it did not work. I wanted it for my team, they worked so hard."
Team High Road delivered the youngster to his first Giro d'Italia win in Pizza Calibre, 10 days ago, and tried its damndest to do so yesterday, but the last curve put paid to Cavendish's celebrations. However, with the help of riders such as Marco Pinotti, Adam Hanson, Bradley Wiggins, Tony Martin and André Greipel he took revenge on Italy's best today.
"I was really disappointed yesterday, I showed I was the fastest, but messed up the last corner," he said of the stage in Carpi that went the way of Bennati. "Today, I woke up and I promised my team, my directors, and I did it."
"I think I am the fastest as far as acceleration, but with strength... you can see how well Zabel and McEwen get over the hills."
-Cavendish relies heavily on his team to keep him up front for the finale.
Bennati, to his credit, did not fade to the right to impede his rival today, as sprinters often do. "If you look you can see I said thanks as I went past with 100 metres to go. I have to say again, 'thanks'. It is great sportsmanship and we are able to see who is the fastest. It is a great thing for him to do and I am sure in my career I will be able to pay him back."
Bennati tipped his hat to Cavendish yesterday, saying: "According to me, he is very young and demonstrating to be the strongest sprinter in the world."
The rider from Laxey on the Isle of Man, who resides in Quarrata in the Italian region of Tuscany during the season, attributes his speed more to time spent in the velodrome, rather than the terrain in which he grew up. "The terrain and weather makes for a good Classics rider - one for Belgium," he said. "I don't know for me, if it comes from the track background, with fixed gears on the track, where you have to use the cranks to get the maximum speed.
A belated birthday present
Photo ©: Roberto Bettini

"It is my speed and acceleration from 50 to 70 metres," he added. "I am able to do it with my age. I think I am the fastest as far as acceleration, but with strength... you can see how well Zabel and McEwen get over the hills. I need my team there. I am lucky with my acceleration."
In team photos Cavendish appears the shortest rider on the High Road team, and has his Giant bicycle set up to take full advantage of this. "My 170 cranks," he noted of his preference. "I have the fast muscles, I am lucky in that respect. I do work at it. I think it is the same as everyone.
"I have such a strong team that enables me to use it. Without the team it would be of no use."
Cavendish hopes to take part in the Tour de France, but must wait for High Road to decide what its goals will be come July. "I hope so," he responded when asked if he had earned his spot. "We have to see... We are one of the strongest teams in cycling so it will be tough for them to decide amongst our riders.
Letting rip with the champagne
Photo ©: AFP

"There will be no point for me to go if they have classification intentions, I need the team for the sprints. If we go there for sprint wins, then yes, it would be a mistake if I don't go."
He plans to stay around for the high-mountain stages, but does not know how far his fast twitch muscles will carry him. "I think it has been promising, my first Giro d'Italia," he said. "It is promising sign to win a jersey in the future, the purple in the Giro or the green in the Tour.
"If I am too tired, it is not a case of not starting, if I am tired I won't make the time limit anyway. I will take the days as they come."
If he does not finish the Giro d'Italia the tifosi can at least count on seeing him return. "I would like too," he said. "It is a great Giro and I have enjoyed it. We were unlucky with the weather, but it is a great organisation and for sure great food as well."