Enrico Gasparotto: 'Gaspa' back as team-leader in Giro
2005 Italian Champion Enrico Gasparotto, 26, will have many opportunities as he leads Team Barloworld in the 2008 Giro d'Italia.
Photo ©: AFP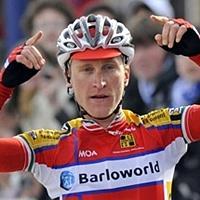 Enrico Gasparotto – maglia rosa for two days the 2007 Giro d'Italia – is back to face another three-week tour of his home country. After switching teams this winter, the 2005 Italian champion has leadership responsibilities within Claudio Corti's Team Barloworld. Expect 26 year-old 'Gaspa' to feature in stages with sharp and fast finishes, all the while revealing his adventures here on Cyclingnews.
(For more on Gasparotto read Growing up.)
Time trial - Wednesday, May 21
Hi guys!
The time trial day is just finished!! So now less than two weeks to Milan... mmmh – it's still soo long!
For me and also my other team-mates today was as a second rest day because we didn't need to go full gas. We are not interested in the general classification. So we must recover forces for tomorrow – that will be a really hard day, without many flats. All day it's up and down, with short and also long climbs. And for sure it will be a breakaway day!
I must go on breakaway to do some results for myself, but also for the team. Yesterday's X-ray showed that my team-mate Belotti broke his arm and I don't think he will start tomorrow. He simply has too much pain! At least Soler will continue, so we hope that he will be better to give us something to celebrate.
These days my parents are coming from Friuli to see me and today they followed me in the team car. I think that for them it was a big, emotional day – it was their first time following me up close in a race!
Now it is time for the massage, guys. That is so important for tomorrow's stage. I want to do well. So bye bye and follow me tomorrow!!!
Ciao