Recently on Cyclingnews.com
Adam Hansen's Giro diary
Adam Hansen
Photo ©: Team High Road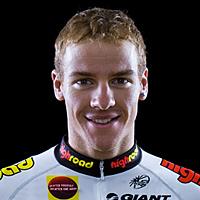 Australian Adam Hansen rides for Team High Road and is hoping to have a better Giro d'Italia than last year, where an early crash forced him to quit the Italian Grand Tour. The reigning Australian time trial champion is a support rider, but one who has chances in breakaways. The double winner of the Crocodile Trophy (2003 and 2005) keeps a diary for the Cyclingnews readers, sharing his experiences in the hectic of a three-week race.
Tuesday, May 27, 2008
Stage 8 to the first Rest Day: Taking a break
Adam Hansen (High Road) in the break
Photo ©: Roberto Bettini

Going back to my three goals, I hoped it would come in today's stage. The course has a climb in the final, nothing too hard, but too much for the sprinters. So I was really gunning for this day to be in a break. It wasn't easy and I almost cooked myself to be in it, but I was in a break and that was half the goal of my Giro. The other half was to be in a break that makes it to the final. So here we are, with a max lead of 7 minutes thinking we have made it, but once the clock went down to 6 minutes at 60 kms to go, I knew we had nothing.
The rule of thumb is one minute per 10kms and that's what they kept us at. Every 10 km closer we lost a minute. I had to make a final attack soon as the guys stopped working, and I was off on my own – holding off the bunch for a while, but not enough. Being caught just 2 km before the finish wasn't a nice feeling at all!
The day after with no legs was not a nice feeling, either. Just feeling the legs from the day before made this sprint day a long very long day. Trying to just survive to save as much energy as possible was a good thing, because on the final climb the bunch started to spilt. I was there for Mark's support and making sure he was going to be there in the final, then doing the lead out for Mark. It was an easy day to be thankful for after yesterday' s hard effort. Mark being boxed in didn't really help much, but we tried and we are getting better in setting him up.
Then the Rest Day was granted, but mentally worth not much, as we checked out the TT course. Normally it's nice to have a look, to see where to save energy and go easy and when to give it all. However, it was one of those TTs where it just didn't really suit a TT guy. It was cancelled off my list as a day to go for and re-planned as a day to save energy for another hit out!