Enrico Gasparotto: 'Gaspa' back as team-leader in Giro
2005 Italian Champion Enrico Gasparotto, 26, will have many opportunities as he leads Team Barloworld in the 2008 Giro d'Italia.
Photo ©: AFP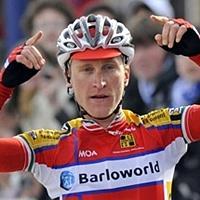 Enrico Gasparotto – maglia rosa for two days the 2007 Giro d'Italia – is back to face another three-week tour of his home country. After switching teams this winter, the 2005 Italian champion has leadership responsibilities within Claudio Corti's Team Barloworld. Expect 26 year-old 'Gaspa' to feature in stages with sharp and fast finishes, all the while revealing his adventures here on Cyclingnews.
(For more on Gasparotto read Growing up.)
Stage 2 - Sunday, May 11: Cefalù - Agrigento, 207km
A bad day
Hi Guys!
Calcagni helped Soler after the Colombian crashed – not a good day for Barloworld
Photo ©: Roberto Bettini

The second stage of this Giro d'Italia has completed.
For our Team Barloworld it was an unhappy day. Our team leader Soler crashed at the halfway point and now he has pain in his arm. Pfannberger and I crashed 50 kilometres before the finish line. Nothing important, only my back hurts! But my dream to wear the maglia rosa is gone!!! sh.. sorry... On GC I am now 25 seconds behind leader Pellizotti, who was my team-mate last year at Liquigas and he was the guy that had shared the room with me during the Giro! He saw the pink jersey up close last year – must have given him some ideas!
Well, today I went to pink jersey Vande Velde, to congratulate him about the good performance of all the Slipstream team yesterday. He is a nice guy, and always has something funny to say! This morning we were at the start village to look at the wonderful Italian girls who work there. mmmh... really nice place, the start village. If you decided to go watch the Giro, you need to check it out.
I think that for this evening it is enough, cause today was a hard race with, 4000 metres of uphills and a six-hour race. And tomorrow it will be another long day, with 221 kilometres and also the arrival on the mainland.
So good night – I hope to dream of better days than today. The Giro is sooo long!
Enrico Gasparotto