Recently on Cyclingnews.com
Markus Eichler's Giro diary
Markus Eichler rides the Giro for Milram
Photo ę: AFP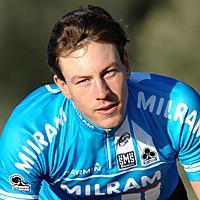 Markus Eichler of Team Milram is actually a Classics specialist, who is riding his first Grand Tour. The 26 year-old turned pro in 2004 with the Continental Team ComNet-Senges. In 2006 he signed with Unibet.com – which means he didn't have many opportunities to show what he could do, although he did win the Ronde van Drenthe. This season he signed with the German ProTour Team Milram.
His Grand Tour started out with a 13-hour journey from his home in M÷nchengladbach, Germany, to Palermo, and thanks to the long transfers, he is still trying to catch up on his rest. Going into the eighth stage, he was 175th overall, over an hour and 12 mintues down. But Milram is a sprinter's team, and this is not really a sprinter's Giro. Eichler is enjoying the experience, anyway .... at least so far.
Saturday, May 31, 2008
Mountains can be good!
Hello everyone,
Today I will start with the best news of all ľ I am still in the race! I am totally exhausted but there are only about 20 km to go until the end, I can make that!
After the usual coffee in the Tour Village yesterday, we got to work. It was a pretty fast first hour. Despite a number of tight curves we were underway with an average of 51 km/h. And I had been happy because the stage started out flat......Oh well, and then seven riders got away. Kyrienka joined them at the last minute. Being in the mountains again was like a familiar old pain to me. But now I have found my tempo and my rhythm for the mountains. That still doesn't make it any easier, but at least I get through the stages.....
The interesting thing is that my form has stayed on this level and hasn't gotten worse. The weather didn't help. Sheets of rain and a feeling during the stage that the world was ending and then totally cold up on the Passo del Vivione. You really have to be careful, after all at least half the peloton is underway with sore throats and sniffles. The stress makes us more susceptible. When I finally got to the finish I turned around immedately and went down to the bus where I could take a warm shower and change clothes.
Today, the first half of the stage was totally quiet. Everyone was chatting and no one tried anything. It was almost like a casual ride with friends. But then came the first climg. LPR just stormed away, with Astana right behind them. I rode my own speed. Up at the pass everything was covered with snow. It hadn't really rained, but we were wet anyway. Up on the Gavia was the feeding zone and we also picked up caps, gloves and so on. I stopped for a minute and put them on. The descent was great. Mountains aren't all bad, the descents can be fun when you can really tear down. Unfortunately, they are usually directly followed by the next mountain. After the Gavia about half the field was with me in the gruppetto. It is hard for most us. The next-to-last mountain in the Giro, the Passo del Mortirolo, was almost too much for me. It was the steepest and worst climb that I have ever ridden. Every muscle in my body burned. Totally crazy.....
Sunday I will simply see what my legs still have in them and see what happens. I start things off for everybody at 2 p.m. I will enjoy it , too, since I assume that the same super mood will rule along the course.
Greetings,
Markus